MediaTek Helio P23 will make first appearance this month
Recently a weibo user has unveiled that MediaTek Helio P23 processor will make its first appearance this month. The weibo user has also said before that this processor will be only priced more than ten dollars. It is rumored that OPPO, Xiaomi, Meizu and vivo four manufacturers will adopt this cheap chip for their new products, and their new products are estimated to be on sale in the fourth quarter of this year.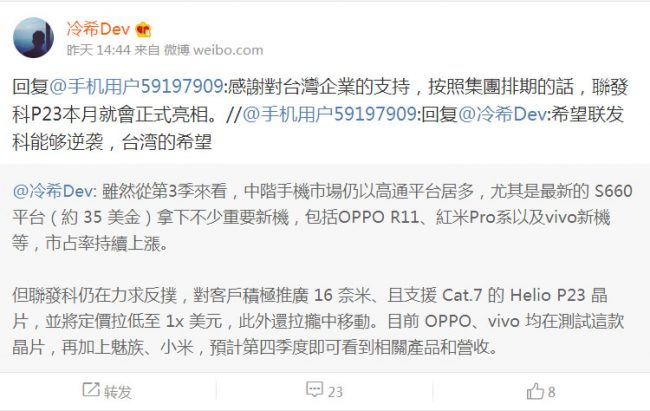 MediaTek Helio P23 is a mid-range chip which will be built on 16nm process. The Helio P23 will adopt octa-core design and supports Cat.7 standard. Besides, this processor will support dual cameras, 2K displays and RAM with LPPDR4X RAM technology. It is also rumored that MediaTek Helio P30 will be launched in the second half of this year. The Helio P30 is likely to use TSMC's 12nm process. The P30 processor will have quad-core ARM Cortex-A72 up to 2GHz and quad-core ARM Cortex-A53 up to 1.5GHz. The processor's LTE category has upgraded into Cat.10 and its peak download speed will reach 600Mbps.
It seems that MediaTek will launch at least two chips in the second half of this year.