Meizu 15 Plus launch event ticket activity appears in Meizu community
As 2017 comes to an end, Meizu has only launched a flagship – the Pro 7. The next flagship is estimated to make its appearance in 2018. On December 30, Jack Wong, the CEO of Meizu Technology, has exposed in Meizu forum that the next new dream phone will be called as the Meizu 15 Plus and this smartphone will be launched next year.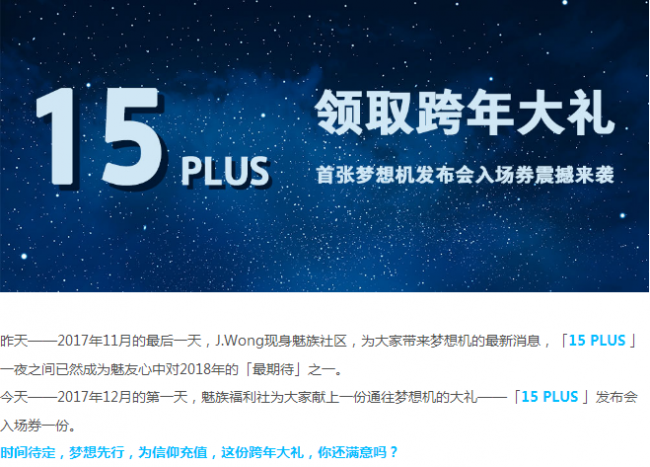 On December 1, an activity for giving out free entrance tickets of the 15 Plus has started in Meizu community. The free tickets for the launch event will be given out during December 1 to December 31. And its deadline of this activity is December 31. The content of activity has shown that many netizens have been looking forward to the coming of the phone. But the activity hasn't mentioned the exact date of the Meizu 15 Plus launch event.
According to the leak from the CEO of Meizu technology Jack Wong, the launch event for the phone is much likely to be held next spring. At present, there is only a little information on the 15 Plus. But Meizu's this flagship is estimated to adopt the full-screen design in the trend of full screen.