Ming-Chi Kuo predicts Apple will launch 6.1-inch/6.5-inch new iPhones next year
Recently, KGI Security has released its prediction on 2018 new iPhone. The famous analyst of KGI Security- Ming-Chi Kuo has claimed that Apple will launch two new iPhone next year and adopt large-size display for the two iPhone. The report shows that except the current iPhone X's updated version with the 5.8-inch OLED display, Apple will also launch a 6.5-inch OLED model and a 6.1-inch LCD model. The three new iPhone will continue to adopt full-screen design and support Face ID.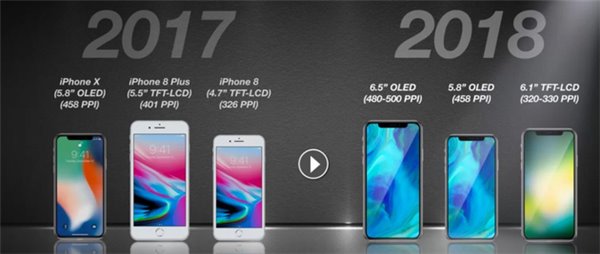 According to KGI's prediction, the iPhone's output number in the second half of this year will reach 80 million units. After the new iPhone's launch next year, Apple's iPhone sales quantity in the second half of next year is estimated to exceed 120 million units. The prediction is based on the following evidence. On the one hand, next year new manufacturing process from Apple's foundry will become mature as so to avoid such shortage problem.
On the other hand, the new 6.1-inch LCD model will lower its price in the meantime provides more new functions, which can contribute to the increase of sales. Now, if you want to experience Face ID and full screen, you need to afford to buy the iPhone X for $999. Since a 6.1-inch iPhone will adopt the LCD display with lower resolution, its cost has been decreased. It is said that a 6.1-inch LCD iPhone's price will range from 649 to 749 dollars.
KGI has also claimed that all iPhone products to be launched next year will cancel Touch ID fingerprint-to-unlock scheme, which means that the iPhone 8 and the iPhone 8 Plus will be the last two iPhone which boost of fingerprint-to-unlock scheme. In the meantime, some unique functions that the iPhone X features will be applied to all tee w iPhone which will be launched next year.