OnePlus 5T with 8GB RAM appears on GFXBench
As we all know, OnePlus' all-new full screen smartphone – the OnePus 5T will be launched soon. We have reported the OnePlus 5T out of box few days ago. The OnePlus 5T adopts popular design style and boosts of narrower forehead and chin, which brings the phone higher screen ratio.
Today, the OnePlus 5T with 8GB of RAM has made its appearance on GFXBench. From the information on GFXBench, the OnePlus 5T' model number is A5010. The OnePlus 5T is expected to feature a 6-inch touchscreen with the resolution of 2,160 pixels by 1,080 pixels and be powered by octa-core Qualcomm Snapdragon 835 processor. The smartphone is expected to come with 8GB of RAM and 128GB of ROM. The OnePlus 5T will feature the 16MP front shooter for selfies alongside the 16MP and 20MP dual camera setup on the rear. The OnePlus 5T is a flagship-level phone with regard to its 8GB of RAM and octa-core Snapdragon 835 processor with high performance.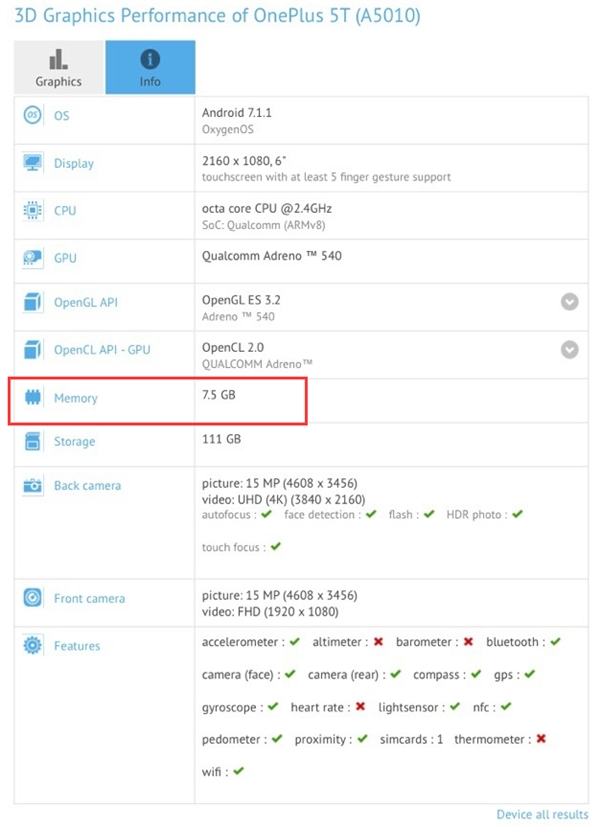 At present, the OnePlus 5T' appearance design and specification basically have been exposed. With top specification and high appearance design, the OnePlus 5T undoubtedly will be the most popular among Chinese flagships this year.