Samsung Galaxy Note 7R listed in Geekbench 4.0
As Samsung recalled the Samsung Galaxy Note 7 with Android Marshmallow after battery issues caused some of the units to catch fire, it has officially announced to release variants of the refurbished Samsung Galaxy Note 7. And the Samsung Galaxy Note 7R/FE SM-N935S is believed to be the SK Telecom variant of the refurbished Galaxy Note 7.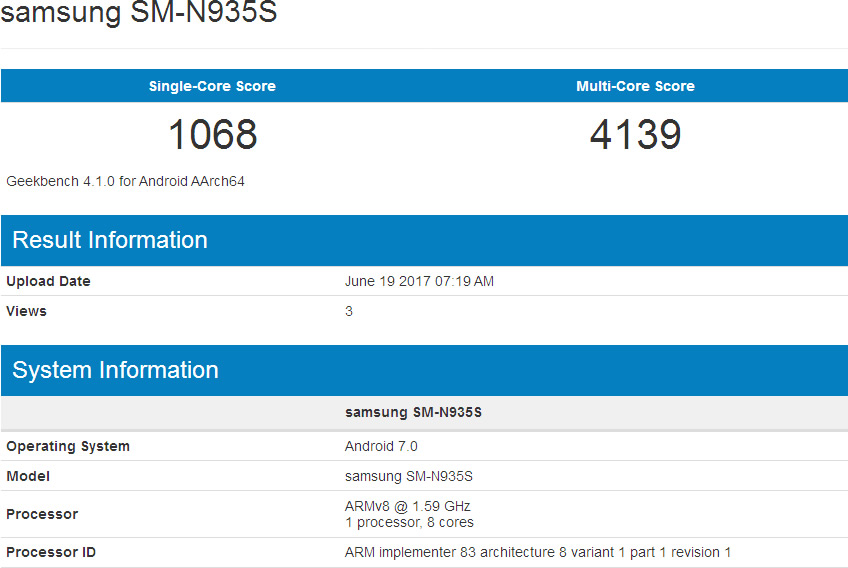 The picture from geekbench
Recently the Samsung SM-935S scores on Geekbench 4.0 have been exposed. The smartphone's single-core score is 1,939 points and its multi-core score is 6,093 points. From the information on Geekbench 4.0, we can see that the Samsung SM-N935S is powered by 1.59GHz octa-core processor based on Android 7.0 Nougat. The Samsung Galaxy Note 7R TD-LTE SM-N935S is expected to feature a 5.7-inch (1440×2560 pixels) touchscreen and come with a 13MP rear camera and a 5MP front camera coupled with 4GB of RAM and 64GB of ROM. The SM-N935S is believed to come with a smaller 3,200mAh battery. As the smartphone has received FCC certification, the Samsung Galaxy Note 7R/FE- SM-N935S is expected to go on sale by the end of June 2017.