It has been reported before that recently Xiaomi will launch a higher cost performance smartphone with a 5.5-inch touchscreen. The smartphone is rumored to feature all-metal body and come with dual cameras. Now a weibo team has released a picture of the smartphone's advertising poster.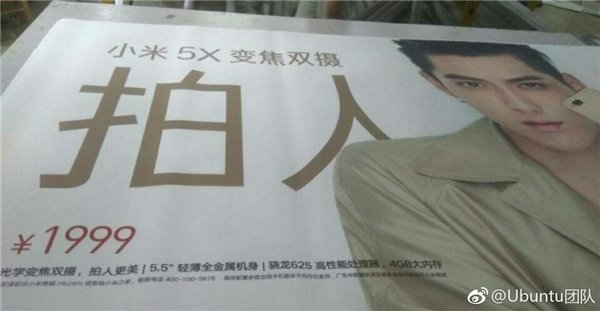 From the advertising poster, the smartphone is named by the Xiaomi Mi 5X which still focuses on zoom dual cameras and perfect picture-taking effects. The Xiaomi Mi 5X will come with a 5.5-inch touchscreen and feature all-metal body. For specification, the Xiaomi Mi 5X is believed to be powered by Qualcomm Snapdragon 625 processor instead of previously rumored Qualcomm Snapdragon 660 processor. The smartphone is believed to come with 4GB of RAM. And no specific information on dual cameras has been spotted in the advertising poster.
The Xiaomi Mi 5X will be priced at CNY 1,999 (approximately $298). The Mi 5X is rumored to focus on the offline market to compete with OPPO and vivo smartphones. It is rumored that recently the Xiaomi Mi 5X will get launched.