It's been a long time since we haven't reviewed any notebooks covering the business segment only. For balancing the combo of gaming and business notebooks, today we will review one of the latest additions in the business segment from HP. Having the latest gears (including laptops) for your business has become a must in the modern era. Otherwise, there is a probability that you would get left behind.
In the past, we have seen that HP has released many unique and premium notebooks, which also got good sales and positive feedback from consumers. Especially the Pavilion and Elitebook series are well-known for their superior appearance and lightweight and thin body.
The notebook we are reviewing here is the all-new HP Elitebook 645 G9. If we look into the deep history of HP's Elitebook lineup, it has been seen that these notebooks are specially designed for high-end business elites. Furthermore, this lineup embodies HP's legacy as an experienced notebook manufacturer.
The all-new HP Elitebook 645 G9 is powered by the latest AMD Ryzen 7 5825U CPU, equipped with Radeon integrated graphics so there would be no compromise in performance while maintaining the high-quality and premium design simultaneously. Even the other specifications like memory, storage, and networking capabilities are also acceptable.
Every aspect of the HP Elitebook 645 G9 has been discussed under the specifications table.
HP Elitebook 645 G9: Specifications
Screen
14″ diagonal, FHD (1920 x 1080), IPS, narrow bezel, anti-glare, 400 nits, 72% NTSC
Processor

AMD Ryzen 7 5825U (up to 4.5 GHz max boost clock, 16 MB L3 cache, 8 cores, 16 threads)

Wireless Connection

Realtek RTL8852AE Wi-Fi 6 (2×2) and Bluetooth 5.2 combo

Graphics card
Integrated AMD GPU
Memory
16GB DDR4 (clocked @3200MHz) Dual Channel SDRAM
Storage
512GB PCIe 3.0 SSD, Manufactured By Samsung (Model number: Samsung PM991a)
Ports
3x SuperSpeed USB Type-A 5Gbps signaling rate (1 charging)
1x SuperSpeed USB Type-C 10Gbps signaling rate (USB PD, DisplayPort 1.4)
1x RJ-45 LAN Port
1x Headphone/Microphone combo Jack
1x HDMI 2.0
1x MicroSD Card Slot
Battery
51.3Whrs 3-cell Lithium-ion Battery with 65W AC Adaptor
OS
Windows 11 Home Edition
Weight
1.37 kg (3.02 lbs), Dimensions: 321.9*213.9*19.9mm
HP Elitebook 645 G9: Appearance, Design, Build, and Portability
Starting from the technical specifications, the Elitebook 645 G9 has the following dimensions: 321.9*213.9*19.9mm (W x D x H), while the weight is 1.37kg. The notebook's weight isn't record-breaking but is still quite good compared to other competitors. Also, the thickness is totally under the standards of a high-end laptop. Overall, these aspects assure relatively good portability at the same time.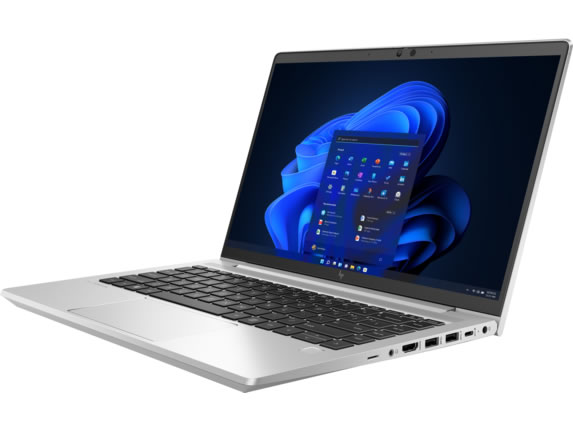 In terms of design, the whole body is made up of metal (except the display's bezels). In addition, the notebook comes only in the silver color option (which we are reviewing). Further, the silver matte texture on the body also provides an elegant look and feels superior while we use it. We have an HP logo on the display shell, which is just four lines but uniquely represents the "HP."
Let's compare it with other typical black-colored business notebooks. It feels that the silver color represents dignity, seriousness, and a symbol of inspiration and insight, as per the design language of the HP Elitebook lineup (describes Business Elites). After observing all these aspects, it is definite that HP Elitebook 645 G9 is superb for use in high-end scenarios (due to its appearance).
Another highlight of this notebook is that it has passed 19 military-standard tests (based on MIL-STD-810H), including accidental water ingress, handling high voltage, and squeeze and drop test. From all these circumstances, we can say that the Elitebook 645 G9 can easily survive in harsh environments.
HP Elitebook 645 G9: Display
The Elitebook 645 G9 features a 14″ IPS LCD Anti-Glare Display that supports Full-HD resolution (1920*1080p), a 400nits brightness, and 72% NTSC Gamut. The screen-to-body ratio is 88% (with a narrow frame). Further, the display hinge supports opening up to 180°, which lets you use the notebook in different scenarios. It also plays a vital role in office use; it lets you discuss and share plans with people with flexibility.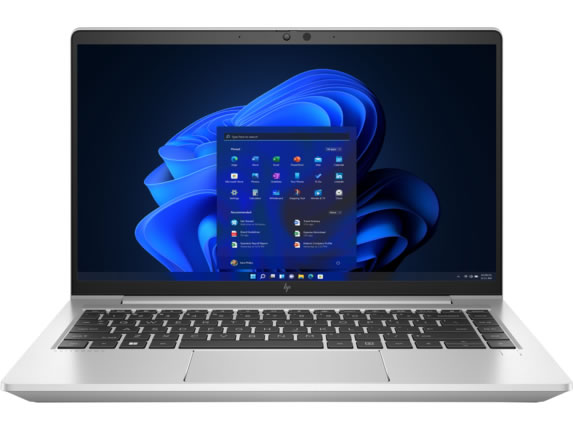 We also did a short color gamut test of the display, in which we found that the screen covers 99% sRGB, 76% Adobe RGB, and 76% DCI-P3 color gamut. Further, we also found that the screen can achieve 450nits maximum brightness (50nits higher than the official statement) while the average color accuracy △E was 0.65 (0.1 lowest and 4.46 highest). This high-level brightness lets the screen be clearly seen in outdoor or high-light environments (like sitting near the window). Also, the high color gamut and better color reproduction take the display experience to another level.
At the top bezel, we have the wide-angle IR lens webcam, which supports HD (720p) video recording. It also comes with all-new WDR (Wide Dynamic Range) technology that helps adjust the light perception and reduces the light's highlights or dark parts during video conferences. The company has also put a physical blocking pad alongside the camera for blocking the camera (while not required).
The webcam also lets the notebook support the Windows Hello Recognition System for fast and safe login to Windows OS. It is worth mentioning that the laptop also comes with pre-installed software named "myHP," through the users can turn on the Automatic Viewfinder function, and their faces will be automatically centered on the screen.
Before ending the display discussion, we would like to mention that the display also comes with an optional Touch functionality. If you want a touchscreen, you can go for it. However, the model we got for review doesn't support this functionality.
HP Elitebook 645 G9: Keyboard and Touchpad
Under the display, we have a keyboard named "HP Premium Keyboard" by officials. It is a compact-sized keyboard having a 1.5mm key travel and a white-colored backlight. As per officials, the keyboard is also spill-resistant. While using the keyboard, it has been observed that all the keys rebound quickly, and the typing experience is way more comfortable.
The muteness while pressing keys is also improved. In high-end business notebooks, the key's typing sound doesn't feel decent, especially in specific scenarios (such as a meeting in a quiet room). However, with HP Elitebook 645 G9, there would be no problem like that.
The keyboard layout shows that the left and right arrow keys are the exact sizes as the other keys, while the up and down keys are half. The advantage of this key layout is that you can easily navigate and do modifications while typing (through the left and right keys). At the same time, you can also avoid accidental touches (due to the small size of up and down keys).
Under the keyboard, we have a sufficient-sized touchpad with multi-touch gesture support. It is not as big as it should be due to the notebook's compact size. However, the user experience is fine, a large area could be pressed, and rebounding is also fast.
HP Elitebook 645 G9: Ports
When it comes to the term "Port," a business notebook should not be compromised, especially the ports that are being used for displaying the screen must not be missed. However, in the case of this notebook, we got many ports.
Starting from the left side, we have 1x SuperSpeed USB Type-A (5Gbps signaling rate) and an RJ45 LAN port. While on the right side, we have a MicroSD card slot, a 3.5mm headphone/microphone combo jack, 1x HDMI port, 2x USB Type-A ports (same 5Gbps signaling rate), and a USB Type-C port (with 10Gbps signaling rate and supports USB Power Delivery and DisplayPort 1.4).
In daily usage of Elitebook 645 G9, there is almost no chance you might need to purchase an additional dock.
HP Elitebook 645 G9: Battery and Charging
Inside the Elitebook 645 G9, there is a built-in 3-cell 51.3Whr battery which also sounds enough for this compact notebook. Also, a big thanks to Ryzen 7 5825U CPU, which is based on the latest architecture and has low power consumption, extending the battery life of the Elitebook 645 G9. It is also worth mentioning that the screen's power consumption is just 1W, which also plays an essential role in ensuring longer battery time.
For testing the battery's capabilities, we used the PCMark 10's Modern Office Mode. Before starting the test, the Wi-Fi was turned on and connected to the network. The Power Saving Mode was also on. And then we got a super battery backup of 16 hours and 10 minutes, totally lying under the high-end business notebook's standard.
As it is a high-end business notebook, the charging speed cannot be compromised alongside the battery. The company has provided a 65W AC adaptor for charging, which comes out from the retail packaging box. As officials stated, the laptop's battery can be charged up to 51% in just 40 minutes with this 65W adaptor (when the screen is on and Wi-Fi as well).
HP Elitebook 645 G9: RAM and SSD
There is no doubt that storage devices and RAM modules also play an important role in fast processing. And when it comes to the case of Elitebook 645 G9, we feel that the laptop is a little behind the latest technology. The model we got for review comes with a combo of 16GB RAM and 512GB SSD.
Starting from the RAM's discussion, the notebook is equipped with 2x 8GB DDR4 modules (for maintaining a Dual-Channel environment) clocked @3200MHz. It would be better if the company used DDR5 memory. However, this AMD's CPU doesn't support DDR5 RAMs so we can ignore this point.
For testing the RAM, we used the AIDA64 Memory and Cache Benchmark test, in which we got the following results: 39,155MB/s Reading speed, 41,096MB/s Writing speed, and 39,021MB/s Copying speed, while the delay is 95ns. The overall performance seems acceptable.
In a business scenario, we are mainly required to open many documents and web pages and sometimes also need to hang up the communication software in the background and sometimes video conferences too. All these programs consume a higher memory, but with 16GB DDR4 RAM in Elitebook 645 G9, we found no lag or application crashing while testing it. It is worth mentioning that the RAM can be extended up to 64 Gigs.
Next, we have the SSD; the notebook features a 512 Gigs PCIe 3.0 NVMe SSD (which lies in the Premium Mid-range category). It seems that the SSD's standards are a bit lower; it would be better if the notebook was equipped with a PCIe 4.0 SSD. For testing it, we used the CrystalDiskMark software on which the max sequential reading speed was 3012.61MB/s while the write speed was 1586.12MB/s. However, if you think this storage capacity isn't enough for you, you can expand it as there is an additional hard disk slot as well.
HP Elitebook 645 G9: CPU and its Benchmark
The all-new HP Elitebook 645 G9 is powered by the latest AMD Ryzen R7 5825U CPU based on the latest Cezanne architecture and TSMC 7nm FinFET process. Inside the CPU, there are eight cores (and sixteen threads) having 2.0GHz base frequency and 4.5GHz max frequency. Moreover, it also got 16MB L3 Cache memory, and the default TDP is 15W.
It is worth mentioning that this CPU (Ryzen 7 5825U) is an upgraded version of Ryzen 7 5800U. Compared with the current generation's CPU (as seen in the past reviewed model), the Ryzen 7 5825U is not substantial. However, as it is used in this business segment notebook, we can assure that there would be no lag or anything similar in daily office usage.
We also did a short benchmark with Cinebench software. The results are the following:
Cinebench R15: 235cb on Single-Core and 1580cb on Multi-Core
Cinebench R20: 565cb on Single-Core and 3662cb on Multi-Core
Cinebench R23: 1455 on Single Core and 9261 On Multi-Core
HP Elitebook 645 G9: GPU and its Benchmarks
In terms of GPU, the CPU got an integrated GPU with a tiny portion of memory. The integrated GPU got eight cores and a frequency of 2000MHz.
For testing the built-in GPU, we used the 3DMark Benchmark test, in which we got the following results:
3DMark Fire Strike mode: 3884 points
3DMark Time Spy mode: 1241 points
We can conclude that the notebook can easily handle the light specs required and online games from these scores. Since the target of this notebook is not to cover the gaming segment, we wouldn't discuss this topic.
HP Elitebook 645 G9: Stress Test
Before ending the review of this notebook, doing a stress test is also important. So the people looking to buy it should also know how much pressure this notebook can bear, how far you can go without getting any error, blue screen, or any crash, and still have a stable performance. We have divided this test into two phases. In the first phase, we did the test with ADIA64 Stress FPU mode with a higher load. Then in the second phase, we did the test with Prime95 software, which is famous for putting super high load pressure on the CPU.
In the AIDA64 Stress FPU mode test, after 60 minutes, the CPU's power consumption was stable at 22W, the full core frequency was 2.6GHz, and the temperature rose to 75°C.
As mentioned before, the next was done with Prime95. But before stating the results, we would like to say that this software's operating principle is to use the CPU for continuously performing Mersenne Prime operations so that the CPU could achieve a super high load. For stress testing through this software, we used the SmallFFTs test (which is used for testing the CPU and a specific filling test on the CPU's cache memory). After almost 60 minutes of testing, the CPU Power consumption was at 25W, the full core frequency was 2.6GHz, and the temperature rose to 80°C.
During the overall process, it has been observed that the temperature, power consumption, and CPU frequency were relatively stable. Further, we got no errors like Blue Screen, Crash, or Abnormal Restart. The performance was relatively stable during the whole process.
Summary:
After discussing all these aspects, we can say that the Elitebook 645 G9 is a bit far from the standards of today's technology. However, if you are looking for decent specs and an eye-catching designed notebook, this notebook is the best option. With these decent specs, the Elitebook 645 G9 can quickly achieve a smooth and fast usage environment for your office work. Further, the Stress test results also ensure that the notebook can easily handle a high load. In addition, the MIL-STD-810H standards of the notebook's body also ensure fine working in a harsh environment.
The notebook is currently available for $750, which seems super affordable with these specifications and superb design. However, if you still want to spend lower, other options are available with lower specs CPU, RAM, and Storage but with the same design.