Have you ever experienced a laptop keyboard not working? You may experience this situation occasionally or often, but don't worry, in this article, we will introduce several ways to fix your keyboard not working issue, no matter your keyboard is not responding, or keyboard is not working, or some key input is incorrect.
These solutions are working for all laptop brands, including Acer, Asus, Dell, HP, Lenovo, MSI, Huawei, Razer, and other Windows 10 laptops.
Our solution is divided into three situations, the entire keyboard not working, some keys do not work, and some keys are not inputted correctly, you only need to choose the solution that suits your keyboard.
Each situation is divided into several different steps. You don't need to try all the steps. Once your keyboard is working, you can give up other steps.
Laptop keyboard not working
Sometimes the notebook is working, but suddenly the entire keyboard is out of control, and every key is not responding. This is the most common situation. Please solve your problem according to our steps.
1. Restart the laptop
Usually, many technical problems are caused by the exhaustion of the computer's system resources. At this time, you only need to restart your laptop to fix the laptop keyboard not working issue. This method is usually suitable for most computer issues. The first step we have to do is to restart the laptop. After restarting the laptop, if your keyboard still not working, please continue with the following steps.
2. Enter to "Safe Mode"
Restart the system, and start tapping the F8 key, if you can enter safe mode, and the keyboard works fine in safe mode, it means the keyboard is fine, and the issue is related to software.
3. Uninstall and reinstall keyboard driver
In the second step, we have determined that the keyboard works fine in safe mode. Now you need to check if the keyboard driver has an issue, you need to do this in Device Manager.
1). Please click the start button on your laptop, and you should see the Control Panel in the list. If you can not find the Control Panel in the list, please use Cortana: click Cortana, and say (input) Device Manager, then you can open Device Manager directly.
2). Click view by small icons or view by large icons to view all Control Panel items
3). Click Device Manager to open it.
4). Double-click Keyboards to expand it, and right-click on your keyboard, then select Uninstall device.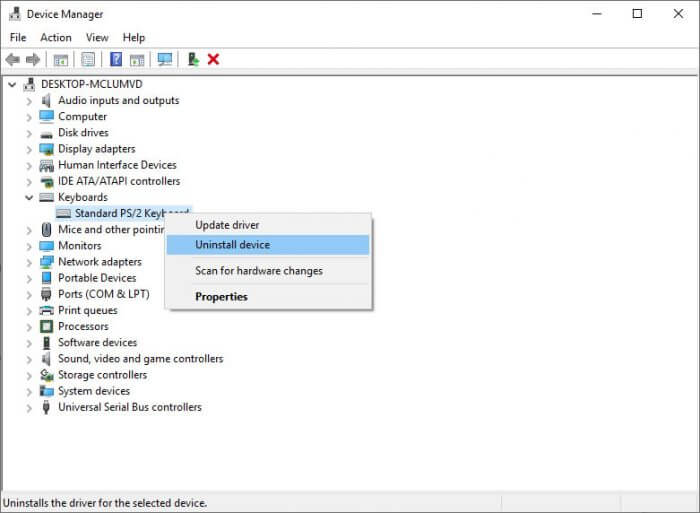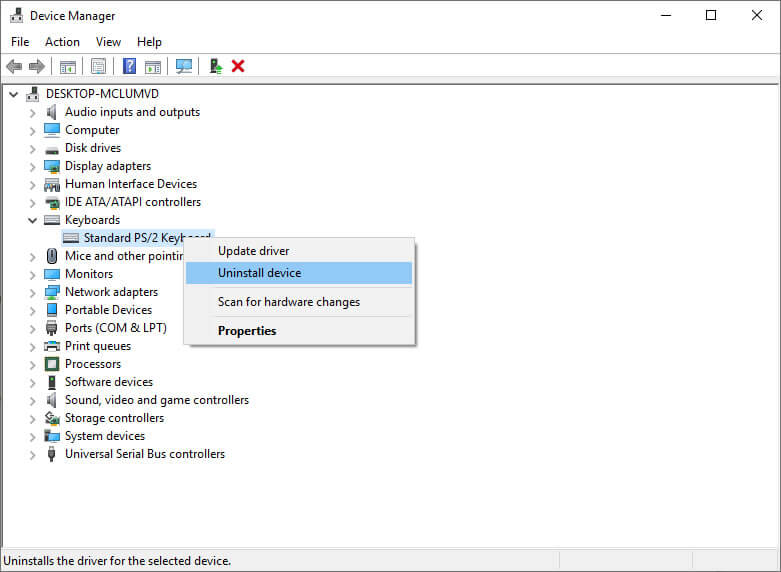 5). After uninstalling the driver, restart your laptop and Windows will reinstall the device driver automatically. Then check if your keyboard works now.
4. Keyboard cable with a bad connection
If the driver is reinstalled and the keyboard still doesn't work, then we need to open the laptop to check the keyboard cable connection. You need to disconnect the keyboard cable and reconnect it to the motherboard.
5. Defective keyboard
Now it is time to replace your keyboard, please buy a new keyboard from eBay or our parts store and replace it by yourself.
Some keyboard keys not working
Sometimes some keys suddenly do not work, or cannot be pressed. These situations are usually caused by the keyboards itself. Please fix the issues according to the following three steps.
1. Clean keyboard
Maybe there are crumbs hidden under the keycaps. Flip the keyboard, use a brush, or air-blowing to clean up the keyboard.
2. Key damaged
If some keys are pressed but cannot be reset, it means that the key has been damaged. You need to replace this key or replace the entire keyboard.
3. Keyboard cable with bad connection
Please open the laptop and reconnect the keyboard cable.
Some keyboard keys input incorrect
When using a laptop, we also encounter some cases that the key input is incorrect, usually due to incorrect keyboard settings.
1. Choose the correct keyboard layout
Go to Start > Control Panel > Regional & Languages, Click the Languages tab then the Details tab. This will open a dialogue where you can select the keyboard layout.
2. Check the NumLock key.
Many laptops will convert a character into a number if NumLock is enabled. Press NumLock or Fn+NumLock to make sure that it is disabled.
To turn off the Number Lock on Lenovo, it is Fn + F10, but the key combination may vary based on the manufacturer. On most laptops, the key combination is Fn + Insert.
3. Disable filter keys
Whenever the filter keys have been turned on, and your keyboard has refused to respond to the changes, you'd simply follow these paths:
Windows 10 : Go to Start > Settings > Ease of Access > keyboard > Turn off Filter keys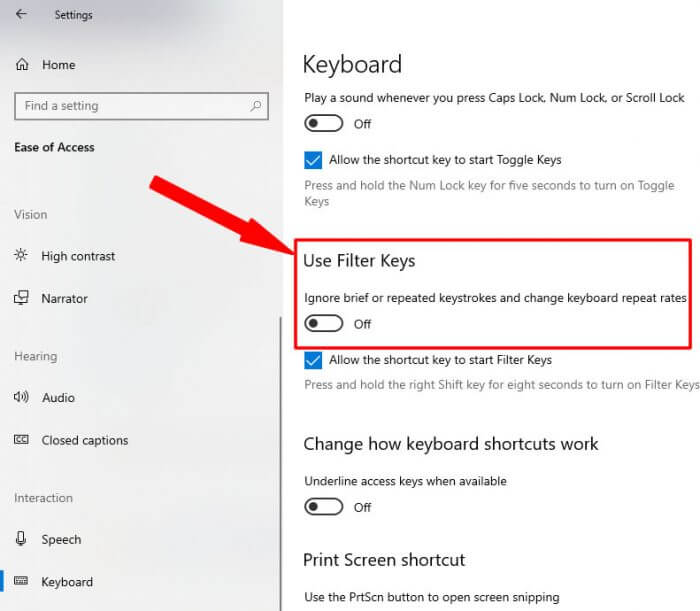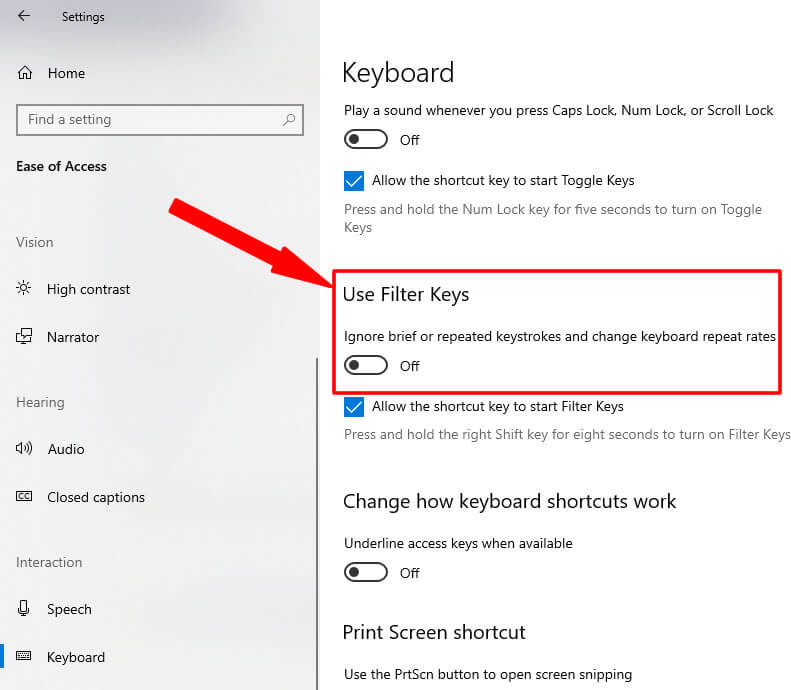 Windows 7: Go to Start > Control Panel > Ease of Access Center > Make the keyboard easier to use > Turn off Filter keys
After you disable the Filter Keys, restart your laptop and check if your keyboard works again.
Also Read: How to Clean a Laptop Keyboard
These few tips with a solution to your laptop keyboard not working will keep you alive again when using your laptop. Other than these solutions listed above, you can also try the installed hardware diagnostic tools that come with your laptop.