The leaks regarding the upcoming Huawei's Mate40 series is now getting revealed. This morning, the blogger @changan digital jun has leaked some information about the camera specification of the upcoming Mate40 series.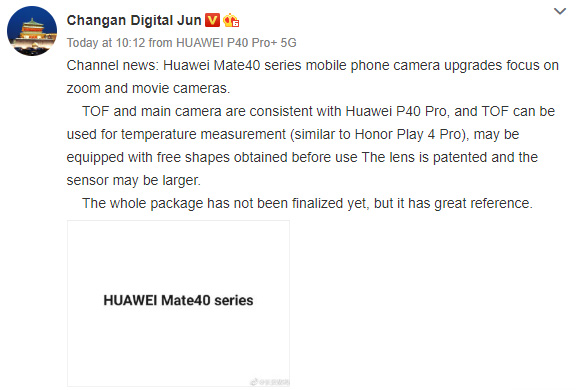 According to the blogger, Huawei Mate40 will be much focused on camera upgrades like zooming, movie cameras, and some other camera stuff. Moreover, the Huawei Mate40 will use the same primary camera and ToF camera sensors, which were used in Huawei's P40 series.
UPDATED (13-Jun-20 9:45 PM GMT +8): Huawei Mate40 Pro will also be equipped with a periscope telephoto lens, which supports 5x optical zoom and 55x digital zoom. Moreover, it will also use a new cinema lens, which has a large sensor.
The blogger also claims that the ToF camera will also be used for temperature measuring of the device. This technology had already debuted in the Honor Play4 Pro smartphone. He also said that the Mate40 series might be equipped with a large camera sensor, as some reports also claimed that it might use a free-form lens.
He also mentioned that the whole package is not finalized yet, but it has great reference. From some previous reports, it was reported that the upcoming Huawei Mate40 series would use a free-form 9P lens. Huawei will use this in its best flagship series for imaging degradation and distortion of outsole lenses. Dali's 9P lens has also been researched and developed, and many optimizations and upgrades have been made for billion-level pixels.
It is also reported that the Mate40 series will use the Kirin 1000 chipset. The Kirin 1000 is a 5nm based chipset which is unannounced yet.
The upcoming Huawei's best flagship Mate40 series is expected to launch in October, like the previous year. But due to COVID-19 Pandemic, it may be delayed.