Previously, we already reported about the charging specifications of the Samsung Galaxy S21 standard version. This morning, we found another leak regarding the rest devices of the Galaxy S21 series. The upcoming Galaxy S21+ and S21 Ultra have been spotted on 3C Certification.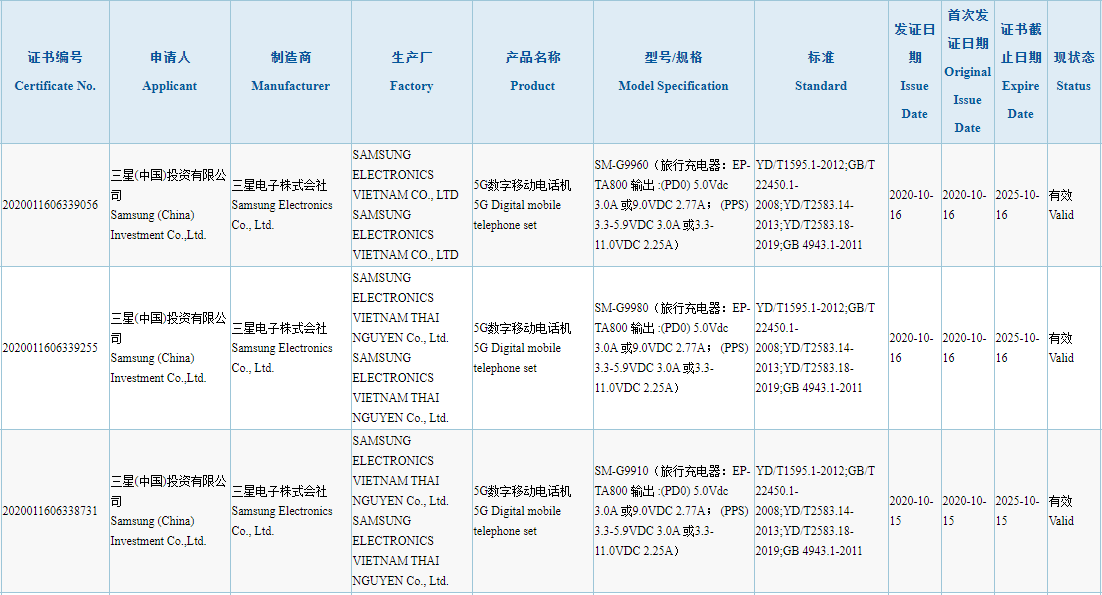 This time, the 3C Certification has revealed the charging speed instead of battery capacity. Both new phones Galaxy S21+ and Galaxy S21 Ultra would feature the same "EP-TA800" charger, which supports 25W (11V, 2.25A) maximum charging. The standard Galaxy S21 also uses the same charger.
Previously, it was reported that this time Samsung might introduce 65W super flash charging with its 2021 S series flagship. But then it was again reported that 65W charger maybe comes only with top of the line version. And now, it is confirmed that Samsung is not going to introduce any new charging technology.
The model number "SM-G9960" and "SM-G9980" points us that both of these models are Chinese variants of Galaxy S21+ and S21 Ultra, respectively. The predecessor of both phones also has almost the same model numbers (SM-G986 and SM-G988).
Both phones also support charging in different modes and speed: 15W (5V, 3A), 18W (9V, 2.77A). The applicant for this Certification is Samsung (China) Investment Company Limited, and it is being manufactured in the Vietnam factory of Samsung. This certificate has been issued on the 16th of October.
We also reported that an all-new Exynos 2100 chipset would power all the three upcoming Galaxy S21 series models. The chipset features Cortex-X1 and Cortex-A78 cores. This new chipset will be a great competitor to Qualcomm's upcoming Snapdragon 875 chipset.
Currently, the launch of the Galaxy S21 series is expected in the 1st Quarter of 2021.