This morning, Xiaomi has officially confirmed that they have created a new wireless charging technology that can charge phone (wirelessly) at 80W for the first time, breaking global mobile phone wireless charging records.
Xiaomi claimed that this new wireless charging technology could charge half of a 4000mAh battery in just 8 minutes, and for a full charge, it will take 19 minutes. It is also reported that this is also the third technological breakthrough from Xiaomi's wireless charging team this year.
Xiaomi has customized a more efficient wireless charging architecture and chip, independently designed a composite coil system, using MTW multi-pole fast-charging battery, dual 6C series cells, with multi-stage variable current control and MiFC fast charging and many other acceleration technologies
The wireless charging base uses a high-speed silent fan, charging fast and low heat. At the same time, it can still maintain more than 90% of the effective capacity after 800 complete charging and discharging, without sacrificing battery health.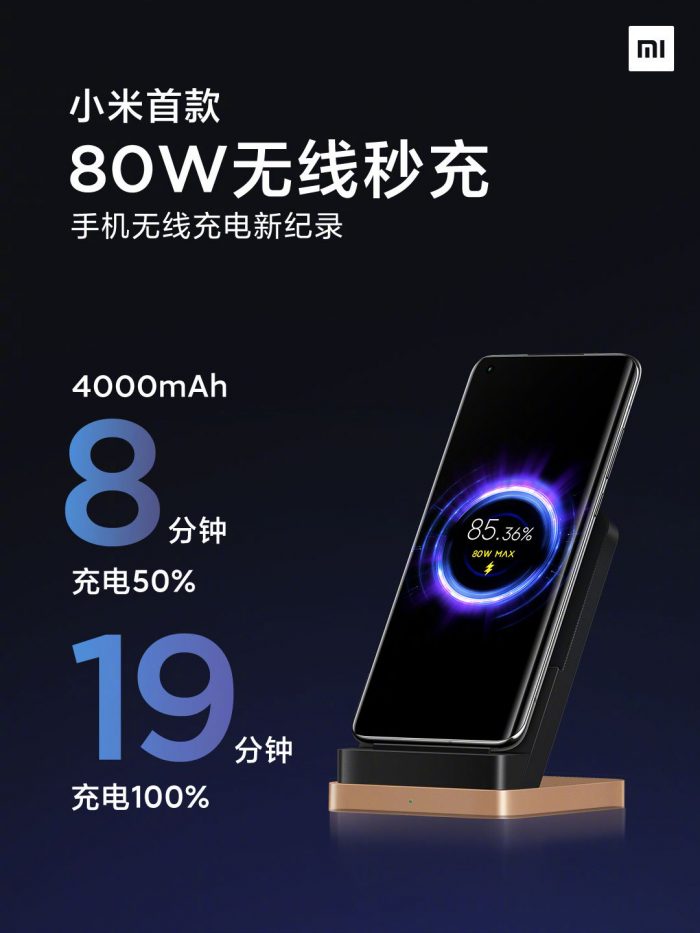 Currently, the Xiaomi Mi 10 Commemorative Edition is one of the smartphones that supports the highest wireless charging speed (50W) ever and is available in the market.
As per information revealed by Xiaomi yesterday, the wireless charging of Xiaomi mobile phones has been achieved from the 7.5 watts (of MIX 2S in March 2018) to the 50 watts (of the Xiaomi Mi 10 Extreme Commemorative Edition) in August 2020, and to the current 80 watts which is a considerable improvement.
March 2018: Xiaomi MIX 2S 7.5W
October 2018: Xiaomi MIX 3 10W
February 2019: Mi 9 20W
September 2019: Mi 9 Pro 30W
March 2020: Technical pre-research 40W
August 2020: Mi 10 Extreme Commemorative Edition 50W
This new 80W wireless charging technology has been confirmed officially, but it is not revealed yet which device will support this technology. Moreover, it took only two months for Xiaomi to build more fast (80W) wireless charging technology after 50W charging.