After the release of the new Galaxy Z foldable flagship models, Samsung's next target would be the Galaxy S series's new generation, which would probably be the Galaxy S24 series. Recently, we got a major leak regarding the Galaxy S24 series, denoting that Samsung is working on it.
This morning, the all-new Galaxy S24 series model got listed on 3C Certification, revealing the charging speed of all models included in the upcoming flagship series.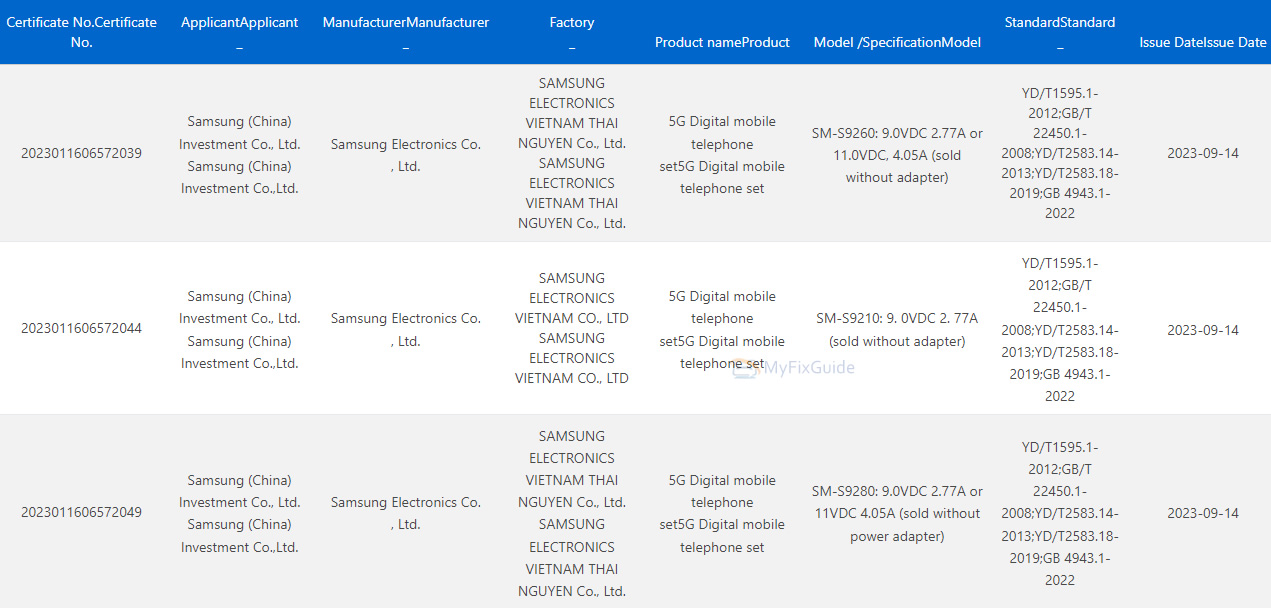 We can easily conclude which model belongs to which device from the model numbers. Starting from the base model, the standard Galaxy S24 carries the model number SM-S9210. This model will support charging at 25W (9V/2.7A), the same as in the previous model (Galaxy S23).
Then we have the Galaxy S24+ and Galaxy S24 Ultra; these models carry the model number SM-S9260 and SM-S9280, respectively. Both models support the same and peak 45W charging (11V/4.05A) and 25W (9V/2.7A) charging, similar to predecessor models (Galaxy S23+ and Galaxy S23 Ultra).
In the listing of all these models, it is mentioned that Samsung will keep its traditions by not providing chargers in the box.
As per previous news, the upcoming Samsung Galaxy S24 series will be powered by the Snapdragon 8 Gen3 chipset that Qualcomm might reveal in November. The chipset is expected to feature the following cores: 1x Cortex-X4 Ultra-Core, 3x Cortex-A7XX P-Cores (high frequency), 3x Cortex-A7XX P-Cores (lower frequency) and 2x Cortex-A5XX E-Cores.
Also Read: Redmi Note 13 Series Officially Coming on September 21
Moreover, the top variant (Galaxy S24 Ultra) might ditch the aluminium frame design and use the titanium frame to enhance its appearance. In addition, a minor change is expected in the display sizes of all models, while the battery capacity is likely to upgrade in the first two models (Galaxy S24+ and S24 Ultra).
It is expected that Samsung will release its Galaxy S24 series in the early 2024.