This morning, Huami has officially revealed the new "national health watch" Amazfit Pop, providing the flagship health functions.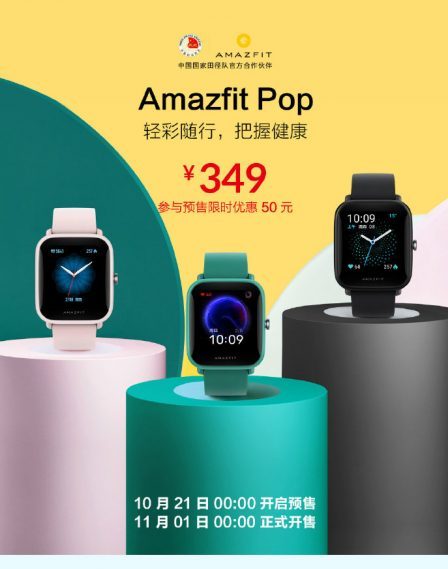 As per reports, it is reported that this new smartwatch features a 1.43 inches (320x302p resolution and 305ppi) color display. The whole watch weighs around 31 grams and is only 11.4 mm thick. It is paired with a soft and skin-friendly strap to provide an all-weather and comfortable wearing experience.
In personalization, the new Amazfit Pop comes with 50 different personalized dials and supports uploading photos as the dial background.
The features like blood oxygen saturation measurement (which can help users to measure the oxygen content in the blood at time), all-weather heart rate monitoring, sleep monitoring, pressure monitoring, and many other features (in terms of health) are also supported in the watch.
Simultaneously, the all-new Amazfit Pop also supports more than 60 sports modes and 50 meters of water resistance. It also got message notification reminders, NFC bus access control, Alipay offline payment, and other functions.
Amazfit Pop is also equipped with the BioTracker™ 2PPG high-precision bio-tracking optical sensor independently developed by Huami Technology, which can monitor the heart rate for 24 hours and automatically detect atrial fibrillation and identify heart abnormalities.
When the heart rate is too high, Amazfit Pop will promptly identify an early warning to remind users to pay attention to heart health. It also features functions such as sleep monitoring, pressure monitoring, breathing training, menstrual cycle management, and PAI health assessment system.
In terms of battery life, Amazfit Pop can achieve a long battery life of 9 days.
The new Amazfit Pop is priced at 349 yuan (53$) and is on pre-sale. During the pre-sale period, you can enjoy a 50 yuan discount. It will be available on Amazfit Tmall, JD.com official flagship store, and Xiaomi Youpin on 1st November.