Recently, there has been more and more news about Apple's iPhone 13 series. According to the current news, it will debut as scheduled at the autumn new product launch conference in September.
Despite the sluggish sales of the iPhone 12 mini last year, it is reported that Apple will not give up this model, and the iPhone 13 Mini still exists in the new generation product planning.
Today, a Weibo user exposed the CAD renders of the iPhone 13 mini, showing the changes of the phone compared to the previous generation.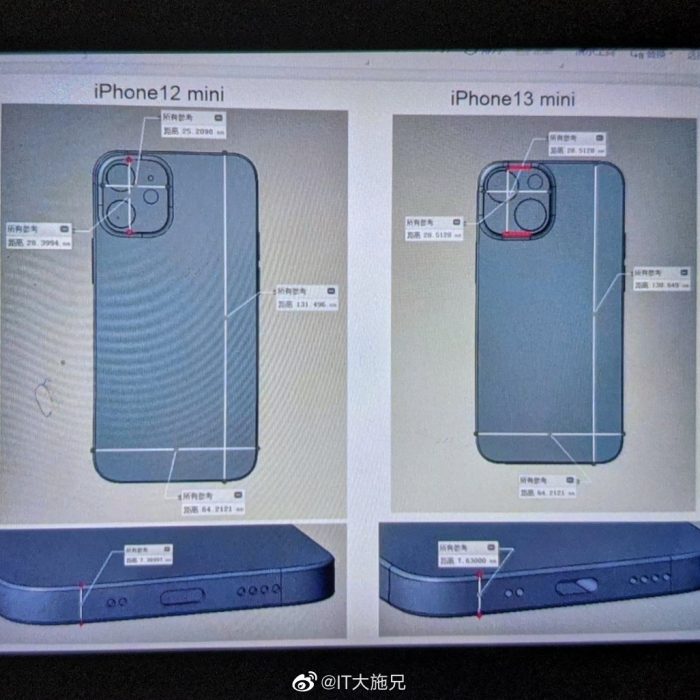 According to the picture, the iPhone 13 mini has basically inherited the design of the iPhone 12 mini and still adopts the square frame design, but the rear camera module has brought a completely new design, adopting a dual camera module with the diagonal arrangement, and the overall vision is It seems more coordinated.
Unfortunately, the CAD renders did not show the front of the iPhone 13 mini, but according to previous reports, Apple will equip the iPhone 13 with a smaller notch on the screen.
It is worth mentioning that the main reason for the sluggish sales of the iPhone 12 mini is the extremely poor battery life. The small body size limited the internal space and could only be equipped with a small-capacity battery. With the support of A14 and 5G, the battery life Very short, and this will be improved on the new model.
According to previous news, the iPhone 13 mini will still use a 5.4-inch screen, and the body size is exactly the same as the iPhone 12 mini, but Apple will use new technology to increase the battery capacity to improve the battery life of the phone.