A few days ago, we reported that Lenovo had started its 7 days campaign for its upcoming Legion 2 Pro gaming smartphone. In this campaign, the company would tease the main highlights of the gaming phone.
Today, only 5 days are left, and the officials have announced the device's battery specs. As per the official Weibo post (from Lenovo Legion Mobile), the all-new Legion 2 Pro will feature a 5500mAh Battery and 90W Super Flash Charging.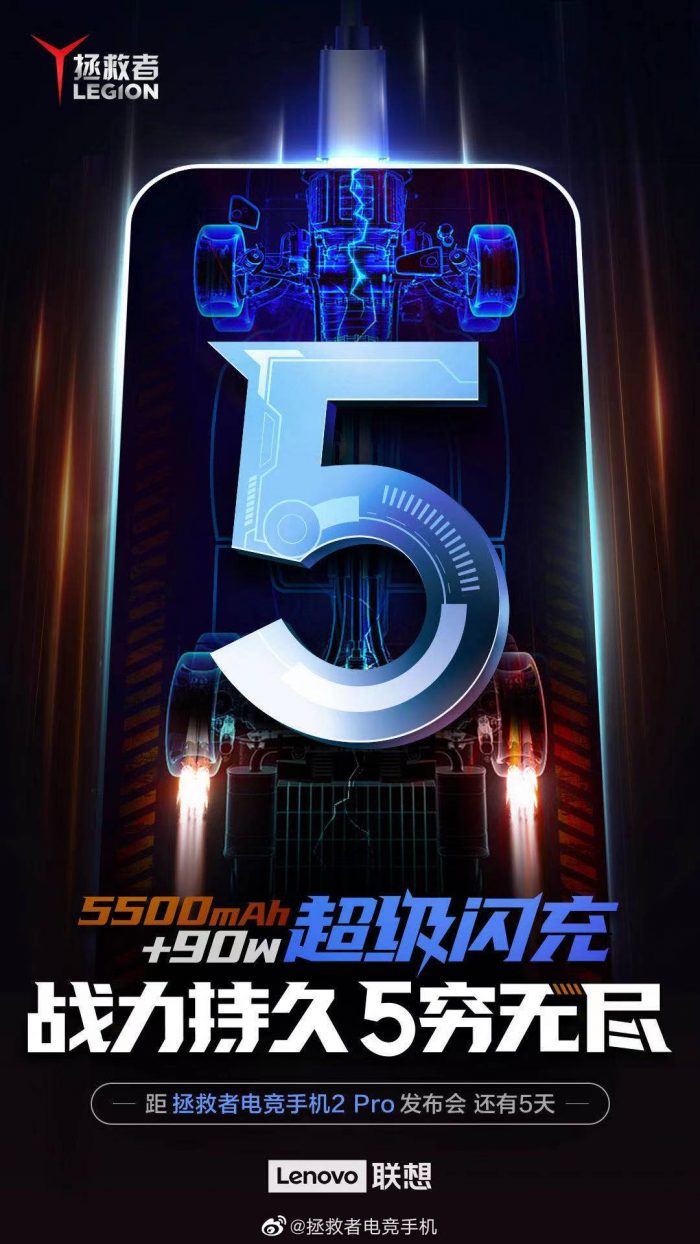 The previous model also supports the same 90W charging but with a dual USB Type-C port (45W+45W). Maybe, this newer generation uses the same scenario. The new Legion 2 Pro also uses a bigger battery (5500mAh) than the predecessor model that uses a 5000mAh Battery.
Previously, we already reported that the all-new Legion 2 Pro will feature a 6.92-inch Full-HD+ (2460*1080p) resolution display which also features a 144Hz refresh rate as well.
Inside the phone, the latest flagship chipset from Qualcomm, Snapdragon 888, is expected to be featured on this model. The chipset is based on a 5nm manufacturing process and features the Cortex-X1 Super core, bringing the performance to another level.
The Legion 2 Pro will also feature the world's first twin-turbo cooling system, making it the strongest, most innovative, and coldest gaming smartphone in the industry yet. The phone will be available in the following variants: 12+128GB, 12+256GB, and 16+512GB.
Currently, it is known that the all-new Legion 2 Pro will be launched on April 8.