As the iQOO 7 series's launch date is coming near, the company is slightly revealing the features of its all-new flagship series. Recently, iQOO have announced some charging related specifications of its upcoming series.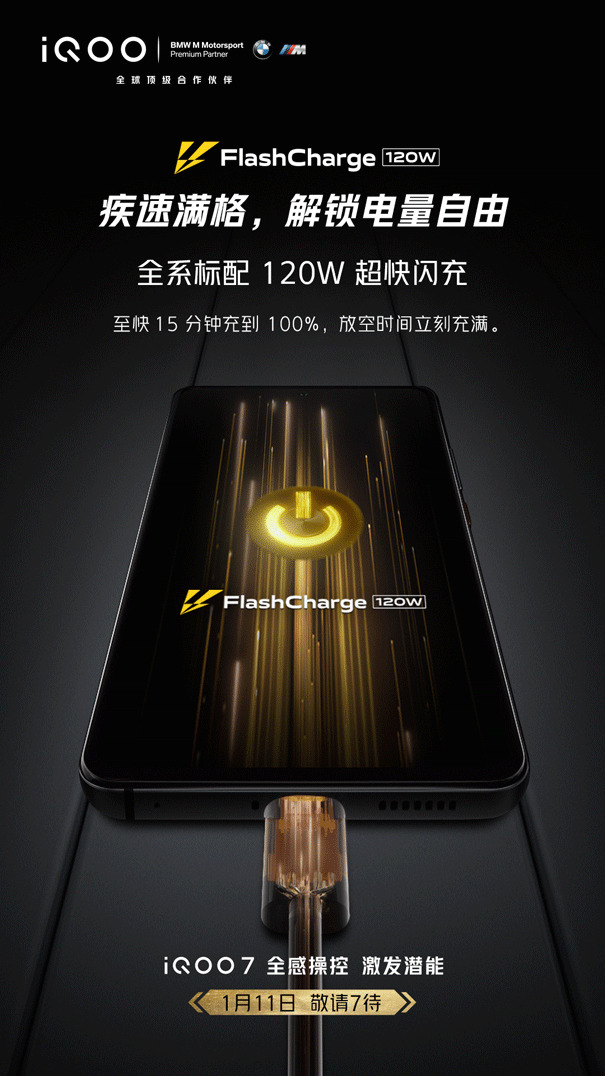 As mentioned in the poster, the iQOO 7 series will feature the same max fast charging (120W Super-Fast Charging) as in the predecessor model (iQOO 5 Pro). The charging time is also the same as the company mentioned: 15 minutes for a full charge, while 5 minutes for 50% charger.
Maybe, the battery capacity gets increase this time (up to 4500mAh). The previous-generation model consists of only a 4000mAh battery, which can get a full charge in 15 Minutes. The company also revealed some more highlighted features of the phone (related to charging).
The all-new iQOO 7 series would also support PD Charging up to 65 Watts, which can quickly charge the device with PD Fast charging protocol such as laptop, gaming console, etc.

The phone would also come with a built-in temperature sensor module, which would transmit the temperature information to the CPU. It will help the phone not to get overheated during charging.
Moreover, Dual 6C batteries are equipped inside the phone that supports a larger current, low resistance, high conversion & further reduced heat production.
As previously reported, the all-new Snapdragon 888 5G chipset will be equipped in this phone based on a 5nm manufacturing process and comes with Cortex-X1 super core.
The all-new iQOO 7 series is set to be launched on 11th Jan (2021).