This morning, Lynk & Co officially released the images of its all-new medium-sized SUV: Lynk & Co 08. The new SUV will be unveiled on March 25 and is expected to launch later (within this year).
Before discussing further, it is worth mentioning that this model is Lynk & Co's first mass-produced model that adopts a new urban contrasting aesthetic design style. The new Lynk & Co 08 is still based on the famous "The Next Day" design language, which adopts split headlights and upgraded DRLs (similar to the Y-shaped design).
In addition, there is a longitudinally extending LOGO breathing light strip on both sides of the car's front. Through sources, it is also reported that the light breathing effect can also be displayed while the vehicle is charging, and when the user approaches the car, it also greets with the welcome flashing.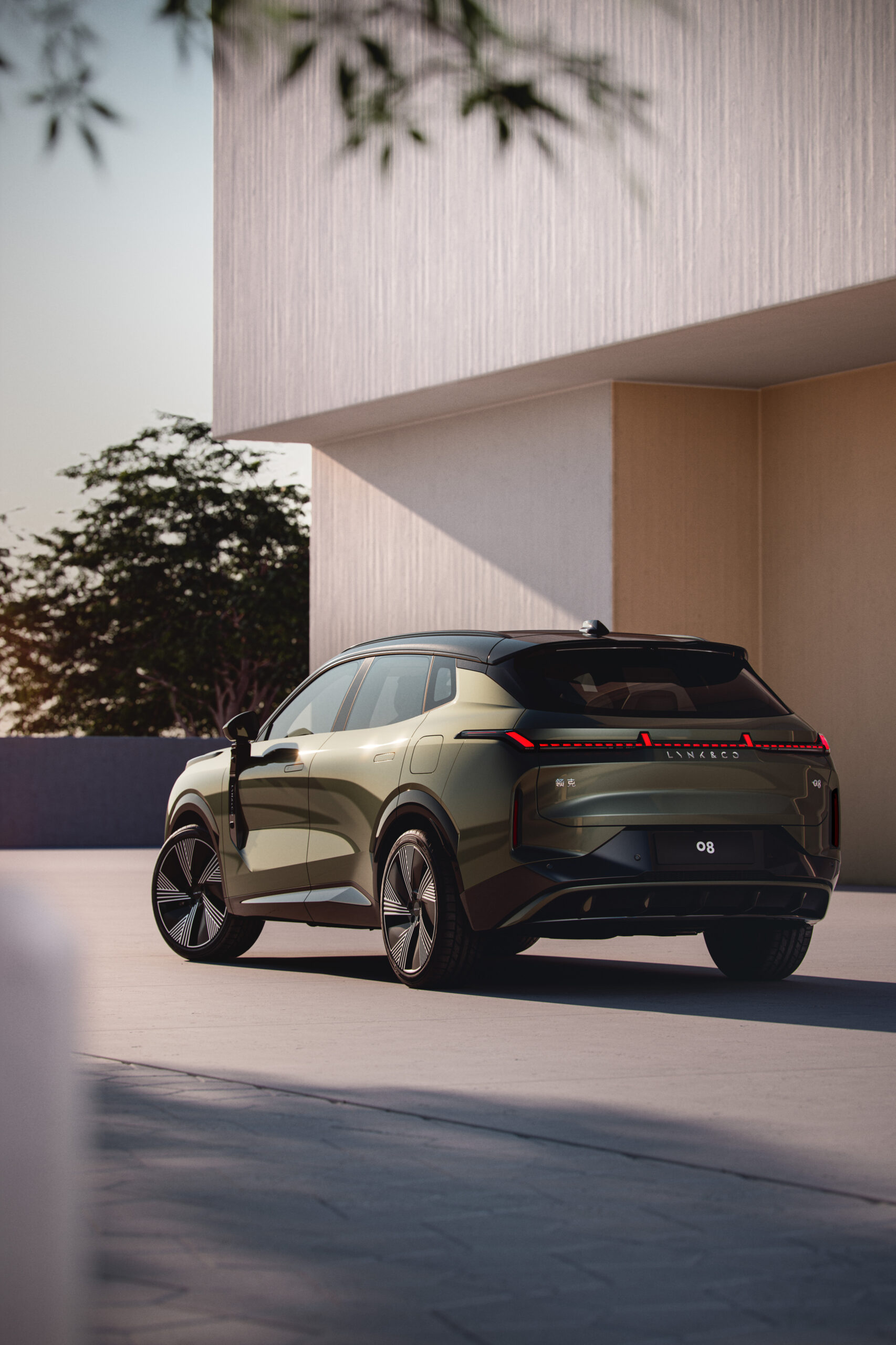 The size of Lynk & Co 08 is currently not revealed. However, as it is positioned as a medium-sized SUV, its length is expected to be around 4.8 meters. Overall, the side profile of this vehicle feels very sporty and elegant, unlike its higher model (Lynk & Co 09, which feels very stable and mature). The EV also adopts a variety of broken-line designs and has uniquely shaped black wheel arches and decent side skirts.
The D-Pillar design in Lynk & Co 08 is the same as in Lynk & Co 09. However, the tail window has a larger inclination angle, so it looks more agile. The car's rear side adopts the popular through-type taillight group, which enhances the visual hierarchy of the vehicle.
Regarding the interior, it was previously reported that this EV would feature a 12.3 inches Full LCD instrument panel in addition to a 15.4-inch floating central control screen which provides a HUD system with a broader field of view and comes with a space-saving shift design. Also, the table row features a seat back screen bracket, which allows the rear screen to be easily disassembled and moved.
One major highlight of this EV is that it comes with Meizu Flyme Auto Car-Machine for the first time. It can realize the layout and functions (similar to Huawei's Harmony OS, which has some exciting linkage functions).
Regarding the engine, the car will feature the Lynk-E Motive Intelligent Electric Hybrid system, which consists of a newly developed four-cylinder electric hybrid engine and gearbox. It is expected to support the 1.5T EM-P plug-in hybrid system mainly. The comprehensive cruising range can exceed 1000 KM.