Huawei Honor 8 uses a 5.2-inch 1080p screen, equipped with HiSilicon Kirin 950 processor, there are three versions, namely 3GB RAM + 32GB ROM, 4GB RAM + 32GB ROM and 4GB RAM + 64GB ROM. Huawei Honor 8 features dual 12MP rear camera, support laser focus, while the front camera with 8MP, built-in 3000mAh battery.
Want to be the first to see inside the latest gadgets? Follow us on Facebook for the latest news from the MyFixGuide.com.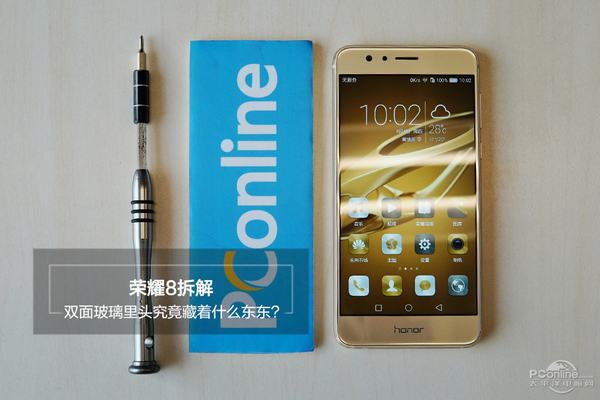 Before the teardown process, we need to remove the SIM card tray first.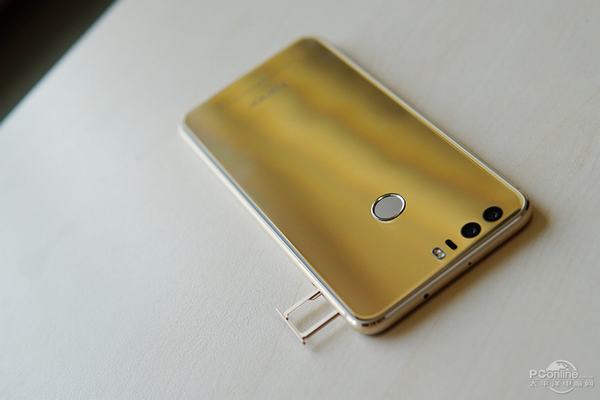 There is no screw at the bottom cover, so the back cover and the chassis are glued together. We need to heat up the back cover about five minutes with a heat gun.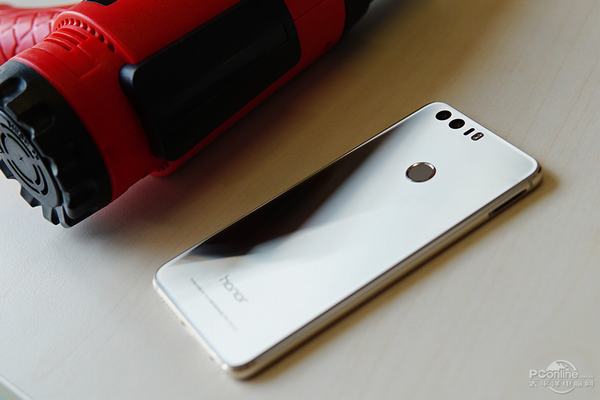 Insert a guitar pick between the back cover and chassis.
Slide the pick by the edges to remove the back cover completely.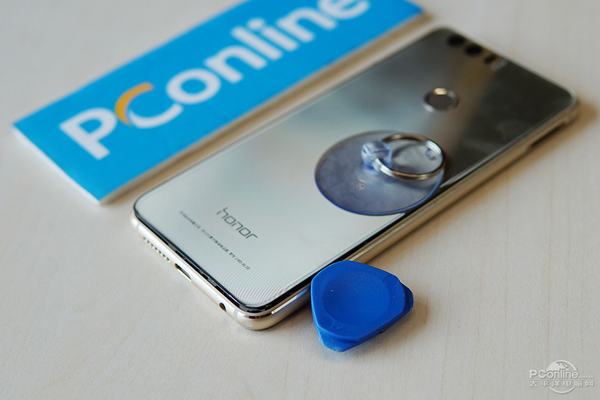 Open the back cover slowly, be careful, the fingerprint module is still connecting to the motherboard.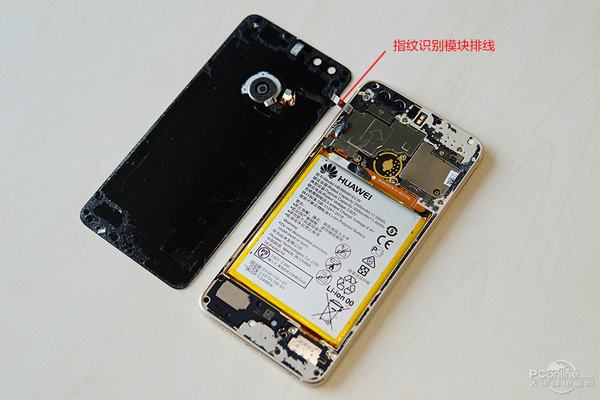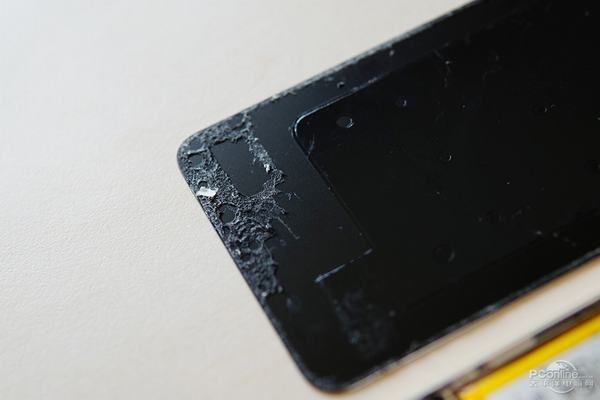 The fingerprint module is fixed on the motherboard by a metal bracket.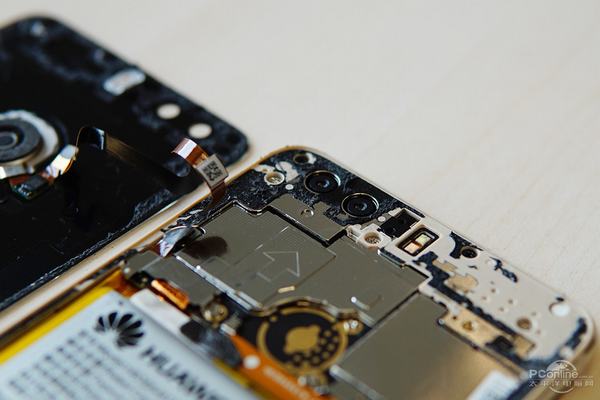 Remove two screws that securing the metal bracket and disconnect the fingerprint cable from the motherboard.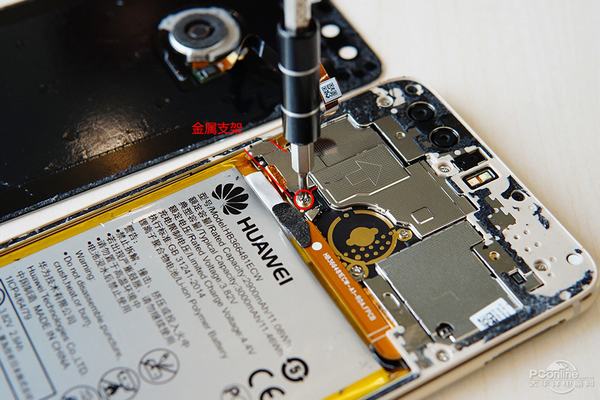 Now you can remove the back cover completely.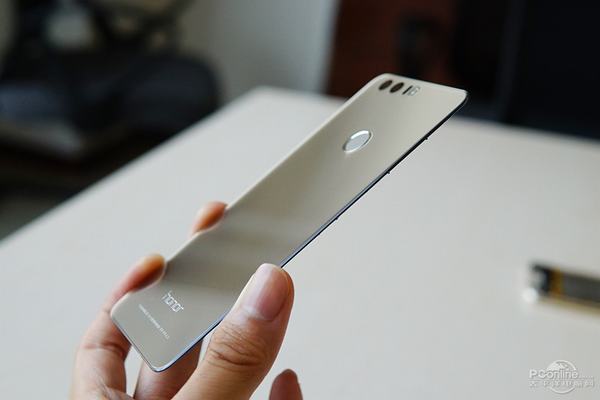 The fingerprint module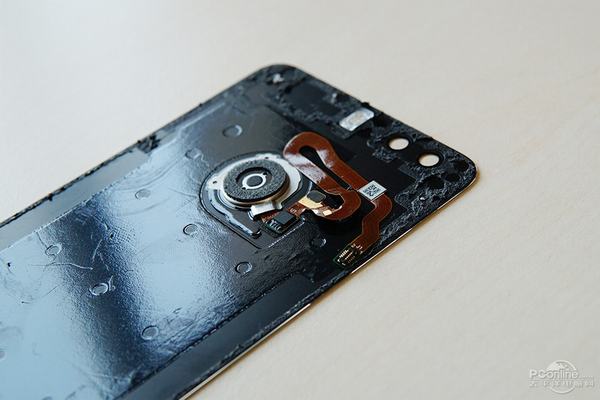 From top to bottom: motherboard, battery and speakers/ports.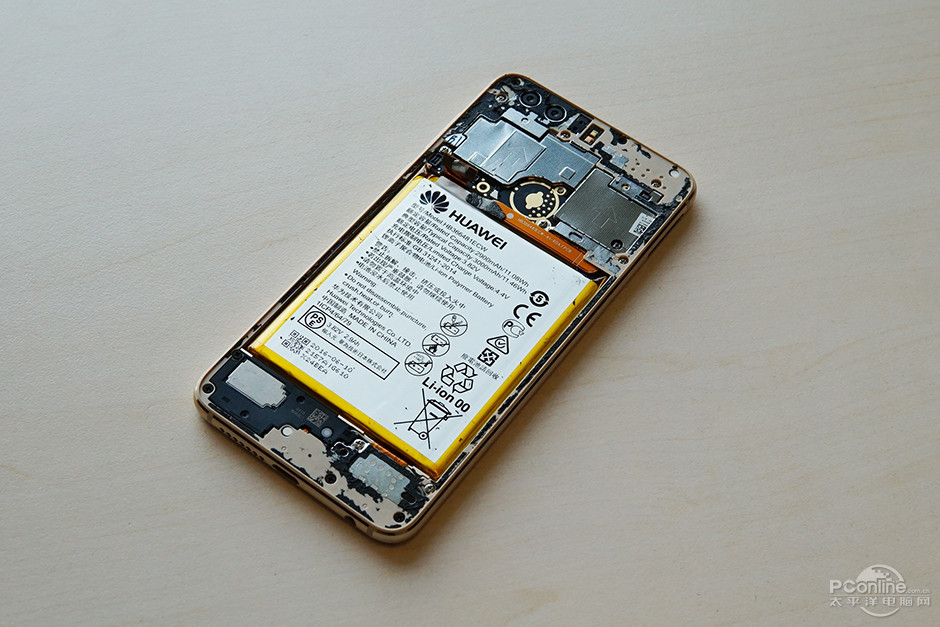 The metal frame functions as a cushion to protect the glass back cover when being dropped.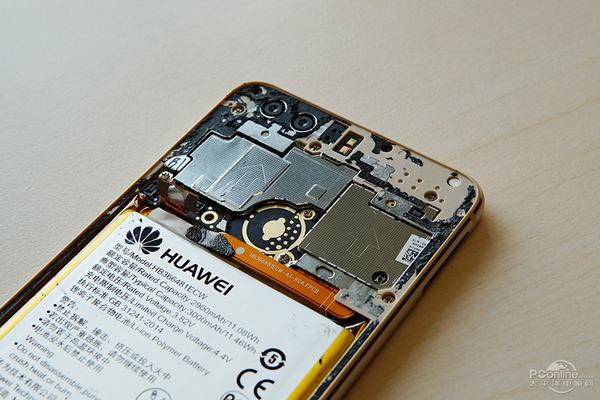 Remove all screws securing the middle frame.
The middle frame is glued with the metal chassis as well, preventing water penetrating.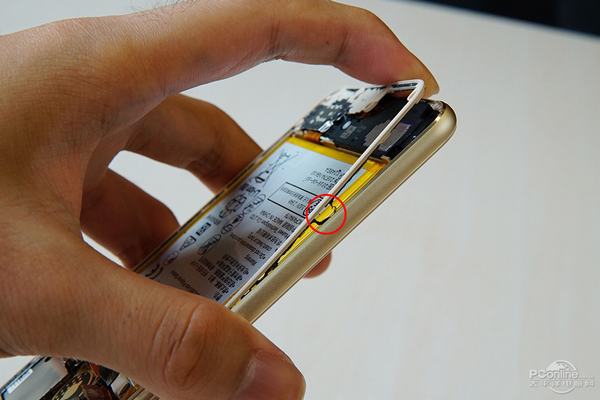 Here's the middle frame.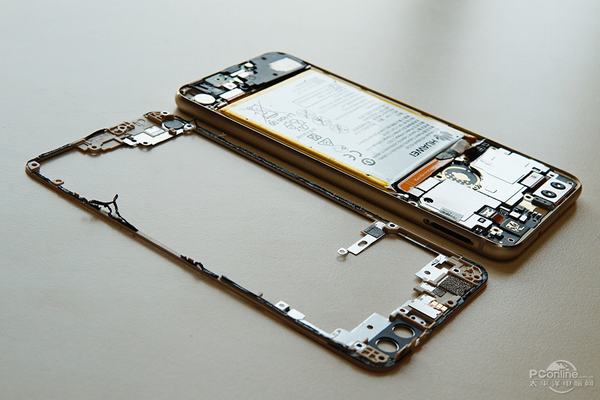 This is the dual color flash light, embedded in the metal frame.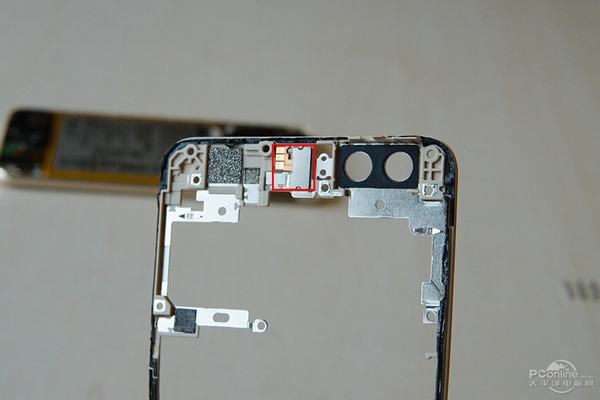 The motherboard of Huawei Honor 8 is quite compact. The main chipsets are all covered with metal shields.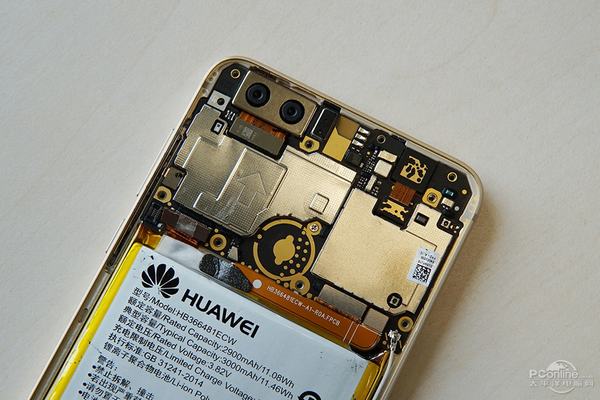 This is the speaker module and the USB Type-C port.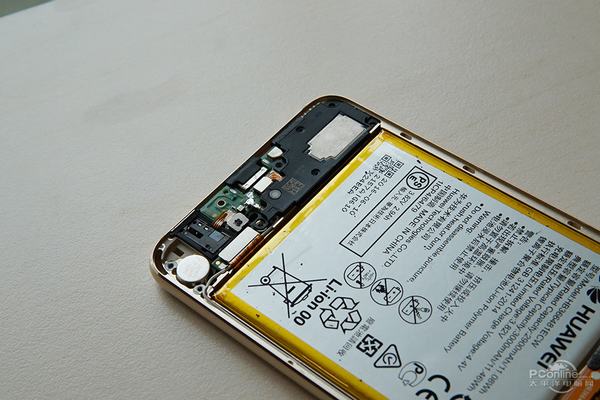 Remove all screws securing the motherboard and separate the motherboard from the metal chassis.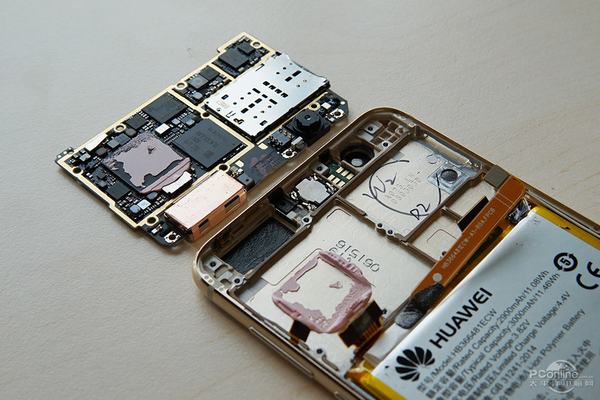 The speaker of Honor 8 is square and with 4 touch points (the left one above). The distance sensor by light resides on the right of the speaker as shown above.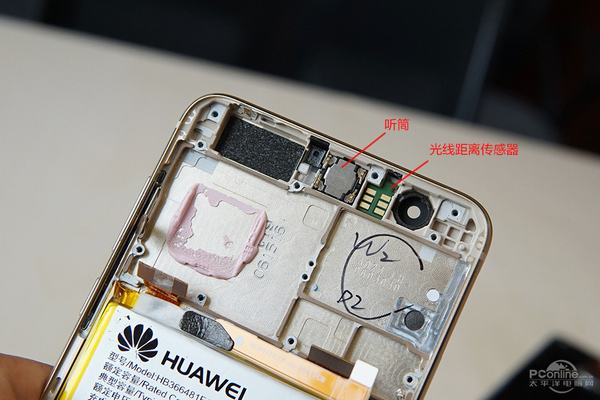 Speaker module and bottom board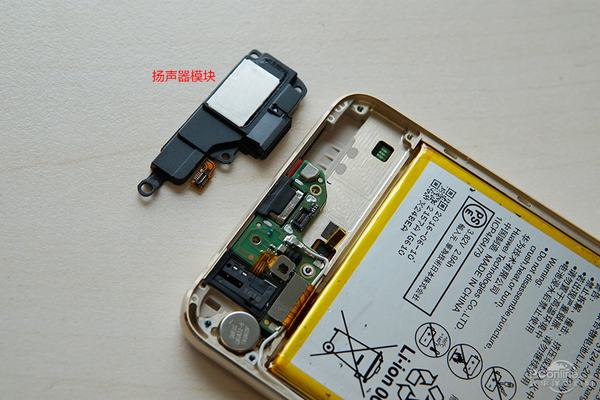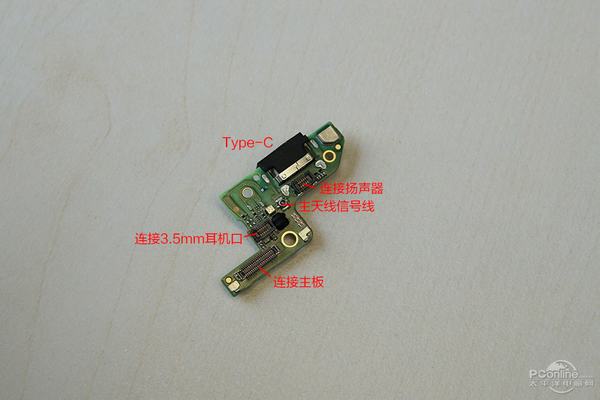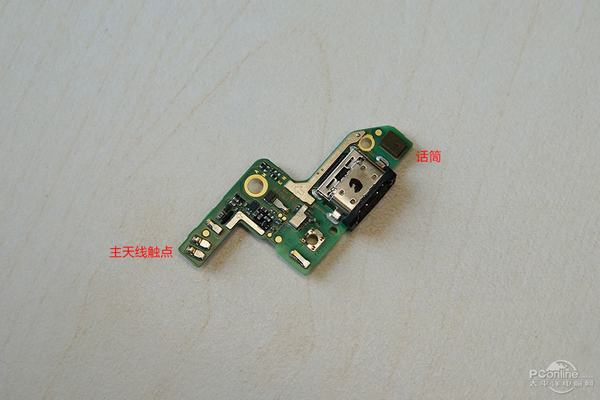 The rubber circle prevents the headset jack from being loose due to plug and unplug too often.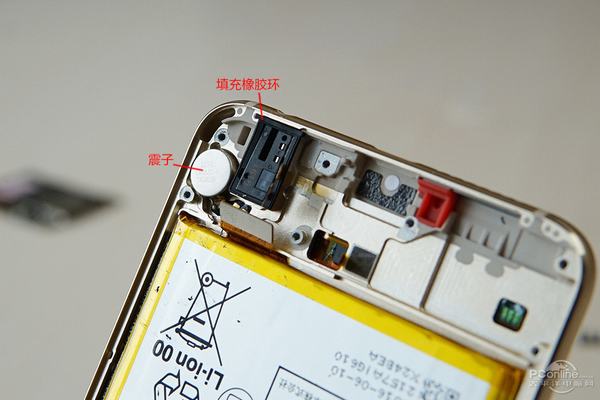 3000mAh battery and fast charging at 9V/2A.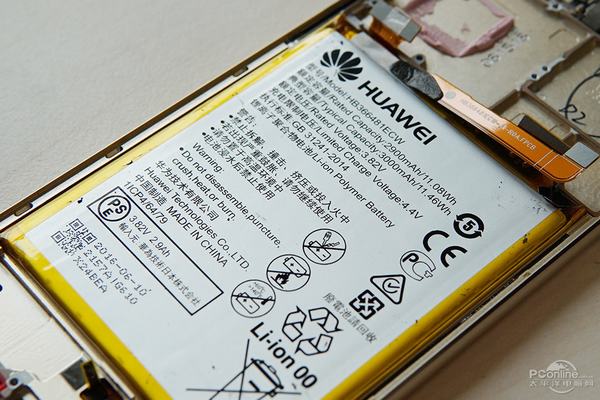 The volume button and power button are fixed by the metal bracket.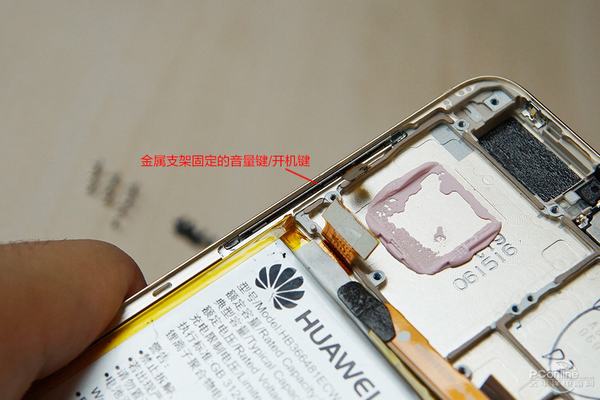 Here're light distance sensor and speaker.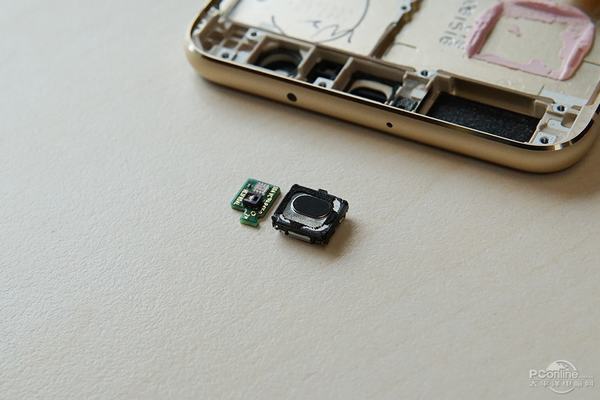 Huawei Honor 8 features a 12MP Sony IMX286 rear camera and a 8MP front camera.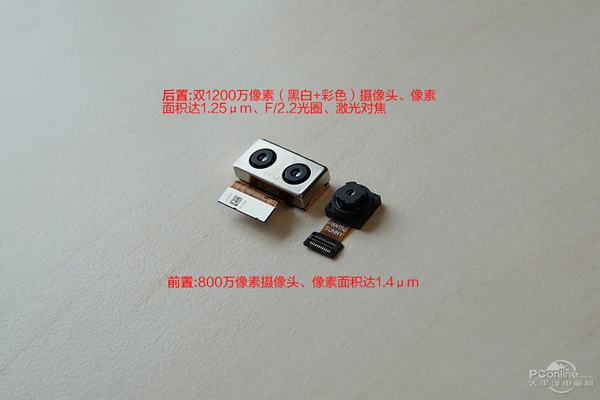 1. Micron 4GB LPDDR4 RAM and Kirin 950 SoC
2. Samsung 64GB eMMC 5.1 ROM
3. NXP 66T16 NFC
4. VIA CPM1.0A RF chip
5. VIA CBP8120 CDMA Band Chipset
6. QuaTek BQ25892 Fast Charging IC
7. SKY77621-51 RF Amplifier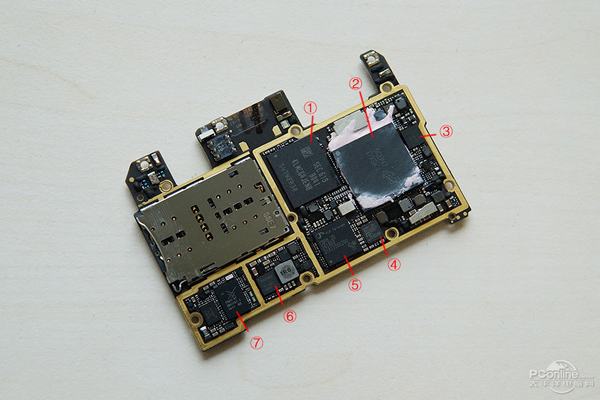 1. FCI FC7712A CDMA3G/2G
2. HiSilicon Hi6362 RF chip
3. SKY77360-2 GSM/GPRS/EDGE/TD-SCDMA
4. SKY13535 SP12T SP9T
5. SKY77765-1 CDMA/WCDMA/HSDPA/HSUPA/HSPA /LTE RF chip
6. HiSilicon Hi6422 RF chip
7. Broadcom BCM43455XKUBG Wi-Fi
8. Broadcom BCM4774 GNSS Positioning Chipset
9. HiSilicon Hi6421 Power IC
10. HiSilicon Hi6402 Audio IC