Recently, on May 8. A new version of Redmi K30 Pro appeared on jd.com, which was named "Redmi K30 Pro 5G Speed Edition". According to the poster that appeared on the website, the 5G edition of Redmi K30 Pro has a new processor – Snapdragon 768G. But now Qualcomm has officially confirmed its new processor "Snapdragon 768G". The processor's specs have already got leaked before an official announcement of the company, through the Redmi K30 Pro 5G Speed Edition.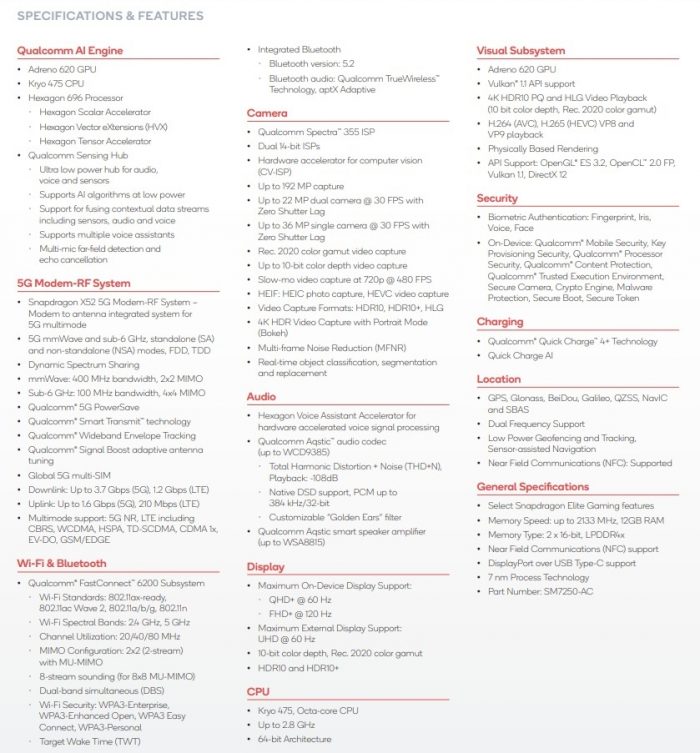 The new "Snapdragon 768G" has minimal differences with its predecessor, "Snapdragon 765G," which was launched in February 2020. Talk about the specs of this processor, it is an octa-core which has same cluster arrangement as in Snapdragon 765, but it has different clock speeds. The new chipset has two high-performance cores, which are clocked at 2.8 GHz and 2.4 GHz, respectively, while the other six cores are clocked at 1.8 GHz, which are based on the energy-efficient cluster.
The GPU is the same as in Snapdragon 765G but has a little better frequency. This time, on Snapdragon 768G. The GPU "Adreno 620" is clocked at 750 MHz, while in 765G, it is clocked at 625 MHz. According to the officials, the overall performance is 10% improved as compared to SD 765G (scoring around 360,000 on AnTuTu).
According to the official introduction, the Snapdragon 768G supports the Snapdragon Elite Gaming feature (which will provide you a very smooth gaming experience). It also uses Qualcomm 's fifth-generation AI engine, based on Qualcomm Spectra 355, which makes it able to take more than 1 billion color photos, and it also supports 4K HDR video Recording @30fps (FHD @60fps, HD @480fps).
This 5G processor also supports 5G PowerSave technology, built on Qualcomm Kyro 475 CPU + sensor hub + X52 5G modem- RF system (max download speed: 3.7 Gbps), which supports millimeter-wave and frequency bands below 6GHz. The phone supports QHD+(Quad HD) display at 60Hz and FHD+ (Full HD) display at 120 Hz.
The Redmi K30 Pro 5G Speed Edition, a first phone equipped with Snapdragon 768G has been launched online at 14:00 today on Redmi's website.