This afternoon, some new model numbers appeared on the FCC Certification site, including "SM-R870" and "SM-R890", as per our info, both model numbers belong to the new watch series coming from Samsung.
The first model number, "SM-R870," would be Galaxy Watch Active4 43mm, while the second model number "SM-R890" belongs to Galaxy Watch4 45mm. The FCC Certification has revealed some information related to the charging specs of both devices, which are discussed below: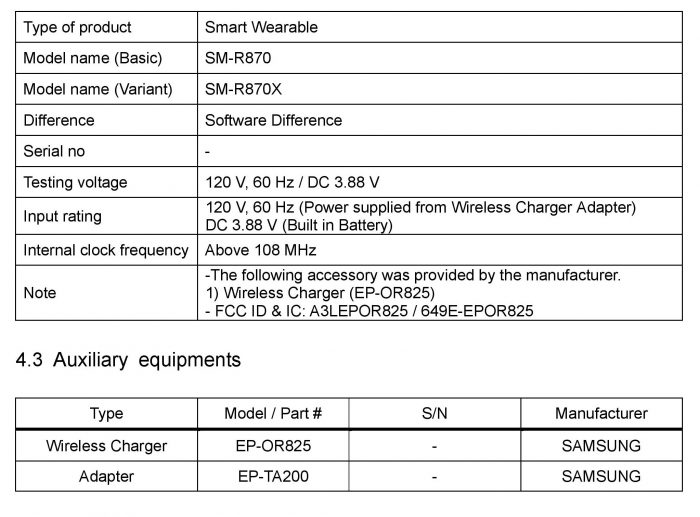 As mentioned in the FCC Certification, the new Galaxy Watch Active4 43mm will use the old Watch Active Wireless Charger, which charges at 5W (5V, 1A), and the adapter would also be from Samsung. A 15W (EP-TA200) old adapter would be connected with the wireless charger.

It doesn't matter that the adapter is 15W, but the Watch will be charged at only 5W. A live screenshot (showing the FCC ID) from Watch is also mentioned, confirming that the display would be round, but it is already known.

Come to the Galaxy Watch4 45mm, it would be the high-end version in the upcoming Watch series. As mentioned, it would also use the same 5W wireless charger and the same 15W adapter for charging purposes used in the model mentioned above.

A battery model number "EB-BR890ABY" is also mentioned. This battery would be used in Watch4 45mm, but its actual capacity is currently unknown.

According to previous reports, Samsung will use smaller batteries on its new Watch series. As further reported, the new Wear OS is confirmed to feature instead of the old Tizen OS on the new Watch series. On WearOS, we can anticipate longer battery life through smaller batteries.
For now, we can expect the launch of the new Watch4 and Watch Active4 series in the upcoming UNPACKED Event. In the upcoming Unpacked Event, devices like Galaxy Z Flip3 and Z Fold3 will officially launch.