In February 2023, Realme introduced its Realme GT3, a significant breakthrough in the smartphone industry as it features 240W charging, which is currently the highest in the industry. The latest reports claimed that the company is working on the next-generation model of its GT series.
This morning, the blogger @DigitalChatStation (on Weibo) revealed the image of Realme GT5, which was showcased by the company officially in Shanghai New International Expo Center Hall E4. The phone is covered with a case in the photo, so it doesn't get appropriately revealed.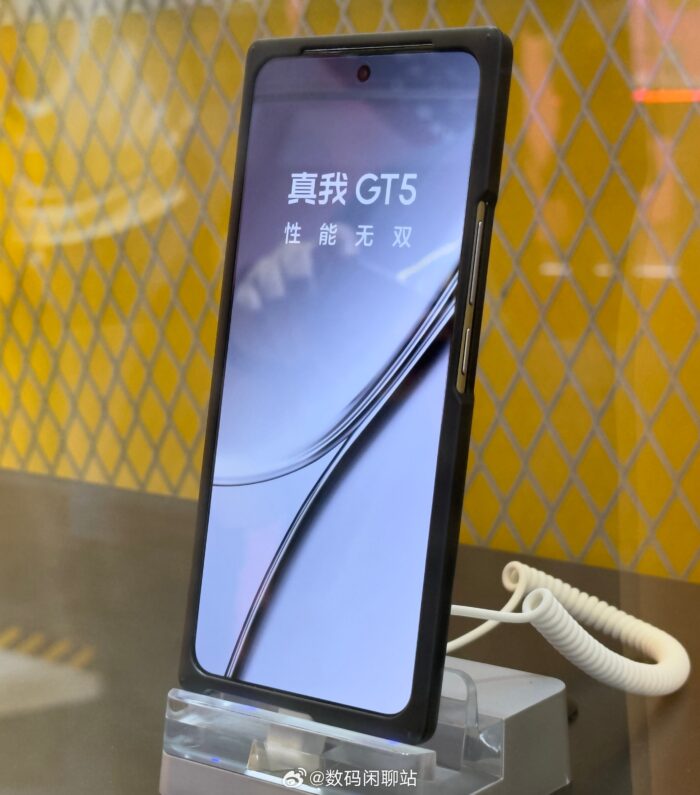 The blogger has also revealed the specifications of the Realme GT5. As mentioned, the upcoming model will feature a single-centered punch-hole straight (non-curved) display that would support 1.5K resolution and doesn't have any plastic bracket.
Inside the phone, the latest Snapdragon 8 Gen2 chipset would be used, the best from Qualcomm. The chipset is based on TSMC's 2nd Generation 4nm manufacturing process and features the latest Cortex-X3 Super Core (clocked @3.2GHz), Adreno 740 GPU, and Snapdragon X70 5G modem.
The top variant of Realme GT5 will feature 24 Gigs of RAM (in addition to 1TB Storage, probably). Moreover, it would still be available in both 150W (with a higher battery capacity around 5000mAh) and 240W charging variants (with a lower battery capacity around 4600mAh).
Also Read: Xiaomi Mix Fold 3 Officially Confirmed to Launch in August
This model is also expected to feature an in-display fingerprint scanner as the display is probably AMOLED, and side buttons aren't integrated with the fingerprint scanner. Regarding other specifications, the Realme GT5 is expected to be the same as its predecessor.
The official launch of the Realme GT5 is expected to happen very soon.