Last year in August 2022, Xiaomi officially revealed its Mi Mix Fold 2, which is still the latest foldable flagship of the company. It is powered by the Snapdragon 8+ Gen1 flagship chipset. As per the latest news from the industry, Xiaomi is going to reveal the next generation of this foldable device next month.
This morning, Xiaomi officially announced that the all-new Mix Fold 3 foldable flagship will be released in August 2023 in collaboration with the Leica Image Optics solution.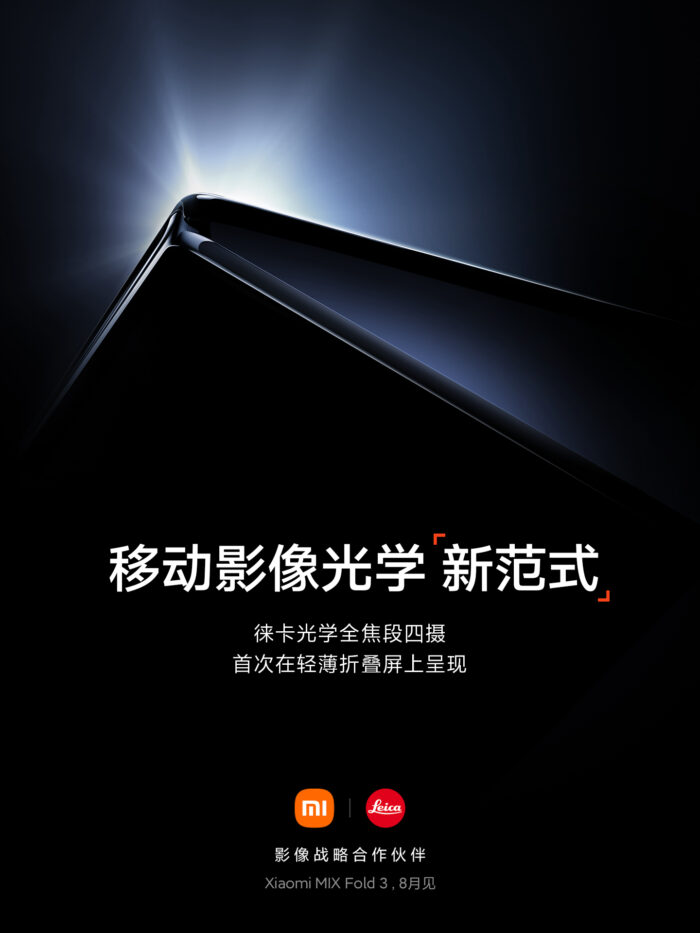 In the official announcement, Xiaomi's official said, "With the joint efforts of Xiaomi and Leica, we have successfully created the latest solution of "Leica Optical Full-Focus Quad Camera" in the thin and strong body structure of MIX Fold 3. This flagship cooperation work between the two parties will be released in August."
In short, both parties (Xiaomi and Leica) have collaborated and have designed the Quad Camera setup for Xiaomi Mix Fold 3. Moreover, the body structure in this foldable flagship would be more thin and lightweight when compared with the previous generation models.
In addition, the quad camera technology in MIX Fold 3 has also achieved many breakthroughs, including miniaturized OIS motors, ultra-thin high-lens sheets, miniaturized periscope telephoto modules, and stacked design, successfully integrated into the "Leica Optical Four-Camera."
Previously, it was also revealed that MIX Fold 3 would probably feature a white-colored curved glass on the backside. It would consist of a quad camera setup including 3.2x portrait center focus and a 5x periscopic telephoto lens. The device also adopts a new water drop hinge design to enhance anti-drop performance while maintaining the body aesthetics still thin and lightweight.
Also Read: Huawei Mate 60 Pro Backside Renders Revealed
The MIX Fold 3 is also rumored to support 67W wired fast charging and 50W wireless charging. Moreover, the chipset would probably be the Snapdragon 8 Gen2 from Qualcomm.
In the coming days, Xiaomi is expected to reveal more highlights regarding its upcoming Mix Fold 3.