Two days before, Redmi announced that the company would release the all-new Note 11 Series on October 28. Like the previous practice, the company is now teasing the main highlights of the upcoming series on a daily basis as the launch conference is coming near.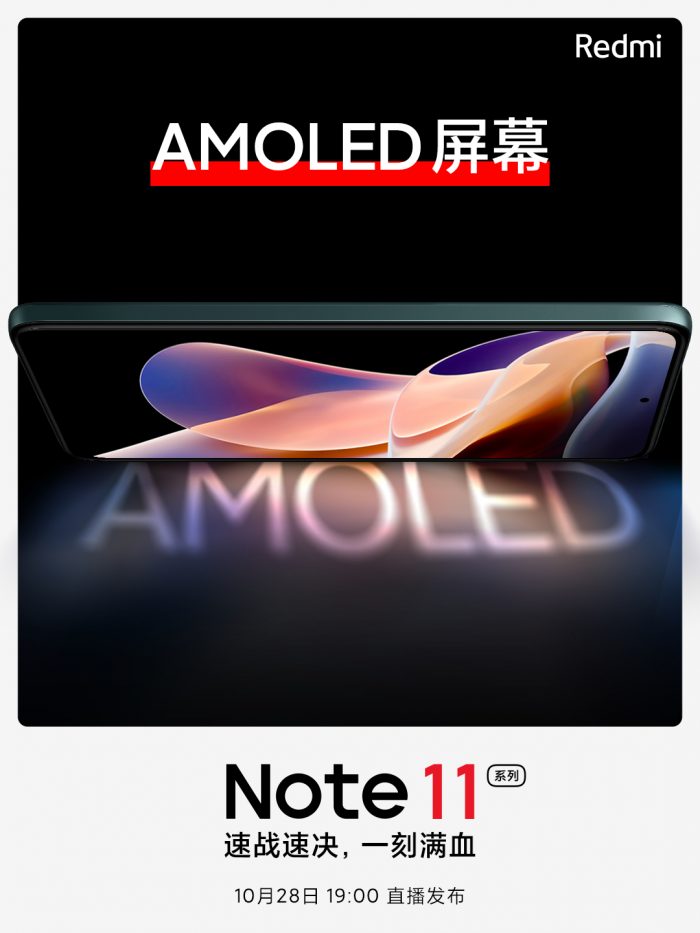 This morning, Redmi has officially revealed (on Weibo) that the new Note 11 Series will feature a high-quality AMOLED screen. These AMOLED Displays wouldn't be limited to only high quality, but they will also feature a higher screen-to-body ratio.

As claimed by the officials, the new Redmi Note 11 series will feature a narrow edge display having a thickness of just 1.75mm (0.06 inches) on the edges. Furthermore, instead of calling it punch-hole, the company has used the word "pinhole" to represent how small the diameter of the front camera is (i.e., 2.96mm or (0.116 inches).
The AMOLED screen also got highlights like high resolution, high refresh rate (expected up to 144Hz), high touch response, and high color gamut. Through unofficial sources, it is also revealed that the OLED display with a higher refresh rate (on Redmi Note 11 series) is manufactured by Samsung.
Previously, it was revealed that the new Redmi Note 11 series would adopt a triple camera solution with a newly designed camera module. On the backside, it will also use AG (Anti-Glare) Glass. Rumors are also claiming that this series will feature a side fingerprint scanner instead of an in-display scanner.
It was also exposed through a previous warm-up post that the phone will feature JBL's Dual Speaker on top along with a 3.5mm headphone jack and IR (infrared remote) control sensor. It is also expected that the charging power might get increased up to 120W.