Yesterday, we reported that the Galaxy Z Fold3 had cleared its TENAA Certification. Today, another model Galaxy Z Flip3 has been listed on TENAA with key specifications. The certification has the model number SM-F7110, which belongs to the Chinese version of Galaxy Z Flip3.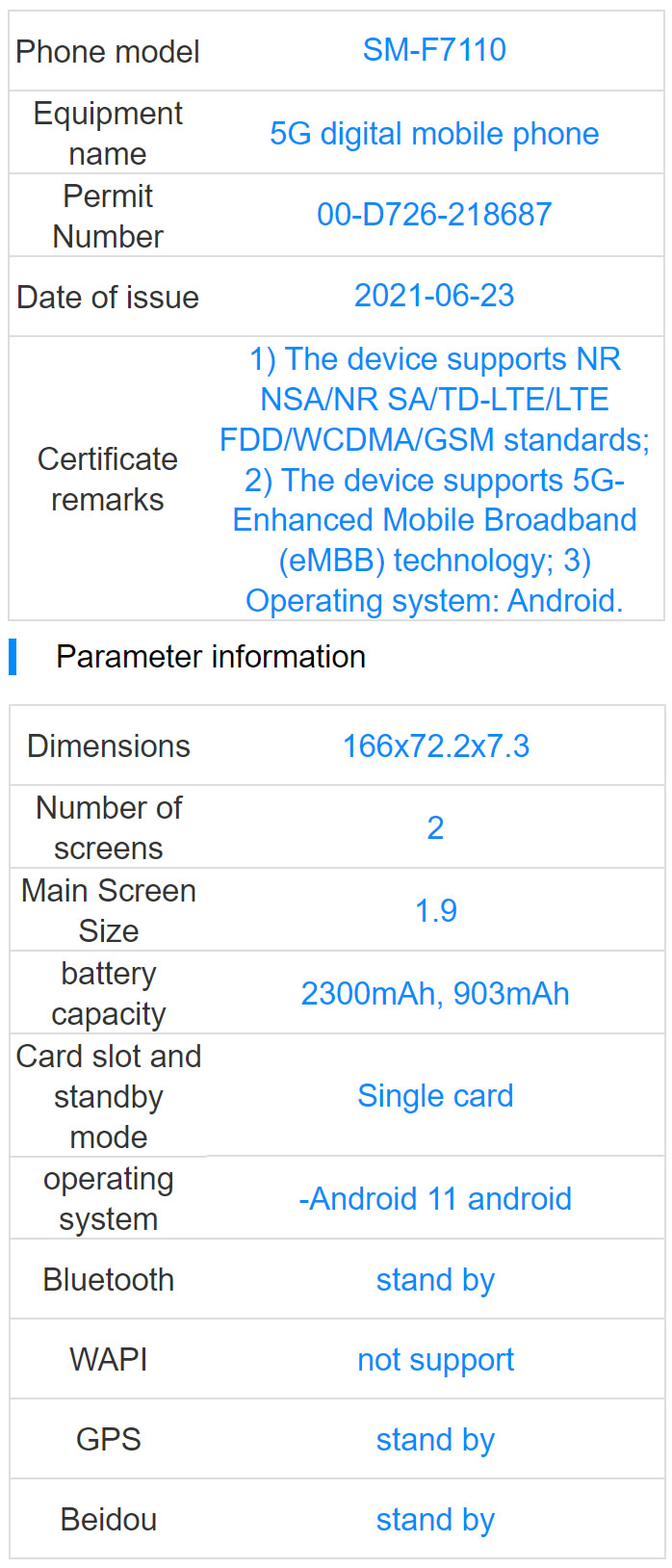 As revealed in the certification, the new Galaxy Z Flip3 5G will feature a 1.9 inches mini AMOLED display at the top of the backside, which would be used for viewing notifications and doing some other task while the device is folded. The previous year's Galaxy Z Flip has a 1.1 inches mini AMOLED Display.
The size of the main display isn't mentioned. In addition, the dimensions of Galaxy Z Flip3 5G are also mentioned: 166×72.2×7.3mm, through which it is observed that the thickness has been increased by 0.1mm (i.e., 7.2mm in Galaxy Z Flip 5G), while the height and width of the device have been decreased.
The battery capacity of Galaxy Z Flip3 5G was also got revealed. It would feature a dual-cell battery with the following capacities: 2300mAh, 903mAh. The total battery capacity is 3203mAh, which seems the typical value, while the rated value is expected to be more.
It is worth mentioning that the previous year's model, Galaxy Z Flip 5G, was listed with a 3204mAh battery (typical value) on the 3C Certification; that's why we can expect a bit downgrade in battery capacity this time.
If we talk about the previous information, it is known that the new Galaxy Z Flip3 5G will feature dual rear camera lenses. The top portion of the phone from the backside will be in black, in which the vertically aligned camera setup and the secondary screen will be placed.
The same single punch-hole display would be used on the front side, as in Galaxy Z Flip 5G, but it might have a small aperture this time. Inside the new Galaxy Z Flip3, the flagship chipset Snapdragon 888 will be featured.
The latest information claimed that the new Galaxy Z Flip3 would be launched along with Galaxy Z Fold3 in the upcoming UNPACKED event, held on August 11.