This year, a considerable number of gamers have shifted toward gaming notebooks due to their portability, no matter the prices and performance are almost the same (of both gaming PCs and notebooks). Moreover, an extensive development in terms of appearance has also be seen this year. Today, the notebook we are going to review is also improved in appearance and portability.
At the end of May 2021, Acer introduced its Predator Triton 500 SE, which can also be called a special edition of Triton 500. The Predator Triton lineup is well-known for its breakthroughs like slim and lightweight body with the same flagship performance. After changing mold, Acer has represented the new Predator Triton 500 SE (2021), improving every aspect like appearance and performance.
Through past practices of Acer, it is observed that the Predator Triton series has always been at the forefront of mid-to-high-end gaming laptops with the advantages of lightness, thinness, and performance. The new Predator Triton 500 SE series has a starting price of $1750 (for the base variant). The variant we have selected to review is the high-end variant (Core i9-11900H + RTX 3080) with a price tag of $2700.
Acer Predator Triton 500 SE Specifications
Screen
16″ WQXGA (2560 x 1600) 16:10 165 Hz IPS
Processor
Intel® Core™ i9-11900H processor Octa-core 2.50 GHz
Wireless Connection
Killer Wi-Fi 6 AX1650i + Bluetooth 5.1
Graphics card
NVIDIA® GeForce RTX™ 3080 with 8 GB dedicated memory
Memory
32 GB DDR4 SDRAM, 2 x SO-DIMM Slots
Storage
2 TB SSD, 2x M.2 SSD slots, RAID 0
Ports
1x HDMI Outputs
2x USB 3.2 Gen 2 Type-A
2x USB 3.2 Gen 2 Type-C (Thunderbolt 4)
1x RJ-45
1x Kensington Lock Slot
1x DC-in port
Battery
4-cell Li-Ion battery
OS
Windows 10 Home
Weight
5.40 lb
Acer Predator Triton 500 SE: Design, Appearance & Portability
The significant change on Predator Triton 500 SE is the change in its mold design. It has been changed to new gray color from the traditional black color, making the entire body more detailed. Moreover, the material used in the overall body is aluminum alloy. The total surface is also finely frosted, providing us a durable and very delicate experience while using.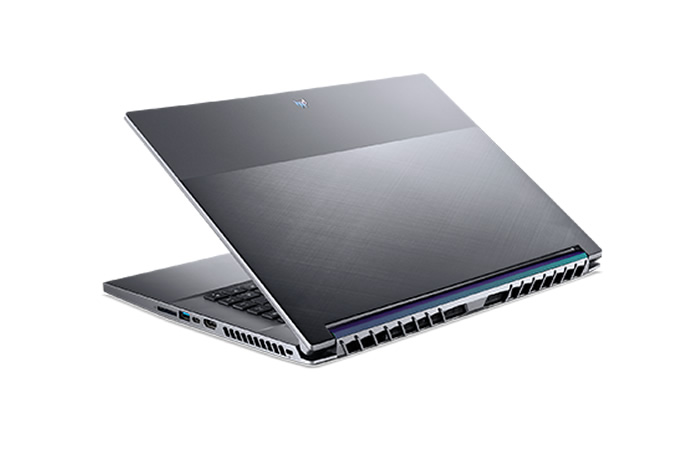 While maintaining the flagship performance (for gaming purposes), the new Triton 500 SE still got no compromises in being slim and lightweight. The laptop has a thickness of only 19.9mm (total dimensions: 358.1*261.7*19.9mm) and 2.4kg weight. In portability, it can easily give a tough competition to other latest 2021 gaming notebooks (like ROG Zephyrus M16 or Alienware X15).
It is worth mentioning that the term portability plays a significant role in gaming notebooks, and we can say that it is one of the evolution points of Acer Predator Triton 500 SE. An average consumer can easily carry it without getting tired. Moreover, the two hinges allow us to effortlessly raise and lift the screen with a single hand and return it to a flat 180-degree position, which is quite helpful in a notebook.
Acer Predator Triton 500 SE: Display
The Predator Triton 500 SE features a 16 inches ComfyView IPS LCD Display with a 16:10 aspect ratio and 2.5K resolution (2560*1600p). It is worth mentioning that the term ComfyView represents the Anti-Glare Display in Acer notebooks. It can be seen that the display has very narrow bezels with an 87% screen-to-body ratio increasing the viewing area. Not only that, the higher 165Hz refresh rate makes the gaming experience smoother and dramatically reduces the occurrence of lag.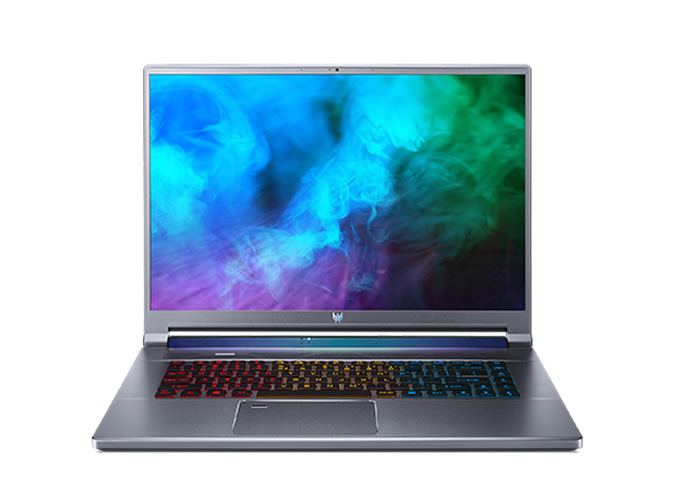 Furthermore, the 16:10 aspect ratio is also suitable for other tasks like daily reading or office work. It can also provide a fantastic browsing experience. On testing, we further found that the display has 98% sRGB, 77% AdobeRGB, and 75% P3 color gamut. Also, its brightness can be increased up to 500nits. It is worth revealing that the BOE is the manufacturer of this screen. The overall display phenomenon on Predator Triton 500 SE is very suitable for players with higher requirements like sharp display colors and a higher refresh rate.
Acer Predator Triton 500 SE: Keyboard
The new Triton 500 SE gaming notebook features RGB backlit island-style keyboard like its predecessor model and still lacks the Numeric Pad but being a gaming laptop, it doesn't matter a lot. Moreover, we also got some media keys that can be remapped through the software (on the right side of the keyboard). The gamers can set these media keys according to their needs.
It is also observed that keycaps' design is also changed compared to previous Predator lineup notebooks. Now, it seems more basic and uniform. The overall experience on the keyboard is not as good as expected due to this new keycap design. But still, the keyboard feels very premium while typing. It seems like typing on a slim notebook.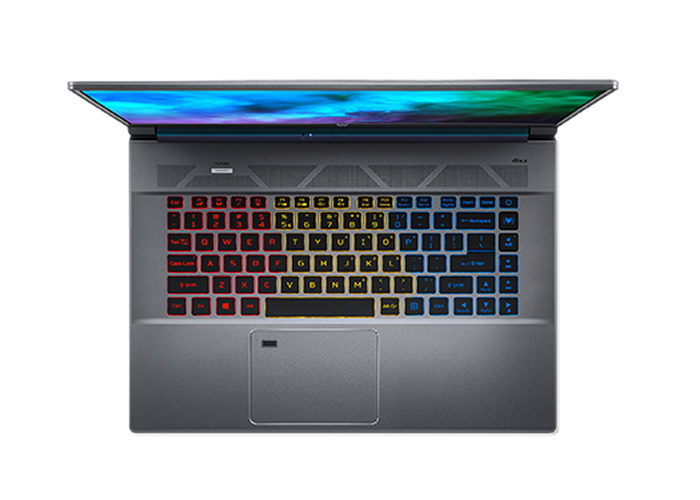 In addition, it is worth mentioning that the keyboard has three-zone lit with two light intensity levels. These LEDs (on the keyboard) seem sufficiently bright and consistent. Some minor changes, such as a lit indicator on Caps Lock and Mute key (while the sound is muted), are also added, missing on Acer's previous gaming notebooks.
Under the keyboard area, the notebook got a touchpad with an integrated fingerprint sensor at the top-left (can be used for many purposes). It is observed that the touchpad is made up of glass and has a small area, but still, it supports multi-touch gestures.
Due to the fingerprint sensor, it was concluded that the touchpad might not work in its area, but on testing, we didn't find any touch missing while moving the finger over the fingerprint sensor. The entire experience of the touchpad on Triton 500 SE is just fine; it could be made better by making some changes like an increase in size and making its glass material more premium.
Acer Predator Triton 500 SE: Ports
In terms of "Ports," we can say that the new Predator Triton 500 SE is fully enriched with the latest technology. In total, the Predator Triton 500 SE features nine ports.
On the left side of the notebook, we have five ports, including the DC Charging Port, Network RJ-45 port, a USB 3.2 Gen2 Type-A Port, a USB 3.2 Gen2 Type-C Port, and a 3.5mm headphone jack. While on the right side, we have an HDMI 2.1 Port, a USB 3.2 Gen2 Type-A Port, a USB 3.2 Gen2 Type-C port, and an SD 7.0 Card reader.
The specifications of the DC Charging Port are discussed in the battery section. Moreover, HDMI ports are now scarce in notebooks these days. But still, the Triton 500 SE features this port and supports a maximum 8K resolution @60Hz (or 4K @120Hz), which meets the ultra-high resolution requirements of designers.
It is worth mentioning that both USB Type-C ports are Thunderbolt 4 ports which can help in different operations like connecting multiple external displays, high-speed data transmission (max 40 GB/s), Type-C fast charging (up to 100W), and connecting an external desktop-level independent graphics card expansion dock. The new SD 7.0 card reader slot also supports the data transferring at 985 MB/s.
Acer Predator Triton 500 SE: Battery, SSD, RAM, and Wi-Fi
It is observed that the majority of notebook gamers put their notebook on charging while playing. That's why the term battery doesn't matter a lot in a gaming notebook. But still, the gaming notebook we are reviewing today has performed well in battery timing as well. The new Predator Triton 500 SE features a 99Wh, 4-cell 6360mAh Li-ion battery which seems a good package with a 16 inches large screen gaming notebook.
As officials claimed, the notebook can give a battery timing of 12 hours. However, they didn't mention the setting for getting 12 hours battery backup. In addition to a 99Wh battery, the laptop also comes with a 230W AC Adaptor for charging.
It is worth mentioning that this notebook also features NVIDIA Optimus Technology which improves battery life without impacting the immersive, tear-free, stutter-free gameplay of G-SYNC. In short, the system will intelligently determine when apps need dedicated GPU or integrated graphics.
The variant we have selected for Predator Triton 500 SE comes with a combination of 32GB RAM and 2TB Storage. The 32 Gigs of memory is a dual-channel memory (2x 16GB DDR4 sticks fitted in both DIMM slots) with a high frequency of 3200MHz. It can be upgraded to a maximum 64GB DDR4 Memory with 3200MHz frequency, allowing the gamers to get maximum power gain while gaming.
After RAM, it is time for SSD. The notebook has 2TB of Storage (2x 1TB PCIe 4.0 SSD) with RAID 0 technology. With Core i9-11900H and PCI Gen4 SSD, the benchmark scores on Triton 500 SE are expected to be great. On testing the SSD through the CrystalDiskMark application, we found that the SSD has a reading speed of 12709MB/s and a writing speed of 10298MB/s.
In terms of networking, the Triton 500 SE gaming notebook features the combo of Intel Killer E3100G Gigabit Ethernet LAN and Wi-Fi 6 Killer AX1650i Modem for a robust networking environment while gaming.
The new Killer E3100 Ethernet Modem has Advanced Stream Detect 2.0 technology for detecting and prioritizing traffic based on applications and popular websites. The new Killer AX1650i Wi-Fi Modem, on the other hand, can now give theoretical throughput of up to 2.4 Gbps and cutting-edge performance, using the 160MHz channels. In addition to these, the notebook also features the latest Bluetooth 5.2.
Acer Predator Triton 500 SE: CPU and GPU
When it comes to CPU, the Acer's Predator Triton 500 SE features the latest 11th Generation Intel Core i9-11900H (Tiger Lake-H Family) CPU. The CPU has a total of eight cores and sixteen threads with a 24MB L3 cache. The maximum frequency of the CPU is 4.9 GHz on a single-core. It seems a perfect combo with RTX 3080 GPU. We also did a short benchmark test. The following are the benchmarks with their results.
CPU-Z (v17): 597 Points On Single-Core and 5822 Points On Multi-Core
Cinebench R23: 1123 Points On Single Thread and 10328 Points On Multi Threads
In addition to the Core i9-11900H CPU, the Triton 500 SE is powered by the latest NVIDIA RTX 3080 Mobile GPU, based on GA104 core, and has 6144 CUDA cores. The GPU has 8 Gigs of DDR6 Memory (manufactured by Samsung). The GPU can achieve the highest frequency of 1345MHz. It is also revealed (through the NVIDIA control panel) that the maximum power consumption of GPU is limited to 110W.  Being a slim and lightweight gaming notebook, it is acceptable. Like CPU, we also did a GPU Benchmark test as well, which is following:
3DMark Fire Strike: 23,216 Points
3DMark Fire Strike Extreme: 12,390 Points
3DMark Fire Strike Ultra: 6,839 Points
3D Mark Port Royal: 6,545 Points
In testing both CPU and GPU, it is demonstrated that both performed well in terms of performance.
Acer Predator Triton 500 SE: Heat Dissipation & Stress Test
The new Predator Triton 500 SE features the all-new fifth-generation 2x 3D AeroBlade Metal Cooling Fan, consisting of 89 ultra-thin bionic blades. It increases the wind flux by 55%. In addition, the notebook also features heat equalizing plates and a large area of heat pipe for better heat dissipation.

Moreover, the notebook also has air outlets at different locations, in which four of them are located at the bottom side, while two of them are placed on both left and right sides. The central air inlet is placed under the notebook. The entire scenario enhances the heat dissipation system on Triton 500 SE.
For stress testing the notebook, we used AIDA64 FPU and FurMark to put stress on both CPU and GPU together. After 20 minutes of testing, the CPU Power Consumption was 25W, and GPU's Power Consumption was 100W. It is observed that the performance release was relatively conservative.
Acer Predator Triton 500 SE: Gaming Test
As a gaming notebook, it is necessary to do a gaming test on the Acer Predator Triton 500 SE. We also did a short gaming test in which the two most popular games (at present) were tested.
Tomb Raider: Shadow We used the built-in benchmark testing of the game for testing this game. On the following settings: 2560*1600p resolution, texture quality was set on high, and with ray tracing off, we got an average of 125 fps while the GPU Usage was 42%.
Cyberpunk 2077: Being the latest game, the new Cyberpunk 2077 supports both ray tracing and DLSS. It also requires substantial specifications to get refined gameplay. We turned on the special effects for testing, turned off the ray tracing, and used MSI Afterburner to record the FPS while gaming. On these settings, the average Frame rates were 75FPS with smooth experience.  Then we turned on the ray tracing, light tracking and set the DLSS mode to automatic. On these settings, the frame rates were still reachable to 60FPS. It is worth mentioning that turning on the light tracking downgrade the gameplay smoothness. However, setting the quality of DLSS to Automatic didn't cause a significant loss of picture details. The overall gaming experience of Cyberpunk 2077 was satisfactory.
Summarize:
First and foremost, the new Predator Triton 500 SE is represented to gamers in a gorgeous form with a brand-new mold design, giving them a completely new experience. Secondly, thanks to the all-new fifth-generation 3D AeroBlade Fast-Cooling Metal Fan's ultra-high heat dissipation efficiency, the new Triton 500 SE has nearly perfect heat dissipation performance, allowing the RTX 3080 Mobile GPU to achieve a better performance release for outstanding gaming.
Moreover, this notebook's robust specifications, including the Core i9-11900H CPU, RTX 3080 GPU, 32GB Dual Channel DDR4 RAM, 2TB NVMe SSD, high-quality display with a higher refresh rate, make it a strong contender in the mid-to-high-end gaming market.