We have decided to have a look at some notebooks specially designed for doing business tasks. The latest model, HP Pavilion Aero 13, is one of them we will review today. Many things like better display quality, slim and lightweight body, and firm performance are the main characteristics of a business laptop. In this review, we will also checkout how successful this laptop can be for business operations.
At the end of June 2021, the Pavilion Aero 13 was introduced by HP (Hewlett-Packet). The notebook comes in two variants: the first one features AMD Ryzen 5 series CPU and has an 8+256 GB Storage option. The second one features Ryzen 7 series CPU and has a 16+512GB storage option. The model we are reviewing today is the high-end variant (the second one).
The new HP Pavilion Aero 13 has many competitors from different laptop manufacturers like Dell, Lenovo, ASUS, and even brands like Huawei and Xiaomi, which mainly deal in the smartphone industry. The company has also launched some models with the same characteristics in its other series. HP ProBook 635 Aero G8 is an example. But when it comes to being lightweight, the new Pavilion Aero 13 has got the breakthroughs as it only weighs 960g, one of the most lightweight notebooks globally. Currently, there are few options in this weight, and they already cost more than 1000 bucks.
The new Aero 13 belongs to the HP's Pavilion series, which is known for its speed and portability, as well as its reasonable prices. Best of all, the HP Pavilion series covers the needs of a wide range of users, including students, the people who travel and work on the go. It is worth mentioning that the Pavilion Aero 13 has a starting retail price of $749.
HP Pavilion Aero 13 Specifications
Screen
13.3″ Diagonal micro-edge IPS Anti-Glare Display, WUXGA resolution (1920×1200), 16:10 aspect ratio, 90% screen-to-body ratio, 400 nits,100% sRGB, and 76% P3-Gamut
Processor
AMD Ryzen 7 5800U with Radeon™ Graphics (1.9 GHz base clock, up to 4.4 GHz max boost clock, 16 MB L3 cache, 8 cores)
Wireless Connection
Realtek Certified Wi-Fi 6 AX201 (2×2) and Bluetooth 5.2
Graphics card
Integrated AMD Radeon™ Graphics
Memory
16 GB DDR4-3200 SO-DIMM memory (2 DIMMs)
Storage
512 GB PCIe 3.0 NVMe SSD
Camera
Integrated HD 720p IR webcam with a dual-microphone array
Ports

2 SuperSpeed USB Type-A 5Gbps signaling rate (1 charging)
1 SuperSpeed USB Type-C® 10Gbps signaling rate (USB Power Delivery, DisplayPort™ 1.4)
1 headphone/microphone combo
1 HDMI 2.0
1 AC power port

Battery
3-cell 43 WHr Battery
OS
Windows 10 Home Basic Edition (64-bit)
Weight
  960g (2.1 lb)
HP Pavilion Aero 13: Design, Appearance, and Portability
Previously, we observed in lots of lightweight notebooks that the material they have was metal which feels like plastic. The thickness of the fuselage also seems compressed. Moreover, the type and amount of interface were also subjected to severe constraints. Overall, the ease of use seems significantly reduced. But we can say that the Pavilion Aero 13 didn't have any of these problems.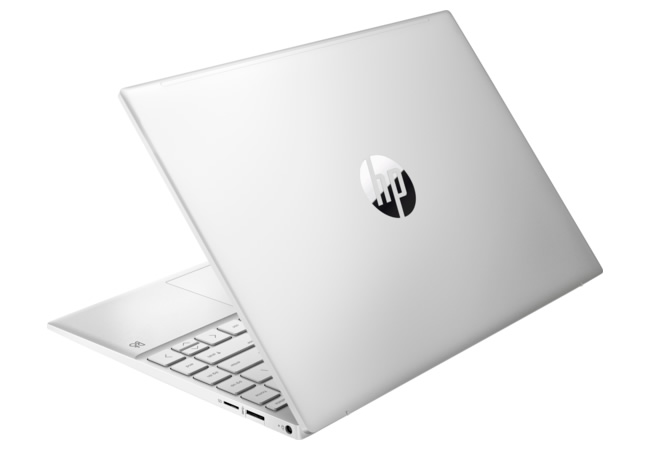 The Pavilion Aero 13's overall body is made of a magnesium-aluminum alloy that is highly textured, regardless of how it appears or feels. It is observed that there is not much change in overall appearance. It still features HP's simple body language design with natural silver color and Thixomolding coating. A 3D integrated molding process has been used on the keyboard surface, and the rounded corners make the hand feel, more delicate.
The new Pavilion Aero 13 has the following dimensions: 297.6*209*16.9mm. With the combination of 16.9mm thickness and 960g weight, the notebook has performed excellently in portability, which is considered one of the essential factors in business notebooks. It is worth mentioning that it is one of the lightest notebooks at present, and the feeling while carrying it is also really different.
HP Pavilion Aero 13: Display
Using the laptop, we found that the Pavilion Aero 13 has again performed admirably but, this time, in the display. It features a 13.3 inches Diagonal IPS micro-edge Display which further features WUXGA (1920*1200) resolution and a 16:10 aspect ratio. The screen-to-body ratio has now surpassed 90%, resulting in a more immersive visual experience and narrow bezels. It is worth mentioning that the display also supports DC Dimming Care which protects the eyes. It is suitable while doing office work.
Furthermore, on testing, we found that the display has 99% sRGB color gamut and 77% P3-Color Gamut. The maximum brightness is up to 478 nits with an average △E of 0.75. The color performance is above average. The high brightness of 400 nits makes it suitable for some design (or construction) work as it is easily visible in a bright or outdoor environment. The overall display performance of HP Pavilion Aero 13 is quite impressive.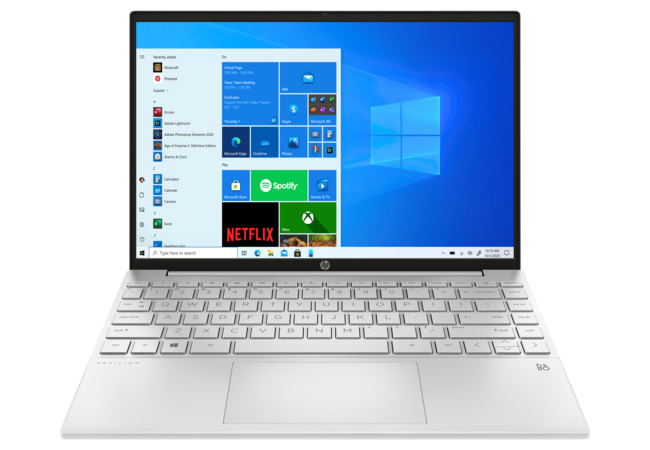 On the top bezel, we have the HP Wide Vision HD (720p) camera with integrated dual array digital microphones, which also improves the video conferencing experience.
HP Pavilion Aero 13: Keyboard
The new Pavilion Aero 13 features a full-size natural silver color keyboard, as said by the company. But it doesn't seem like a full-sized keyboard as it still lacks the numeric pad, which is one of the characteristics of a business laptop. The numeric pad comes in handy for tasks like data entry, networking, accounting, and generally anything where you're typing in many numbers.

We can say that it is still an excellently designed keyboard. As mentioned before, the keyboard's color also matches the overall body's color, which seems very visually consistent. Under the thin and light body, the keyboard can achieve a keystroke of 1.3mm, giving us a strong rebound and a good typing feel.
When we switch to a new laptop, it is expected that it takes us some time to type smoothly due to the difference in keyboard layouts between those laptops. However, after switching to Pavilion Aero 13, there is no longer any such sensation due to the keyboard's excellent space utilization, particularly its horizontal utilization, resulting in a relatively large keycap region between each key.
Moreover, the keyboard has two backlights (bright and dark), which can be adjustable. In the lower right corner, the laptop also features a fingerprint sensor. It is worth mentioning that the hinge is built with a tiny tilt heel. The screen can also be adjusted to a specific angle (when it opens) to create a more comfortable typing environment. Overall, the typing experience on Pavilion Aero 13 is excellent.
HP Pavilion Aero 13: Ports
In terms of interfaces (ports), the Pavilion Aero 13 comes with a decent number of ports. The Pavilion Aero 13 has a total of five ports (not including the AC Adaptor Port). On the right side, we have a 1x USB Type-A 3.2 Gen1 port. While on the left side, we have an HDMI 2.0 port, a USB Type-A 3.2 Gen1 port, a USB Type-C 3.2 Gen2 port, and a 3.5mm Headphone Jack (with microphone support). The specification of the AC port is discussed in the battery section. It is worth mentioning that both USB Type-A ports support up to 5Gbps signaling rate, while the USB Type-C port supports 10Gbps signaling rate (high-speed data transmission), 65W PD fast charging, and DisplayPort 1.4 (multiple displays output).
With these functions and types of ports, the Pavilion Aero 13 can quickly meet the diverse needs of office workers in their everyday work. Furthermore, we can also say that an average office worker doesn't need to rely on various converters and connectors for his daily work like conference projection or expansion screens. Previously, we have seen that the ports and extensions are pretty limited in that lightweight notebooks, while the ease of use is also not satisfactory. However, in Pavilion Aero 13, we didn't face any types of these problems.
HP Pavilion Aero13: Battery Life
For a business laptop, battery life should always be vital as it is one of the essential characteristics that a buyer checks before purchasing. The Pavilion Aero 13 has achieved the standards of good battery life in terms of a business laptop. The notebook features 3-cell, 43Wh Li-ion Polymer Battery which can give a long battery life.
For testing the battery on our own, we used the PCMark 10 (Modern Office mode) software in which the final results were 9 hours and 5 minutes. The Wi-Fi was also turned on and connected (in the whole process), and there was no reduction in screen resolution.
In terms of charging, the Pavilion Aero 13 comes with a 45W Smart AC power adapter. Furthermore, the charging port is located on the right side. The battery can be charged up to 50% in just 30 minutes (but only when the notebook is powered off) through a 45W AC Adapter. After charging has reached 50% capacity, the charging speed will return to the average speed. Moreover, the charging power can be increased up to 65W through the USB Type-C port. The overall battery experience on Pavilion Aero 13 is quite good being a business laptop.
HP Pavilion Aero 13: Memory, Storage, and Wi-Fi
Both things are essential if we talk about memory and storage, as a significant portion of performance depends on these two things. The new Pavilion Aero 13 comes in only one storage variant equipped with 16GB Dual-Channel (2x8GB Sticks) DDR4 Memory (clocked @3200MHz frequency) and 512 Gigs PCIe 3.0 M.2 SSD.
For further information, we used the AIDA64 application in which we found that it is Western Digital's SSD with model number SN530. We also did a performance test of SSD through the CrystalDiskMark application. The SSD has a maximum reading speed of 2489 MB/s and a writing speed of 1867 MB/s. We can conclude that such a storage combination is relatively abundant for office work.
Networking is one of the primary purposes of a business laptop. The Pavilion Aero 13 has again used the top types of equipment in this term. The notebook is Realtek Wi-Fi 6 certified and uses Wi-Fi 6 AX201 (2×2) modem. In addition, the latest Bluetooth 5.2 has been used. It is worth mentioning that Pavilion Aero 13 also supports the Gigabit data rate.
HP Pavilion Aero 13: CPU and GPU
We know that Pavilion Aero 13 is a lightweight notebook, having only 960g weight but still being a business notebook, the hardware shouldn't be compromised. The notebook is equipped with the latest AMD Ryzen 7 5800U. The CPU is based on a 7nm manufacturing process, features eight cores and sixteen threads. It has a maximum frequency of 4.4GHz, 16MB L3 cache memory, and the designed power consumption is between 15W and 25W. Moreover, the CPU is based on the all-new Zen3 architecture, bringing a remarkable IPC increase.
The CPU also has the integrated AMD Radeon 8 GPU (aka RX Vega 8), which supports overclocking up to 2000MHz. It has 512MB of memory which is acceptable (as it is an integrated GPU). Furthermore, it also has 128 bits of bus width and 42.7 GB/s bandwidth.
CPU Testing:
We also did the benchmark testing of the Ryzen 7 5800U CPU to check its performance in a business laptop. Following are the benchmark applications, along with their results.
CineBench R15: 221cb Single-Core Score and 1238cb Multi-Core Score
CineBench R20: 521cb Single-Core Score and 2877cb Multi-Core Score
CineBench R23: 1342cb Single-Core Score and 7089cb Multi-Core Score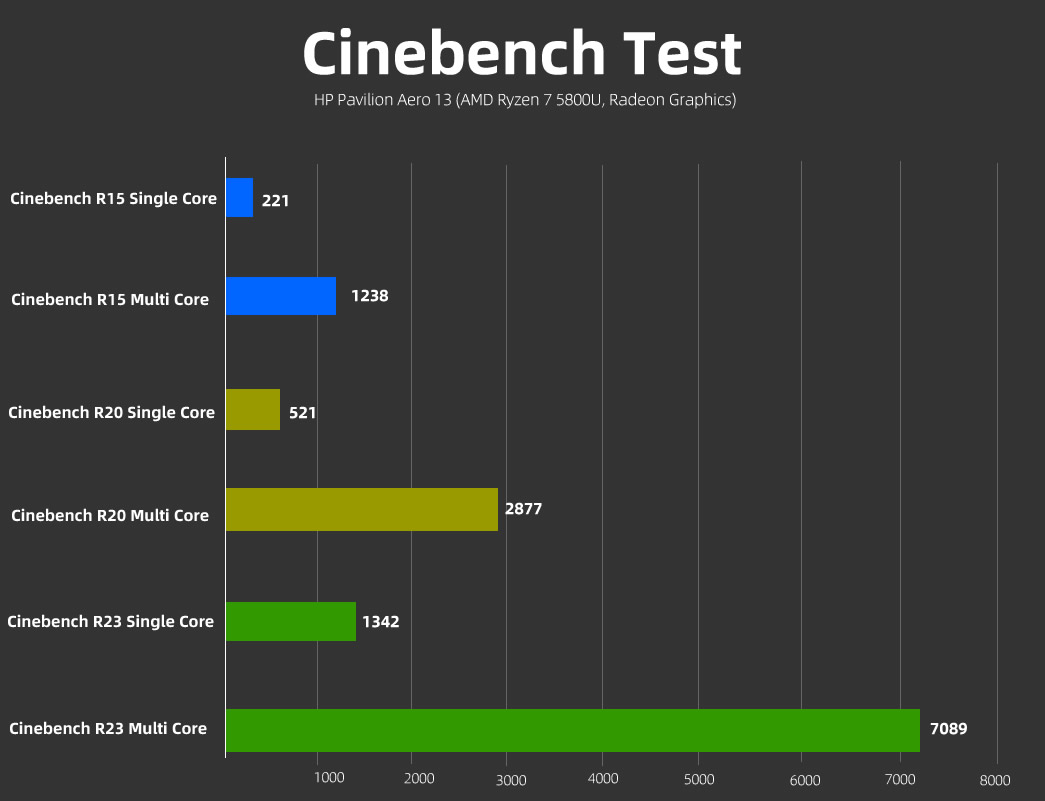 Through the comprehensive benchmark testing, we can say that Pavilion Aero 13 is quite outstanding. The notebook is a fine choice for doing office work and other related things like web browsing and document writing. We can also expect that there would be no problem in handling some more complicated tasks such as video editing through this multi-core and multi-threading results.
GPU Testing:
After the CPU test, we also did a short GPU Test on 3DMark. Following are the results of benchmarks.
Fire Strike: 2911 Total Points
Time Spy: 1172 Total Points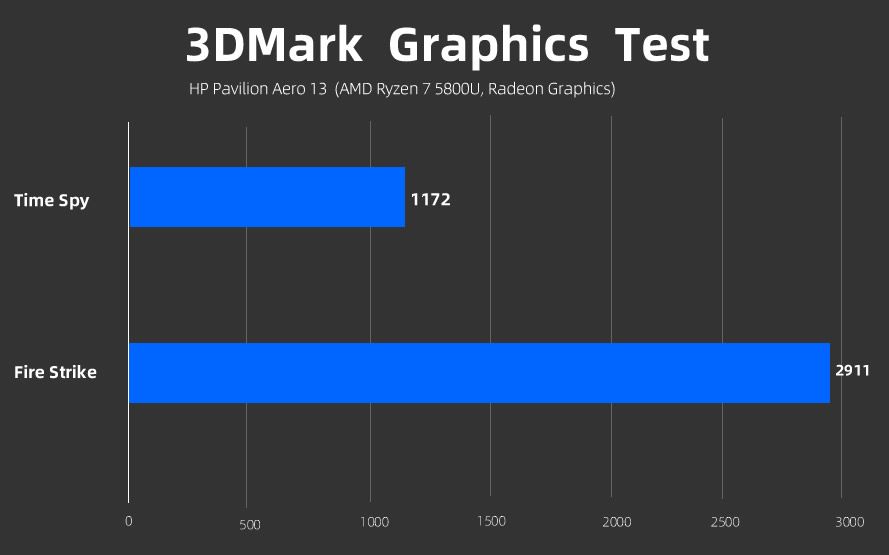 Being a built-in GPU, we can consider these scores as decent scores. This GPU is suitable for doing some light designing and audio-visual entertainment work. Furthermore, it perfectly covers the performance need of the targeted consumers of the Pavilion Aero 13 notebook.
HP Pavilion Aero 13: Stress Test and Heat Dissipation
It's time to stress the notebook after doing both the CPU and GPU tests. For this, we used the AIDA 64 Extreme application's stability test. On the passing of 30 minutes, the power consumption of the CPU was 15 watts, the temperature was 63 °C, while the frequency of all cores was around 2.1GHz-2.2GHz.
The Pavilion Aero 13 uses a three-phase motor fan with thinner fan blades in terms of heat dissipation. Moreover, the air inlet is under the fuselage, and the air outlet is at the shaft. The slight heel's design also improves airflow, which benefits the CPU to prevent overheating. The temperature was only in the early 60s while running at a total TDP 15W.
Summarize:
It is not easy to find a notebook that weighs less than 1KG in the mainstream price range. The Pavilion Aero 13 fills this gap in the market, and on that basis, it also compensates (with the below-mentioned highlights) for the flaws that may appear in similar notebooks:
Magnesium-Aluminum Alloy builds with a significant metal texture.
The excellent typing experience on the keyboard
Ample ports and a sufficient number of them to use