Powered by the pair of Intel's latest 12th Generation CPU and Nvidia's RTX 3000 series GPU, every laptop manufacturer is releasing new laptop and trying their best to dominate in the tough gaming and rendering competition laptops. Undoubtedly, Dell is one of the top manufacturers in this race.
The laptop we will review today is the latest addition from Dell in its Inspiron 16 series, which is commonly known for its delicate portable design and good performance. However, the manufacturer has added Mobile GPU support with the latest 12th Generation Intel CPU. The laptop we are reviewing is Dell Inspiron 16 Plus 7620, powered by the newest Core i7-12700H CPU and RTX 3060 GPU.
The laptop not only got higher specifications but also got a sleek and slim design to maintain its lineup's aesthetics. Another primary purpose of this laptop is video rendering. With higher rendering capabilities, the laptop has improved portability, a common issue in the previous generation of rendering laptops. Further, it is also Nvidia Studio Certified and can be used for advanced 3D rendering, drawing/editing, and video editing.
Compared with other previously reviewed models like Legion 5i Pro (2022) and HP Omen 16 (2022), it feels that the Inspiron 16 Plus is superior to these models in terms of design and portability. However, in terms of performance, we can't judge it right now as all these models have specs differences in different aspects—check out the testing section for a performance comparison of these laptops.
Every aspect of the laptop is discussed below in detail:
Dell Inspiron 16 Plus 7620: Specifications
Screen
16.0-inch 16:10 3K (3072×1920) Anti-Glare Non-Touch 300nits WVA Display w/ ComfortView Plus Support
Processor
12th Generation Intel® Core™ i7-12700H (24MB Cache, up to 4.7 GHz, 14 cores)
Wireless Connection
Intel Wi-Fi 6E (6GHz) AX211 2×2 Bluetooth 5.2 Wireless Card
Graphics card
NVIDIA GeForce RTX 3060 6GB GDDR6 [60W]
Memory
32 GB, 2 x 16 GB, DDR5-4800 MHz, Dual-Channel
Storage
1TB M.2 2230 PCIe 3.0 NVMe SSD
Ports
2x USB 3.2 Gen 1 ports
1x Thunderbolt™ 4.0 port with DisplayPort™ and Power Delivery
1x Universal headset jack
1x HDMI 2.0 port
1x Power Adapter port
Battery
6 Cell, 86 Wh Battery with 130 Watt AC Adapter
OS
Windows 11 (Home Edition)
Weight
4.51 lbs. (2.05 kg)
Dell Inspiron 16 Plus 7620: Design and Appearance
Regarding technical specifications, the notebook has the following dimensions: 356.78*251.90*16.95mm and weighs around 2.05kg. The thickness measurement isn't recording-breaking but is much better than our previously reviewed notebooks. The notebook features a more significant 16 inches display; that's why other aspects, including the length and width, are also higher.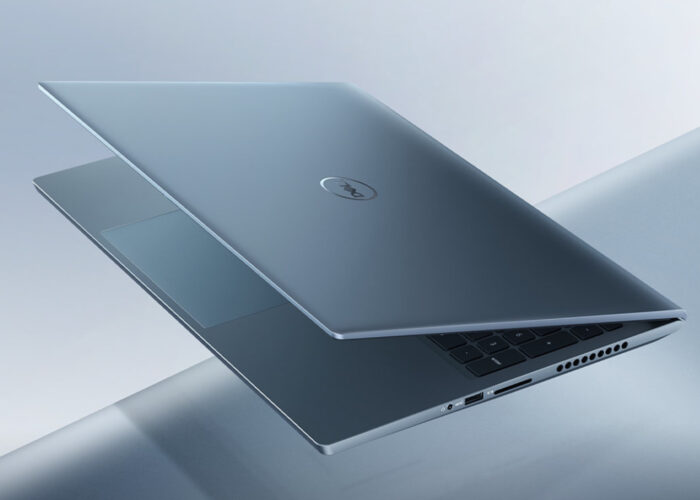 Coming to the notebook's design, at first look, it is tough to distinguish whether this notebook belongs to a gaming segment or not. Thanks to the Nvidia Max-Q Technology (now upgraded to the fourth generation) and the optimizations in design (powered by the AI), the laptop is thinner and more elegant.
The entire notebook has a Dark Green color and has a matte texture denoting the simplicity of design. The display shell has a traditional Dell logo in the middle. The display hinges at the bottom, keeping the notebook's bottom a bit higher than ground level, letting the produced heat dissipate efficiently.
Dell Inspiron 16 Plus 7620: Display
On opening the laptop, we have a larger 16 inches Anti-Glare Non-Touch IPS LCD Display (with an aspect ratio of 16:10), which supports a higher 3K (3072*1920p) resolution, 60Hz refresh rate, 1000:1 contrast ratio, and 300nits peak brightness. The screen's side bezels are very minimal, increasing the screen-to-body ratio at the same time. The upper bezel is a bit thicker (compared with side bezels). It consists of a webcam (camera module) along with a slider that can block the camera view, ensuring privacy protection. The webcam supports Full HD (1080p) video recording at 30fps and consists of a Dual-Array microphone for smooth video conferencing.

The officials haven't disclosed the display's color gamut details, so doing the color gamut test is a must. After measuring it, we found the following information: 99.5% sRGB color gamut, 74.3% Adobe RGB, 77% DCI-P3 color gamut, and the average color accuracy △E is only 0.22. It is worth mentioning that the notebook also supports Dell's flagship feature, "Triple Eye Protection Technology," which reduces the harmful blue light (emitted by display) and eye fatigue with no compromise in color accuracy.
Dell Inspiron 16 Plus 7620: Keyboard and TouchPad
Like the entire body's design, the keyboard maintains the same aesthetic. It is a standard Carbon Black backlit keyboard with enough simplicity in design. Further, the key travel feels sufficient, has a uniform backlight, and provides a stable feeling while typing. However, the lack of a numeric keypad on the keyboard makes the keyboard feels a bit incomplete. In a large 16-inch notebook, it was easy to add a numeric pad.
Under the keyboard, the TouchPad surface is separated by a line. In the middle of this surface, we have the same Dark Green color (as body) TouchPad called Precision Seamless TouchPad. It adopts "three sides facing the keyboard area." Further, the upper side is integrated with the Keyboard side. The large area of TouchPad allows proper reachability (access of cursor) in the whole window. The overall TouchPad using experience was relatively smooth.

Ports
We have seen many manufacturers compromise in terms of Ports to make the laptop's body more slim and lightweight. However, in the case of Inspiron 16 Plus 7620, the notebook features almost every significant kind of port.
Starting from the left side, we have a 150W DC Port, an HDMI port, a USB Type-A 3.2 Port, and a USB Type-C Thunderbolt 4 Port. We have another USB Type-A 3.2 Interface on the right side, a 3.5mm headphone/microphone combo jack, and a TF Card slot.
It is worth mentioning that the variant we received is equipped with a TF Card slot. Another variant equipped with RTX 3050Ti GPU has an SD Card slot instead of a Micro SD Slot. With these numerous ports, the users don't need to carry a docking station.
RAM and SSD
Before going into the details of both aspects, it is worth mentioning that the Inspiron 16 Plus 7620 supports DDR5 RAM and PCIe 3.0 Gen SSD. Keeping DDR5 RAM is total as per the latest standards. However, the PCIe 3.0 SSDs are older now, whereas other manufacturers are moving toward PCIe 5.0 SSD.
The model we received is equipped with 32 Gigs memory and 1TB SSD. The 32 Gigs RAM is a Dual Channel (2x 16GB RAM) DDR5 RAM, clocked @4800MHz. On teardown, two RAM slots can be seen in the middle of the motherboard; both are equipped with 16GB RAM modules. It is worth mentioning that the maximum RAM support for this notebook is 64 Gigs; if you think 32GB RAM isn't enough, the upgrading option will be there. However, as the primary purpose of this notebook is gaming, 32GB of memory is enough.
For testing the RAM capabilities, we used the AIDA64 Cache and Memory Benchmark. On testing, we found the following results: 66,135MB/s Read Speed, 64,695MB/s Write Speed, 62,483MB/s Copy Speed, and the latency rate was 95.6ns. The Memory Benchmark scores are pretty good compared to our previously reviewed notebooks.
Next, we have a 1TB M2 NVMe PCIe 3.0 SSD (carrying model number: BC711) manufactured by SK Hynix. It is worth mentioning that SSD is based on M2 2230 form factor. There is a single slot for SSD, so you need to replace the current SSD to upgrade the storage.
We also did the SSD test using the CrystalDiskMark software and got the following results: 3561.27MB/s Sequential Read Speed, 2608.42MB/s Sequential Write Speed, 76.31MB/s 4K Random Read Speed, and 241.25MB/s 4K Random Write Speed. The benchmark results are undoubtedly not impressive as the notebook uses the old PCIe 3.0 Gen Protocols. In contrast, the notebooks we previously reviewed (with the same CPU and GPU) support PCIe 4.0 Gen Protocols and perform better.
Battery and Charging
In terms of battery, the Inspiron 16 Plus 7620 is equipped with a 6-cell 86Wh battery. On teardown, it can be seen that it covers a large area on the motherboard. Further, the actual image of the battery has revealed some primary info. The battery is a Li-ion battery carrying a capacity of 7167mAh. Additionally, it carries the model number: 69KF2; the same battery has been used with Dell's previous business segment notebooks. With this large capacity, the user can quickly get a more extended battery backup during gaming or even longer during normal usage. In addition to a large battery, the laptop comes with a 130W AC Adapter out of the box.
CPU
Before going into details, it is worth mentioning that the Inspiron 16 Plus 7620 is powered by Intel's latest 12th Generation Core i7-12700H CPU, and it is the only CPU option available in this model. The CPU consists of 14 cores (including 6 Performance cores and 8 Energy-efficient cores) and 20 threads. The Performance Cores can achieve a maximum 4.7GHz Max Frequency, while the Energy-Efficient Cores have a 3.5GHz Max Frequency. Further, the CPU has 24MB Intel Smart cache memory and supports a maximum 115W Power Release (45W Base Power Release). We also did a single CPU benchmark test which is mentioned below:
Cinebench R23: This test represents the CPU's theoretical performance in which the Core i7-12700H scored 1,779 points on Single-Core and 17,608 on Multi-Core.
GPU
In addition to Core i7-12700H CPU, the Inspiron 16 Plus 7620 also features RTX 3060 Mobile GPU carrying 6 Gigs of GDDR6 Memory. It is based on GA106 Ampere Architecture, has a 192-bit memory bus, supports PCIe 4.0 Gen Protocols, and the maximum power release is 60W. We also did some benchmark tests of GPU, which are mentioned below:
3DMark Time Spy: 6,796 points in GPU testing,  around 25% higher score than RTX 2060.
V-Ray GPU CUDA: With GPU Cuda Acceleration turned on, the score was 772 points, meeting the need of most 3D modeling software.
Adobe Premiere Pro: With CUDA Acceleration turned on, the score reached 642 points, revealing that editing 4K video will not be stuck and real-time playback of 4K video doesn't require opening a proxy.
Adobe After Effects: Again, with CUDA Acceleration, the notebook scored 1,158 points, denoting that adding some more complex video special effects is easy to handle for the notebook.
Cooling System and Stress Testing
On teardown, the heat dissipation system of Inspiron 16 Plus 7620 can be observed. It consists of 2 fans (covering both CPU and GPU) and five heat pipes for dissipating the produced heat. Further, the manufacturer has also put ventilation holes on both (right and left) sides. The overall cooling system in Inspiron 16 Plus seems fine per specifications, but doing the test is also important to know the actual results. To check its capabilities, we did stress on both CPU and GPU separately and combined.
CPU Stress Test: For this test, we used the AIDA64 Single-Bake FPU. After 15 minutes of testing, the CPU's temperature rose to 62°C, and the power consumption stabilized at 45W.
GPU Stress Test: We used the FurMark Benchmark for this test. Thanks to RTX 3060's Dynamic Boost Technology, the GPU's power release was around 65W, the same as the actual power release of RTX 3060, while the temperature was around 60°C. With 65W Power Release, the energy-efficient ratio is the highest, so we can gain maximum output within this lightweight and thin body.
Combine Test: In this test, we used the same applications as in independent testing. After 15 minutes of testing, the CPU's Power Release was around 36W, and the temperature was around 68°C, while the GPU's power release was at 60W, and the temperature was around 65°C. The overall power release during the testing was 95W.
Through testing, it was observed that the laptop could efficiently handle these aggressive factors. Further, it didn't compromise the comfortable working experience and didn't produce noise during heavy usage. In this aspect, the Inspiron 16 Plus 7620 is superior to its competitors (including HP Omen 16 (2022) and Lenovo Legion 5i Pro 2022).
Comprehensive Testing
In this testing phase, the notebook's overall performance can be determined. For this test, we used two applications named: PCMark 10 and CrossMark Application.
CrossMark: In this test, the overall performance score was 1,865 (including 1,746 points in Productivity, 2,010 points in Creativity, and 1,768 points in Response Capability). These scores show us that the notebook can easily handle all the daily office work tasks.
PCMark 10: In this test, the overall score was 7,055 points (including 10,186 points in Common Functions, 8,972 points in Productivity, and 10,453 points in Content Creation). Well, these test results weren't as good as expected.
Also Read: Dell XPS 13 Plus 9320 Review (Core i7-1260P, Iris Xe)
Summarize:
If you are looking for a laptop in both categories (Gaming segment and Business Segment), then Dell Inspiron 16 Plus 7620 is the best option. The laptop comes in a thin, lightweight laptop with an eye-catching design and outstanding performance, thanks to the Core i7-12700H CPU and RTX 3060 GPU combo. Further, based on Nvidia Studio Certification and various benchmark results, the laptop covers not only the gaming segment but also the productivity segment as well.
The laptop we received for review has the above specifications and is currently priced at $1,949. However, if you are low on budget, you can also get the Inspiron 14 Plus series, which provides the same kind of design and aesthetics but has a bit lower specifications and size.