MSI, a well-known computer manufacturing company, is also famous for gaming notebooks. The company has renowned gaming lineups, including Titan GT Series, Stealth GS, Raider GE, and many more. All of these lineups cover different needs of gamers. However, it has been seen that in some latest models, the company has tried its best to defeat competitors. The notebook we will review today is also one of them and has the best specifications a gaming notebook can have in order to get high-end gaming performance.
The notebook we will review is the latest MSI Titan GT77 2022 model, which is now powered by the latest Intel Core i9-12900HX high-end chipset in addition to RTX 3080Ti 16GB GDDR6 GPU. The model we received for review carries the model number "GT77-12UHS." It is also observed that there is no significant specifications difference between MSI GT77 different variants. The model we got has 64 Gigs of RAM and can be upgraded to a maximum of 128GB of memory. Further, it also supports Quad Channel Memory as it got 4 RAM slots. Whereas in terms of storage, the notebook now supports the latest PCIe 5.0 Protocols (on one slot only) which is the best you can get in a notebook.
The performance of these high-end specifications would be the same as that of a high-end gaming PC. It can bear almost every high-end specs demanding application or game with no lags at higher settings. In terms of appearance, the notebook seems like a slim-sized briefcase. On opening it, a large area behind it will remain for speakers. Other aspects of the notebook like keyboard, display, and battery are worth seeing, which are discussed below. The notebook can also act as a workstation machine due to its high-end and upgradable specs.
If we do a rough comparison of it with its competitor (we previously reviewed) like ASUS ROG Zephyrus M16 (2022) and Stealth GS77 from same brand (MSI), the MSI Titan GT77 might not have that much good appearance but has far better performance from both of them, thanks to Core i9-12900HX CPU.
Every aspect of the notebook is discussed in detail below the specifications table.
MSI Titan GT77: Specifications
Screen
17.3″ UHD (1920×1080), 360Hz, IPS-Level, 100% sRGB
Processor
12th Gen Intel Core i9-12900HX Processor (75W, Max 5.0 GHz Frequency on P-Cores)
Wireless Connection
Killer Wi-Fi 6E AX1675, Killer ax Wi-Fi 6E + Bluetooth v5.2
Graphics card
NVIDIA GeForce RTX 3080Ti Laptop GPU 16GB GDDR6 Up to 1640MHz Boost Clock 175W Maximum Graphics Power with Dynamic Boost.
Memory
64GB Quad Channel DDR5 Memory, 4 Slots, Max 128GB RAM Support
Storage
2x 1TB M.2 PCIe 4.0 NVMe SSD, Total 4 Slots: 3x M.2 SSD slots (NVMe PCIe Gen4) 1x M.2 SSD slot (NVMe PCIe Gen5)
Ports
2x Type-C (USB/DP/Thunderbolt 4)
3x Type-A USB3.2 Gen2
1x RJ45
1x SD Express Card Reader
1x (8K@60Hz/4K@120Hz) HDMI
1x Mini-DisplayPort
Battery
4-Cell, 99.99WHr Li-polymer Battery with 330 Watt AC Adapter
OS
Windows 11 Home (MSI recommends Windows 11 Pro for business.)
Windows 11 Pro
Weight
7.27 lbs. (3.3 kg)
MSI Titan GT77: Design, Appearance, and Body
The all-new MSI Titan GT77 maintains the same aesthetics as MSI's Titan series, which (as mentioned before) has a large area for heat dissipation, speakers, and RGB Lightning behind the display. Further, due to the 17-inches display, the notebook's size feels more prominent, and the overall appearance seems classic.
Regarding technical specifications, the notebook has the following dimensions in a closed state: 397*330*33mm, and the weight is 3.3kg. While in the open state, the notebook has a thickness of 23mm, which makes the entire notebook's appearance very slim during usage.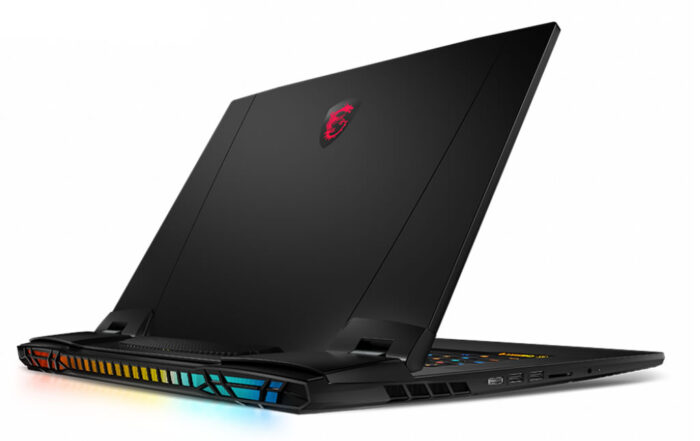 The notebook's appearance denotes a hard surface in terms of build quality. The notebook's display shell and keyboard surface have a metal matte finish, which feels very premium during typing. The bottom bezel of the display is rounded, which helps get stable screen structure strength.
The screen's rear part (not including the display) comes with many benefits. It helps in air intake to increase the efficiency of the heat dissipation system. Further, it also got RGB lightning (named Mystic Light Bar by officials) which can be customized according to the user's choice.
MSI Titan GT77: Display
The larger 17.3 inches of IPS-LCD (with narrow bezels) in MSI Titan GT77 is one of the main highlights of this notebook. The variant we are reviewing comes with a Full-HD (1080p) resolution display and a 360Hz refresh rate. However, the retail version has a 4K resolution display, a 120Hz refresh rate, and a 100% DCI-P3 color gamut.
It also comes with built-in MSI True Color (Color Tuning Technology) application which allows you to select various color preset modes in different usage scenarios (such as in gaming, standard RGB mode, and blue light elimination). Further, you can also modify color parameters as you want.

The advantage of having an LCD is that the LCDs have less discomfort effect on the eyes compared with OLED Displays. Due to the more sharp colors and blue light of OLED, users can't use OLED-equipped laptops for a long time. At the same time, the LCD-equipped laptops can be used for longer and have no long-term burn-in issues.
In the upper bezel, the manufacturer has integrated an IR webcam that can do HD (720p) video recording at 30fps. The webcam module also supports the Windows Hello Face recognition feature, through which you can unlock your notebook in one touch.
To test the screen capabilities, we used the Starscream color calibration test, in which we found the following results: the display has 96% sRGB, 72% Adobe RGB, and 71% DCI-P3 color gamut. The static ratio is about 1090:1, and the maximum brightness was 301.5 nits. In terms of color accuracy, the average color accuracy △E is only 1.85 (7.05 maximum value and 0.48 minimum value). It is worth mentioning that when Delta-E's value is between 1.6 and 3.2, it can meet the need of general users.
MSI Titan GT77: Keyboard
After a larger display, the MSI Titan GT77 features an RGB Mechanical keyboard, aka Cherry Mechanical Per-Key RGB Gaming Keyboard by SteelSeries (named by officials).  In terms of appearance, the keyboard feels very thin. It comes in SinkZone sunken design, making it eye-catching and prolonging the keyboard's usage life. The keyboard's key travel is 1.8mm, which feels sufficient while typing (<1mm feedback).  As per officials, the keyboard has 15 million keyboard button press life and is scratch-resistant, wear-resistant, and has IP40 dust-proof certified keycaps.
The overall user experience of the keyboard was quite good, the button's feedback was evident, and there was no exhaust feeling in my hands after using it for a long time. Like other MSI gaming notebooks, this notebook also supports single-key RGB Keycaps customization through which users can customize each key's lightning effect (through MSI Center or SteelSeries software).
Under the arrow keys, we have a fingerprint sensor that is also compatible with Windows Hello function, making the login experience more flexible.
MSI Titan GT77: Speaker and Ports
Around the keyboard, the speaker grills can be seen. The MSI Titan GT77 features two 2W Tweeters and two 2W Woofers, forming a Dynaudio Sound System in addition to Hi-Res Audio and Nahimic certified sound effects, creating an environment for users to enjoy immersive audio-visual enjoyment.
When it comes to the term "Ports," the MSI Titan GT77 is fully enriched with it. The notebook consists of a total of eleven ports, including all necessary ports. Starting from the left side, we have the charging port, 2x USB Type-A 3.2 Gen2 Ports, 1x SD Express Card Reader, and 1x 3.5mm headphone jack.

On the right side, we have another single USB Type-A port, 2x USB Type-C (Thunderbolt 4/DP) ports, 1x Mini-DisplayPort, 1x HDMI (8K@60Hz/4K@120Hz), and 1x RJ45 (LAN) Port. With these numerous ports, the user doesn't need to buy any additional dock.
MSI Titan GT77: Battery and Charging
Inside the MSI Titan GT77, the manufacturer has integrated a large-sized 4-cell 99.99WHr battery. On disassembly, we found more information regarding the battery cell. It is a 15.2V 6678mAh li-polymer battery carrying the model "BTY-M6M," the same battery cell used in previous MSI gaming notebooks.
With a large 99.99WHr, a longer battery timing is expected, and for testing it out, we used the PCMark 10 battery test. We did the following settings: Power mode was set at Best Energy Efficiency, the fan was set to Quiet mode (through MSI Center), Intel Iris Xe GPU was put to use only (no RTX 3080Ti use), and the screen brightness was at 50%. The test started at 94% and stopped at 4%. With 90% of battery life, we got an output of 6 hours of battery life which seems sufficient in the gaming laptop segment.
Along with a 99.99WHr battery, the MSI has provided a 330W AC Adaptor (out specifications: 19.5V/16.9A), which can quickly charge your battery. However, in a gaming notebook, fast charging of the battery isn't a basic need as the majority of gamers do the gaming with a charger plugged in. Its competitor MSI Stealth GS77 is also shipped with the same battery. However, the charging adaptors are different (240W in Stealth GS77).
MSI Titan GT77: RAM, SSD, and Network
On disassembly, it can be seen that there are four RAM slots, all of which support DDR5 RAMs. The maximum RAM support is 128 Gigs. The notebook we received comes with 64GB of memory, including Samsung 4x 16GB DDR5 RAM (clocked @4800MHz), which sticks to maintaining a Quad-Channel Memory Connection. It is worth mentioning that the retail variant (available on the official site) comes with 32GB RAM (2x 16GB DDR5 RAM).
A disadvantage of Quad-Channel Memory we found is that due to CPU's limitation, the maximum achievable RAM frequency is just 4000MHz. The other retail variant with 32 Gigs RAM doesn't come with this issue. For testing the RAM, we used the AIDA64 Memory cache test and found the following results: 62,745MB/s Read Speed, 60,114MB/s Write Speed, 63,501MB/s Copy Speed, and the latency rate was 91.4ns. It is expected that the benchmark results would be better if the actual maximum frequency of RAM were achievable. Further, not a big but a little performance gap has been observed in RAM if we compared these benchmarks with our previously reviewed models' memory benchmarks (especially MSI Stealth GS77 and Zephyrus M16 (2022).
Next, we have 4x M.2 SSD slots in which one of them supports the latest NVMe PCIe Gen5 SSD and the other three support NVMe PCIe Gen4 SSD. The variant we got for review is equipped with 4x Samsung 1TB NVMe PCIe 4.0 SSD, whereas the retail version comes with the same specs 2x 1TB SSDs.
Thanks to the Intel HX Series architecture, the PCIe specifications significantly changed, supporting up to 16 PCIe 5.0 lanes and 4 PCIe 4.0 lanes. The former can be split into 8+8 lanes. For testing the SSD, we used the CrystalDiskMark software on which we found the following results: 6669.56MB/s Sequential Read Speed, 4987.14MB/s Sequential Write Speed, 98.18MB/s 4K Random Read Speed, and 290.35MB/s 4K Random Write Speed. The benchmark results are quite satisfactory according to their category as the other models which lies in same category has almost the same scores.
Regarding networking, the MSI Titan GT77 comes with Killer Gb LAN (supports networking speed up to 2.5Gbps), Killer AX Wi-Fi 6E (AX1675 wireless network card), and Bluetooth v5.2 support. It is worth mentioning that the WLAN card is fitted into an M.2 slot on the motherboard. Thanks to the latest Wi-Fi 6E network compatibility, the notebook can achieve a 6GHz networking band that delivers lightning speed while keeping the network smooth and stable even in a crowded environment.
MSI Titan GT77: CPU and its Benchmark
Among the main highlights of MSI Titan GT77, its CPU is the most popular: the all-new Core i9-12900HX Mobile CPU, the best and most high-end CPU from Intel. The chipset belongs to the flagship Intel HX series and consists of 16 cores (8 energy-efficient and 8 performance cores), 24 threads, and a 30MB L3 cache. It is worth mentioning that the maximum turbo frequency of the Performance core is 5.0 GHz, whereas the Energy-efficient cores' max frequency is 3.6GHz. Overall, the Core i9-12900HX Mobile version's specifications are the same as in the desktop version. Also, the manufacturers have further unlocked the power consumption of the CPU to 75W (55W is the default power consumption from Intel).
For testing out the CPU performance, we also did some benchmark tests, which are the following:
CPU-Z: It is another primary benchmark application used for testing CPU performance. In this test, the CPU scored 786 points on Single Thread and 10,085 points on Multi-Threading.
Cinebench: This benchmark test was done on a different version of Cinebench (denoting various aspects), which are mentioned below:
Cinebench R15: 275 points on Single Thread and 3,611 points on Multi-threading
Cinebench R20: 731 points on Single Thread and 8,960 points on Multi-Thread
Cinebench R23: 1,890 points on Single Thread and 23,105 points on Multi-Thread.
It has been observed that the CPU (Core i9-12900HX with 75W power consumption) of MSI Titan GT77 is very aggressive. Compared with Ryzen 9 6900HS (80W power consumption), the Core i9-12900HX has 17.5% faster performance in single-core and 50.8% in multi-core. Compared with Core i9-12900H (in MSI Stealth GS77 and ROG Zephyrus M16 (2022), the CPU has performed 8.4% faster on single-core and 39.1% on multi-core. Although both CPUs are the same, the HX series CPU is expected to have more aggressive performance than the standard H series CPU.
MSI Titan GT77: GPU and its Benchmark
Undoubtedly, the Core i9-12900HX is the best CPU you can get in a laptop from Intel, but to take the performance to another level, MSI also added the latest RTX 3080Ti GPU, which is also the best and high-end GPU in the notebook segment. In terms of specifications, the GPU has 16GB GDDR6 memory, 7424 CUDA cores, 256bit bus width, 512GB/s bandwidth, and a memory frequency of 2000MHz. The base frequency is 1045MHz, while the boost frequency is 1465MHz. Also, MSI has exceeded the power consumption to 175W.
It is worth mentioning that the GPU also supports Dual-Display and three-mode switching (independent display direct connection, mixed output, and integrated display mode), which the users can quickly change through MSI Center. We also did benchmark tests of GPU (using Discrete Graphics Direct Mode) which are mentioned below:
3DMark Fire Strike: The total score was 29,311, while the GPU score was 34,282.
3DMark Fire Strike Extreme: The overall score was again 16,105, while the GPU score was 16,683.
3DMark Time Spy: The total score was 13,612, while the GPU scored 13,605.
3DMark Time Spy Extreme: The overall score was 6,531, while the GPU scored 6,601.
MSI Titan GT77: Gaming Test
We also did a gaming test in which we tested some latest 3A Games, including Cyberpunk 2077 and Tomb Raider: Shadow. By testing the below-mentioned games, the gaming performance of MSI Titan GT77 can be judged easily.
Borderlands 3:
In this game, the resolution was set to 1080p, and the image quality was set to high; our average frame rates were 115fps.
Cyberpunk 2077:
One of the most famous games in the industry. In this game, all the options were turned on; the resolution was 1080p. We got an average frame rate of 98.13fps.
Crysis 5:
In this game, the graphic settings were extremely high, while the resolution was 1080p. The average frame rate was 165fps.
Remember that the variant we are reviewing has a 1080p resolution screen with a 360Hz refresh rate. The retail version on sale has a 4K resolution display with a 120Hz refresh rate. Also, if you want to play 3A games at 4K resolution, it wouldn't be a problem for this notebook. Further, it is also recommended to turn on NVIDIA's DLSS technology; with a 120Hz refresh rate, you will still get a smoother and crystal clear gaming experience.
MSI Titan GT77: Heat Dissipation and Stress Testing
When it comes to heat dissipation, the MSI Titan GT77 again used the best and most high-end heat ventilation system. Starting from its design, the bottom cover has heat dissipation holes everywhere which let the whole produced heat dissipate quickly.
Inside the notebook, there is a high-end cooling system named "Titan Cooling," which consists of four unparalleled fans, seven pipes, six exhausts, 156 high airflow fan blades, and 431 cooling fin frost blade pieces. With this powerful cooling system, it's time to check what would happen to the CPU and GPU during stress testing.

CPU Stress Testing:
We used the AIDA64's FPU Roaster for this test. When the test begins, the turbo power consumption reaches a maximum of 175W. After 15 minutes of testing, the power consumption of the CPU was around 125W, and the temperature was around 93°C. In terms of frequency, the Performance cores' frequency was at 3.8GHz, while the Energy-efficient cores were at 3.1GHz.
GPU Stress Testing:
We used the FurMark roasting test for this test. The resolution was set to 1080p, and the anti-aliasing was turned off. After 15 minutes of testing, the average frequency was around 1362MHz while the peak frequency was 1571MHz, the highest temperature was around 79°C, and the power consumption rose to 175W.
CPU+GPU Combine Stress Test:
In this test, instead of AIDA64 for CPU Stress testing, we used FurMark's CPU Burner while the same software was used for GPU testing.
After 15 minutes of testing, CPU's conditions were the following: 75W power consumption, 72°C peak temperature, P-Core's max frequency was at 3.2GHz while the E-Core's max frequency was at 2.6GHz. The GPU's conditions was 176W peak power consumption, 80.2°C peak temperature, the average frequency was 1331MHz while the max frequency was at 1652MHz.
The overall power consumption reached 253W (250W as claimed by the officials). In the entire stress testing scenario, the Titan Cooling system in MSI Titan GT77 handled everything smartly.
Also Read: MSI Stealth GS77 Review (i9-12900H, RTX 3080Ti)
Summary:
After a complete review, here we come with a conclusion. Starting with the CPU's performance, no doubt, the Core i9-12900HX is one of the best CPUs you can get on earth. Further, it performs far better than its competitor, especially Ryzen 9 6900HS and its standard version Core i9-12900H. Also, when combined with GPU (RTX 3080Ti), we have seen that it handled all the 3A games very efficiently with a higher refresh rate and Full-HD video quality. On stress testing, we also saw that the Titan Cooling System inside the MSI Titan GT77 has efficiently dissipated the produced heat very smartly, ensuring that the user doesn't need to worry about heating issues during heavy gaming. In addition, the latest combination of DDR5 memory and PCIe 5.0 SSDs also takes the performance to another level. The manufacturer has also put numerous slots for both, through which the notebook can act as a beginner-level workstation. Not only that, but the different variety of ports also eliminates the user's need to buy any port's extension dock. However, it has been seen that to get the best performance, the manufacturer has sacrificed the portability of the notebook, which still doesn't matter a lot as it is a gaming notebook.
The notebook we have reviewed is a review model and is also not on sale. However, the retail version with almost the same specifications (but has a different 4K display resolution and 120Hz refresh rate) is priced at around 5000$. The company is also selling lower versions at better prices. For example, there is a model with the same CPU but with lower tier GPU RTX 3070Ti and is priced at around 4500$. You might find a little price difference between different sites.