This afternoon, Mediatek has officially launched its Dimensity 1200 chipset. The chipset is based on TMSC's 6nm process.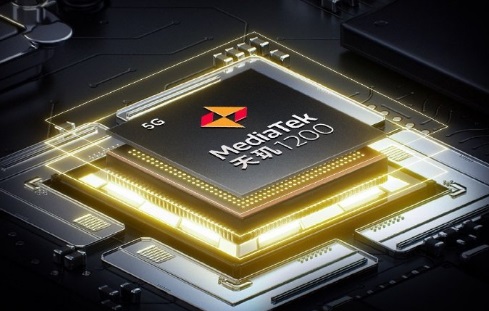 In terms of specifications, it consists 1x Cortex-A78 large core (clocked @3.0GHz), 3x Cortex-A78 (clocked @2.6GHz), 4x Cortex-A55 (clocked @2.0GHz) cores. The performance has been increased by 22%, energy efficiency increased by 25%. The GPU scale has not changed much, and its performance has increased by up to 13%.
MediaTek Dimensity 1200 chipset realizes high-speed 5G rail mode for the first time, which supports fast multi-beam switching, 5G network speed increases by 40%, and downlink speeds up to 400Mbps. It further supports 5G elevator mode for the first time; 5G Ultrasave is now more (efficient) power-saving and supports 5G new frequency band and large bandwidth.
In terms of camera, the MediaTek Dimensity 1200 supports single-frame progressive Staggered HDR video, can record 4K three-exposure HDR video; supports AI multi-person blurring.
Dimensity 1200 chipset can also achieve up to 200 million pixel photography. It supports MediaTek's rapid night shooting, triple-exposure single-frame progressive 4K HDR video technology (Staggered HDR), AI SDR to HDR technology.
If we talk about the gaming experience, MediaTek Dimensity 1200 is equipped with HyperEngine 3.0 network optimization engine, which supports continuous incoming calls; does not consume CPU and GPU resources when opening hotspots. 5G high-speed rail game mode support is also there. It is the first chipset certified by TÜV Rheinland.
The chipset is also confirmed to be featured on the Redmi's K-series lineup and the V series lineup of Honor. It is known that the Redmi K40 series would feature a Dimensity 1200 version too. But if we talk about the Honor V40 series, it is expected to feature the old flagship chipset Dimensity 1000+.
MediaTek Dimensity 1200 also takes the lead in supporting the upcoming Bluetooth LE Audio (Bluetooth Low Energy Audio) standard, reducing game voice latency by 20%. It also supports a ten-finger touch to maintain stable frames and an intelligent load control engine for adding high game brushes. Some smart features like smart healthy charging, Wi-Fi 6 power-saving mode, balance performance reduce power consumption and extend battery life.
If we talk about Dimensity 1100 chipset, it is MediaTek's sub-flagship chipset. In terms of specifications, this  CPU consists of 4x Cortex-A77 large cores (clocked @2.6GHz) and 4x Cortex-A55 small cores (clocked @2GHz). The GPU used there is Mali-G77 MC9.
The chipset supports dual SA 5G networking, and ISP supports up to 108 million pixels. It also supports FHD+ resolution with a 144Hz refresh rate, UFS 3.1 flash memory and LPDDR4x memory. The APU is slightly weaker.
Thanks to the new features of MediaTek Dimensity 1200, many smartphone manufacturers (including Redmi and Realme) will launch 168Hz high refresh rate models, which is worth looking forward to