As per reports, it seems that Samsung is very near to bring the newer generation of its Galaxy S FE Series. This time, as expected, the device would be named Galaxy S21 FE. The device has already been spotted on various certification sites, revealing a little bit of information regarding the upcoming device.
This morning, the Galaxy S21 FE has been spotted on the famous FCC Certification site, which usually reveals the charging specifications of a specific device. Some mentioned specifications in the certification are discussed below: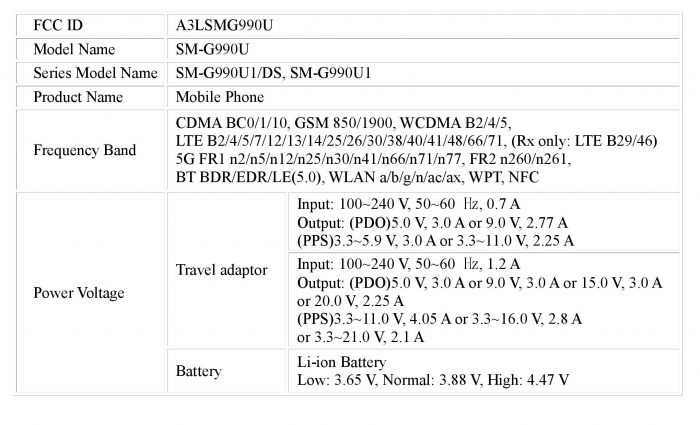 At first, it is mentioned that the Galaxy S21 FE supports two chargers: EP-TA800 and EP-TA845. The first one (EP-TA800) is a 25W charger, while the second one is a 45W USB Type-C PD Charger, currently compatible with Galaxy Note 10 series (as mentioned on the official site).

It is worth mentioning that the charger will not be included in the box (as previously revealed). After the charging adaptor, we have a Type-C to Type-C data cable with model number EP-DN980BWZ. In addition to that, the new FE model also supports the old AKG branded earphones, but still, it will not come inside the box.
The earphones mentioned in the list are the USB Type-C Earphones which confirms that the Galaxy S21 FE will lack the headphone jack. Furthermore, it is also mentioned that the Galaxy S21 FE will use the SM8350 (Snapdragon 888) chipset, which was already confirmed.

The model number of the listed device is SM-G990U which denotes that this would be the US variant with Qualcomm's flagship chipset. Currently, the information regarding this upcoming affordable flagship model is limited. The launch of Galaxy S21 FE is expected in September 2021.