Yesterday, Honor (on Weibo) had officially confirmed that they are going to hold a new product launch event on December 1 in which the company will release the successor of its main flagship series named Honor 60 Series. And now, the officials have started to reveal the significant highlights of the phone.
This morning, the company has revealed the first-ever appearance of its Honor 60 through a warm-up poster (on Weibo). It can be seen that the company has also appointed Gong Jun (Chinese Actor) as the global spokesperson for its upcoming Honor 60 series.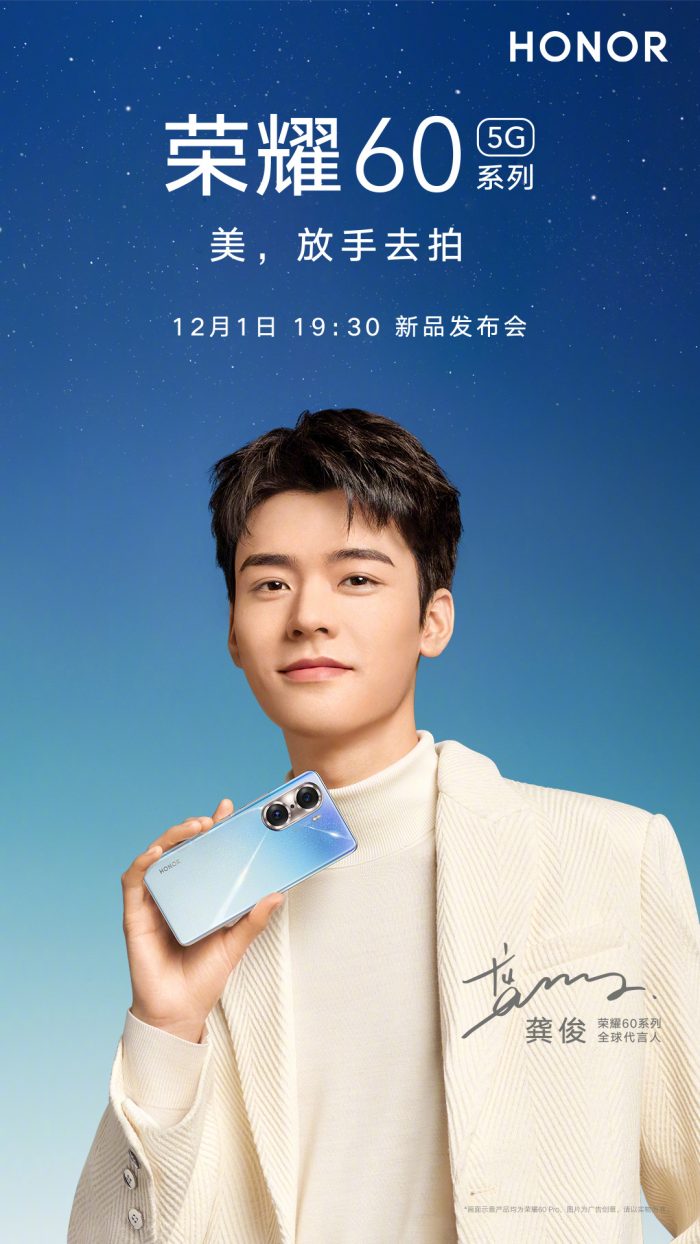 As observed, the new Honor 60 features the same double-ring lens module design as in the Honor 50 series, but significant changes can be seen this time. The details seem more refined and full of texture.
There are a total of three cameras in which two (main lens and ultra-wide lens) of them are placed in both rings while the third one (small-sized, macro lens) is in the middle of circles.
Previously, the company has also revealed the slogan of the upcoming Honor 60 series, "Beauty, just let it go and shoot." It was concluded that this flagship series would be camera-focused.
Moreover, as observed in the previous official warm-up post, it was also revealed that the Honor 60 might also be available in a starry design. Some reports also said that this flagship series might use diamond color technology to bring better texture and visual effects to the device's body.
Jiang Hairong (CMO of Honor China) once said regarding the Honor 60 series, "Discover beauty in the vast starry sky, and the 2021 mobile phone will have a beautiful ceiling."
Through past practices of Honor, it is revealed that Honor's main flagship series has always focused on the trendy design which attracts young-generation. The new Honor 60 will also naturally inherit the aesthetic genes of Honor's main series.