The laptop market had different varieties of notebooks for different personalities. For instance, a business notebook will not meet the needs of a gamer because the hardware will probably fail at some point. Likewise, a gaming notebook will not be ideal for a mobile business because no one wants to carry a 2kg+ device on the go. Notebooks for business are often moved from one place to another and this is why business notebook focuses on design and weight. They have to be ultra-thin and light so as to reduce the burden of carrying them along during travels. As people no longer work in one place and the popularization of 5G high-speed networks, mobile offices will become more mainstream, thus the weight reduction of productivity tools will become more important. In addition, because these notebooks (for business) are often on the road, they also need long-lasting batteries as well as decent hardware to handle relevant business programs.
There are already a couple of business notebooks in the market. Nevertheless, there is always room for improvements, especially in the hardware segment. The recently released HP ProBook 635 Aero G8 meets most of the needs of businessmen. It comes with top-notch high-performing hardware, the latest generation of AMD Zen3 architecture Ryzen 5000U processor. This notebook is also ultra-thin and most importantly, it is ultra-portable with a weight of about 1kg. Truthfully, there are a handful of notebooks with weight not exceeding 1kg and this is a significant plus for the HP ProBook 635 Aero G8. This device also comes with a good battery life that lasts for about 20 hours.
The rigorous 19 MIL-STD-810 military standard tests make it more hard-powered compared with general light and thin laptops. In addition to the high power and portability of this notebook, there is another attractive aspect of this device, the price. The HP ProBook 635 Aero G8 costs less than $1200 which is super cheap for an HP business laptop.
HP ProBook 635 Aero G8 Specifications
Screen
13.3″ diagonal LED UWVA Anti-Glare FHD (1920×1080), 400 nits, Ambient Light Sensor, for IR Webcam, Low Power, WWAN
Processor
AMD Ryzen 7 5800U with Radeon™ Graphics (1.9 GHz base clock, up to 4.4 GHz max boost clock, 16 MB L3 cache, 8 cores)
Wireless Connection
Realtek RTL8822CE 802.11ac (2×2) and Bluetooth® 5
Graphics card
Integrated AMD Radeon™ Graphics
Memory
16 GB DDR4-3200 PC4 SO-DIMM memory (2 DIMMs)
Storage
512 GB PCIe NVMe SSD
Camera
Integrated HD 720p IR webcam with a dual-microphone array
Ports

2 SuperSpeed USB Type-A 5Gbps signaling rate (1 charging)
1 SuperSpeed USB Type-C® 10Gbps signaling rate (USB Power Delivery, DisplayPort™ 1.4)
1 headphone/microphone combo
1 HDMI 2.0
1 AC power port

Battery
3-cell 53 WHr Battery
OS
Windows 10 Pro
Weight
 1 kg (2.2 lb)
HP ProBook 635 Aero G8 Design & Appearance
The design and appearance of any business notebook play a huge role in its performance in the market. For the HP ProBook 635 Aero G8, it did not disappoint in this regard. The company used a silver metal build material for this device. The silver metal design has been mainstream over the past few years. Interestingly, all sides of this laptop use the same silver and this gives the laptop a uniform feel.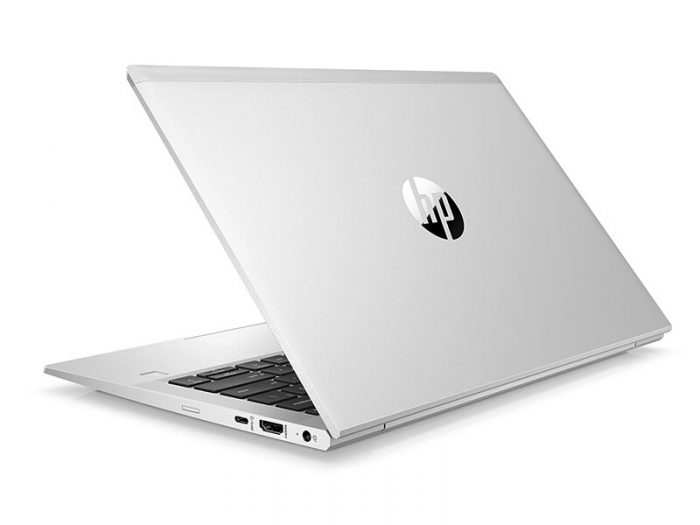 To improve the overall beauty of this device, HP uses diamond cutting technology to carefully polish this laptop. This enhances its beauty and appearance and also gives it a smooth and comfortable feel. However, it has one disadvantage, the silver feel is very smooth, maybe too smooth. Users have to be careful with handling this device, it can easily slip off especially if the hand is wet. Nevertheless, the sliver design gives this business notebook a low-key but premium, classy, and stylish finish.
You may expect a sliver build laptop to be very heavy, certainly not the HP ProBook 635 Aero G8. Despite the silver build material, the diamond cutting technology ensures that the weight of the device is controlled at about 1kg. In fact, the actual weight we measured is about 0.9945kg but this is approximately 1kg. Furthermore, the dimension of this device is 12.11 x 8.05 x 0.71 in (30.75 x 20.44 x 1.80 cm). This shows that this device is only 0.71 in or 1.80 cm thick. Obviously, this laptop is easy to grab with one palm. The weight and thickness are a significant plus for the HP ProBook 635 Aero G8 being a business laptop and it meets with the "thin and light" needs for business personnel.
Furthermore, a thoughtful design that HP included in the ProBook 635 Aero G8 is the opening angle of the display. I am a business person and I sometimes find it frustrating when the opening angle of a laptop display is just 120° like most laptops in the market. Due to long hours of work and changes in light directions, business laptops need more than a 120° display flexing angle. The HP ProBook 635 Aero G8 supports opening and closing at about 175°. This means that users can flatten the screen on the desktop and share documents with a few colleagues, and you can start discussions immediately, which is very convenient.

HP ProBook 635 Aero G8 Screen
The first good impression that the HP ProBook 635 Aero G8 gave me was its portable 13.3-inch anti-glare IPS screen. Of course, no business laptop needs a huge 16-inch display as this will only increase the weight as well as the carriage burden but will not significantly improve productivity which is the major concern for business people.
According to HP official information, the 13.3-inch anti-glare IPS screen supports 1920 x 1080 resolution, 400 nits high brightness, and a high color gamut of 100% sRGB. These specifications show that uses do not have to worry about the light situation in the office. Whether you are in a bright office or in a direct light environment when going out, the notebook is absolutely useable. In addition, its ambient light sensor can automatically adjust the screen brightness to adapt to the visual experience in different environments.
This laptop brought an AUO6888 AUO screen. We used SpyderXElite 5.6 to test it, the color gamut of this screen is 98% sRGB, 77% AdobeRGB, 77% DCI-P3, 71% NTSC, and DeltaE is 1.24. In other words, this screen can provide excellent performance. In addition, its screen brightness was measured up to 390.4 nits.

To increase the display ratio, the HP ProBook 635 Aero G8 significantly reduces the bezels (display frames). As a result of its narrow frame design, the laptop comes with an 86.2% screen-to-body ratio which delivers a larger viewing area and brings a more immersive visual effect. However, we can see that the top and bottom bezels are thicker than the side bezels. While the bottom bezel hosts the HP logo, the top bezel hosts a wide-angle camera with built-in face recognition technology. Furthermore, the camera comes with an adjustable toggle which users can slide to block the camera.
The face recognition technology is a very important feature for business notebooks. All you have to do is to switch on the laptop and it will automatically recognize your face and open the device. You can easily log in to the system by swiping your face when you turn on the machine, and the video conference can be started at any time.
HP ProBook 635 Aero G8 Keyboard
The keyboard region (some call it palmrest) is as interesting as the entire notebook. First off, it has tiny little holes on the flanks of the keyboards. Obviously, these holes are for its high-quality speakers. I particularly love this design because it gives users direct access to the sound emanating from the speakers. It makes video conferences, and home audio-visual entertainment much easier in terms of sound. When the sound emanating from the rear or the bottom, it is sometimes hectic to have video-conferencing without an earpiece.
The keyboard uses a one-piece mold design and the company did a lot of work on the keyboard design. This device comes with full-size keycaps that support a 1.5mm long keystroke and the feedback is crisp. This premium spill-resistant keyboard comes with a two-level backlight design. This means that users can adjust the brightness of the backlight to suit their needs depending on the lightning in the environment.

Furthermore, the keycaps incorporate a rubber dome and shock-proof hook technology. This effectively reduces the noise of the buttons during typing and offers an overall quieter typing experience. In a public office space, hit your keyboard as hard as you want, it will not disturb your colleagues in the office.
High efficiency is a major feature of business office notebooks and the HP ProBook 635 Aero G8 delivers just that. The F12 button on the keyboard offers programmable shortcut keys. This allows users to easily customize their keypads. Furthermore, users can set the function keys through the HP Programmable Key APP. Also, the combination of Shift, Ctrl, and Alt can add apps, websites, files, or folders for easy access. This gives users one-key direct access to these customized zones (apps, folders, etc).
The touchpad comes with multi-touch gesture support. This feature gives users access to a variety of features through multiple finger touches. It is important to note that most of these touches are not available on regular (non-business) notebooks). Furthermore, the all-in-one touchpad is very smooth and large. If you prefer a rough touchpad, this touchpad may need some getting used to. The hidden left and right buttons are comfortable to press, and the feedback is simple. It can be a perfect replacement for the mouse in most business offices or meetings.
On the right side of the touchpad, there is a fingerprint sensor that offers more security protection. If you are not comfortable with the face recognition feature, you can use the fingerprint sensor for additional security.
HP ProBook 635 Aero G8 Ports
In all honesty, the ports of the HP ProBook 635 Aero G8 is not the most comprehensive in the industry, however, it is just sufficient for a business notebook. In fact, this device maintains better connectivity and scalability relative to the previous generation
On the right side of the notebook, we have a circular power port, one HDMI 2.0 port, one USB Type-C port, and a spare Nano Sim card slot. On the left side, there are two USB Type-A ports (one of these supports power-off charging), and one 3.5mm audio port.

The ports on this device can meet the peripheral connections of a daily business office operation. Users can connect a larger-size monitor, a mobile phone, U disk, etc., and there is no need to carry a docking station.
HP ProBook 635 Aero G8 Hardware Tests
The HP ProBook 635 Aero G8 we reviewed comes with an AMD Ryzen 7 5800U processor that integrates an AMD Radeon 8 Graphics. This device also comes with 2 × 8GB (16GB) DDR4 3200MHz RAM, 512GB NVMe SSD, and Wi-Fi 6 high-speed wireless support. It also supports Bluetooth 5.0 protocol and pre-installs Microsoft Windows 10 Pro operating system, Office Home Student Edition, and Kingsoft WPS Office software. Its software pack also includes HP Connection Optimizer, HP Hotkey Support, HP Noise Cancellation Software, HP Support Assistant, HP Power Manager, myHP, HP Privacy Settings, Touchpoint Customizer for Commercial, HP Notifications, and HP QuickDrop.
Before the test commenced, we had to update the system to the latest version with version number 19042.1151. The motherboard BIOS version number is T83 Ver.01.02.00, and the office environment temperature is 26°C. Also, the notebook was charged to 100% and set to "performance mode" for all tests except the battery test.
CPU
At the beginning of the year, AMD unveiled its mobile thin and lightweight processor, the Ryzen 5000U series. The biggest upgrade in this chip is its use of the Zen 3 architecture, which brings a significant increase in IPC. The AMD Ryzen 7 5800U uses 7nm process technology, 8 cores, and 16 threads. It hits a single-core maximum frequency of 4.40GHz. It also integrates the AMD Radeon 8 GPU, 16MB L3 cache, and the design power consumption is 15 – 25W.
CPU-Z
In the CPU-Z benchmark test, the single-core score was 612.8 while the multi-core score was 4892.5. This score is very impressive for a business notebook.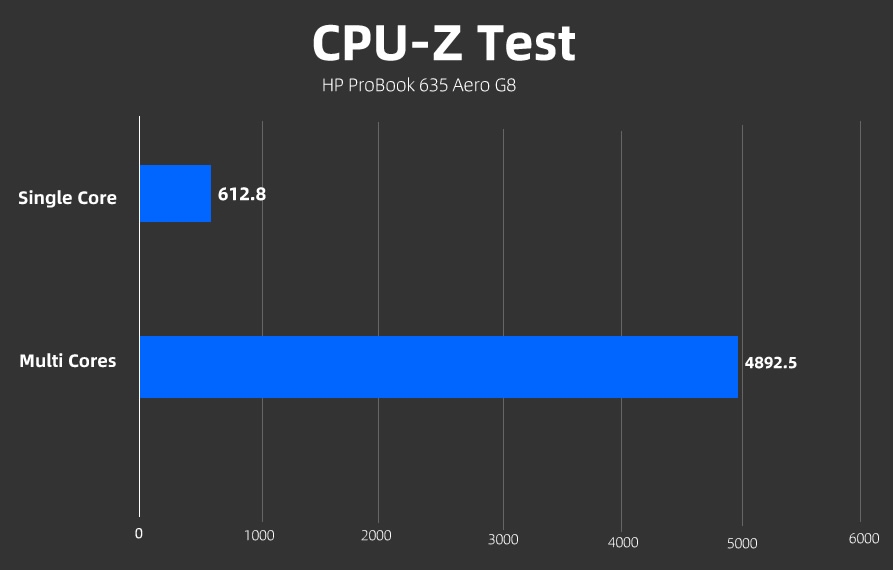 CineBench
In the Cinebench test, the test results of the Ryzen 7 5800U are equally satisfactory. The R20 single-core score is 565pts and the multi-core score is 3751pts.
In the CineBench R23, the test score on the single-core end is 1416pts while the multi-core score is 9576pts.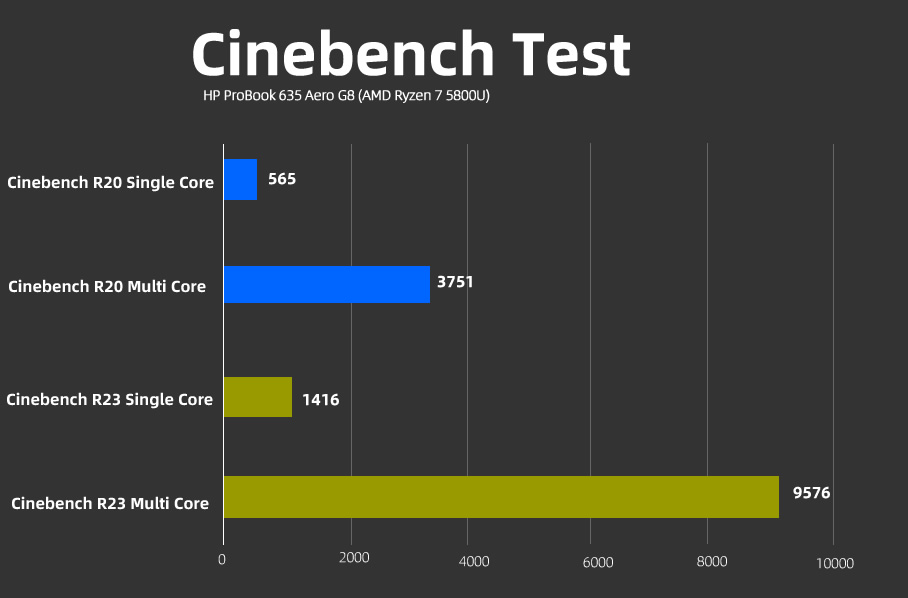 3DMark
In the 3DMark test, the Time Spy score reached 1295, of which the graphics card score was 1128 and the CPU score was 6395.
On the Fire Strike tests, this chip got a score of 3136. The graphics card score was 3378 and the physical score was 18,482.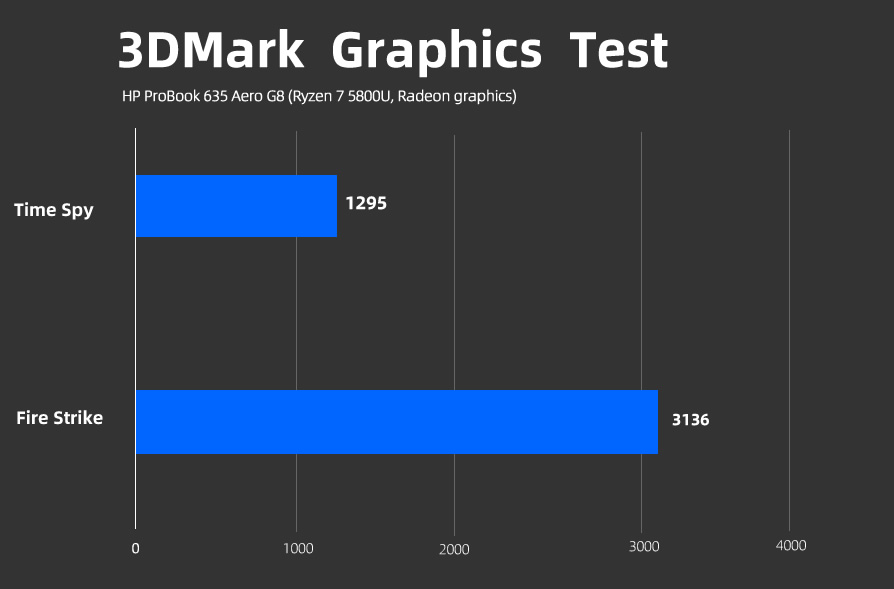 From the test scores above, it is obvious that the HP ProBook 635 Aero G8 will seamlessly cope with daily office graphics, audio, and video entertainment needs. In fact, for office users who love to play games, this device will also meet your needs. However, do not use it for heavy-duty games and expect high results.
SSD
This notebook uses an SK Hynix 512GB NVMe SSD. We tested by CrystalDiskMark 8, the read speed of the test sequence is 3596.26MB/s, and the write speed is 3228.65MB/s.
RAM
The laptop comes with two 8GB DDR4 3200MHz dual-channel RAM. The memory read speed is 39198MB/s, while the write speed is 33208MB/s.
HP ProBook 635 Aero G8 Battery life
Like we said earlier, a business laptop requires a long-lasting battery because its users are usually on trips that take them far away. The battery life is important for business meetings at any time. The HP ProBook 635 Aero G8 comes with a built-in 53Whr 3-cell long-life lithium battery.
According to the information on HP's official website, in the Windows 10 MM18 battery life test, it reached 20 hours and this can fully meet the needs of short-term business trips.
However, in the PCMark 10 battery test, the notebook hits a longer battery life. We set the screen brightness at 80% with wireless connection, Bluetooth and GPS all turned on. After running the notebook for 30 minutes (fully charged 100% of course), the remaining time displayed is 19h 35min. Another implication of this test result is that when the screen brightness is lower and there is no need for wireless connection, Bluetooth, and GPS, the battery will last a little longer.
In addition, this laptop also supports fast charging, which can charge up to 50% in 30 minutes. According to HP, this device can retain over 65% of its battery capacity after 1000 times of charging and discharging. This means that considering that the battery lasts 20 hours, you can charge this notebook once every 2 days and there is no need to worry about the battery quality in the three years.
HP ProBook 635 Aero G8 Cooling System
Although this is not a gaming laptop and heat dissipation is not a big deal, we also examined the heat dissipation of the Ryzen 7 5800U processor on this HP ProBook 635 Aero 8. One of the biggest features of this chip is its high performance, low power consumption, and power design is between 15W – 25W. This means that we do not have to worry about heat dissipation.
This notebook uses a single fan and single heat pipe design, but the distance between the heat pipe and the CPU is very short, so the heat can be blown away quickly. The heat is mainly concentrated on the rear hinge of the fuselage. This will protect the user from direct heat output and the keyboard surface can hardly feel the heat.
We used AIDA64 FPU to test the heat dissipation of this device. The indoor temperature is 27°C and we ran the notebook for about 30 minutes. After the test, the CPU temperature is 86.5°C, power consumption is 23W and the frequency is slightly reduced but stabilized at 2.75GHz. We can say that a little bit of frequency was sacrificed in exchange for a balance with temperature.
Summary
The HP ProBook 635 Aero 8 notebook has a portable weight of only about 1kg which left me deeply impressed. At this time, there are not many notebooks with such weight. This means that this device can be picked up with one hand and users can freely participate in business meetings at any time. It really reduces the burden on the backpack. In addition, the face recognition technology of HP ProBook 635 Aero 8 and fingerprint sensor prevent personal privacy leaks and provide users with safe personal privacy protection.
The laptop has passed the industry's rigorous 19 MIL-STD-810 military standard tests, including drop, high temperature, low temperature, humidity, vibration, dustproof, shock tests, etc. Thus, in terms of strength, business personnel can be sure that this device is designed to withstand complex and harsh environments.
On the display end, the higher-brightness, and high-color gamut screen brings an excellent visual experience. In addition, the 20-hour battery life is enough to handle high-load office work around the clock and this is what a business notebook should look like.
As a business laptop, ProBook 635 Aero 8 not only meets the performance requirements but also achieves simplicity and portability which makes this device attractive. Also, if you get this device from official sources, it comes with a lot of accessories which may include backpacks, wireless mice, etc. as gifts.
Lastly, we talk about the price. This ultra-thin and ultra-light business notebook cost less than $1,200. For me, this is the most attractive aspect of this device. Those who want to buy a thin and light business notebook should not miss the HP ProBook 635 Aero 8.