In Feb 2021, Huawei introduced its Mate X2. The new model in the foldable phone lineup became so popular on debut that its pre-booking got closed a few times (in China). It seems that the company is now working on a new vertically foldable phone like the Galaxy Z Flip lineup.
This morning, the Chinese blogger @Panda is bald (on Weibo) has revealed that before the end of this year, we would be available to see the all-new Mate V. An addition to Huawei's folding phone lineup, which adopts upper and lower folding screen design, also powered by the latest Kirin 9000 chipset.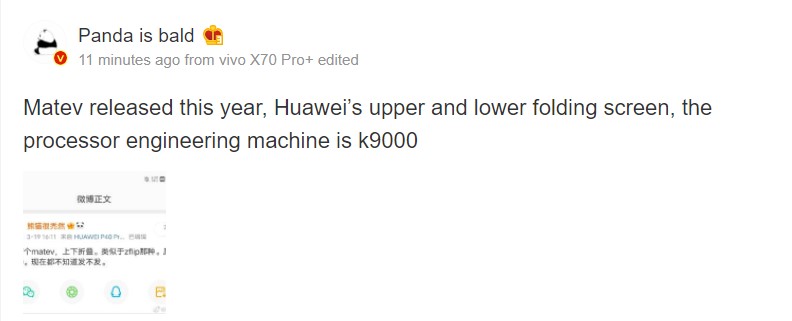 It is not known whether the Kirin 9000 chipset would support 5G or not. It is worth mentioning that the chipset is already available in the 4G version as well, having the exact specifications but lacks 5G network connectivity. Last time, the Kirin 9000 4G version chipset was used in the Huawei P50 series.
Currently, in the market, many Chinese smartphone manufacturers are looking forward to introducing their first-ever horizontally foldable phone (including OPPO and Vivo). At the same time, Huawei is taking its folding phone series to another level by introducing the all-new Mate V with a vertical folding solution.
At present, few models like the Galaxy Z Flip lineup and Motorola Razr would be the main rivalry for the upcoming Huawei Mate V.