Recently, a Chinese netizen (on Weibo) @Lei Quanshun has leaked a poster regarding the launch of Huawei's upcoming flagship series "Huawei Mate40". In the poster, it can be seen that the Huawei's Mate40 series is coming this October for sale.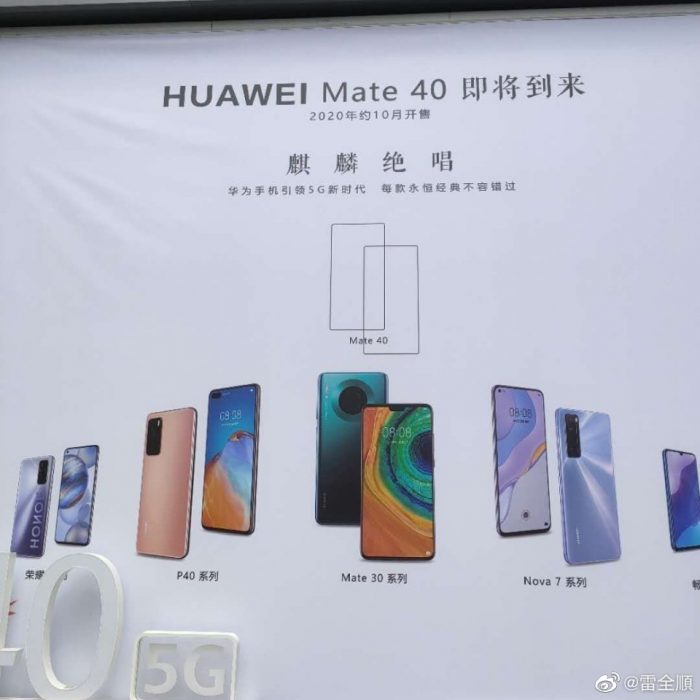 At the left of the poster, it can also be seen that there is a 5G logo, which pointing us that this upcoming series will also support 5G Connectivity.
Previously, it was reported that Huawei's new Mate40 series might not be available in some regions, including Europe. But some leaks confirmed that Huawei is also planning to launch this new series in Europe too.
Recently, the new Huawei Mate40 has been spotted on EEC (European Economic Community) Certification, which confirmed that the new Huawei Mate40 series would also be launched in the European Market.

Moreover, Huawei's recently launched Enjoy20 Plus has also been spotted on the same certification, which points to us that Huawei may launch its Enjoy20 Plus as Huawei's Mate40 Lite in the European Market.
Previously, we already reported that the new Huawei Mate40 series is expected to feature an improved dual punch-hole waterfall display with a 90Hz refresh rate too. The new Kirin 9000 chipset is also expected to be featured on this phone.
Currently, it is known that the launch event will be held in October.