In the afternoon of January 25, Huawei responded to rumors about the sale of Mate and P series phones, Huawei responded that it had no plans to sell its mobile phone business at all and would insist on building a high-end smartphone brand.
Recently, there are rumors that Huawei will spin off the entire terminal business, similar to Honor, and develop it independently.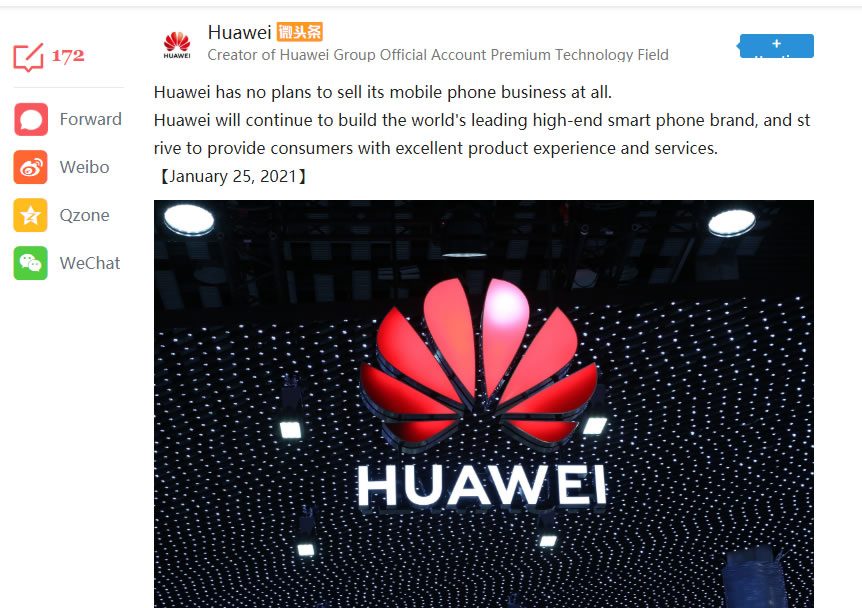 There are overseas media reports that Huawei is in talks with an investment company backed by the Shanghai government to conduct initial negotiations on the sale of its high-end smartphone brands P and Mate. The report also said that Huawei has not yet made a final decision on the sale, and the negotiations may not end successfully because Huawei is still trying to manufacture its high-end Kirin chips.
Huawei responded that it has no plans to sell its mobile phone business. Huawei will continue to build the world's leading high-end smartphone brand, and strive to provide consumers with excellent product experience and services.
Since the second half of 2020, due to the US chip ban, Huawei's self-developed Kirin chips cannot be produced, and it cannot purchase mobile phone chips from third-party suppliers. It can only rely on inventory to produce smartphone products. This has led to difficulties in the supply of Huawei mobile phones.
In November 2020, Huawei has sold its Honor brand to Shenzhen Zhixin New Information Technology Co., Ltd to break through the US blockade. Honor CEO Zhao Ming revealed in an interview with the media recently that almost all suppliers have reached supply cooperation with Honor, including Qualcomm and MediaTek.