Today, a new Huawei model named "NOH-NX9" was found in the Antutu database. It is equipped with a Kirin 9000 processor. Previously, this model NOH-NX9 has obtained NBTC Certification, and the certification shows that it is Huawei Mate 40 pro.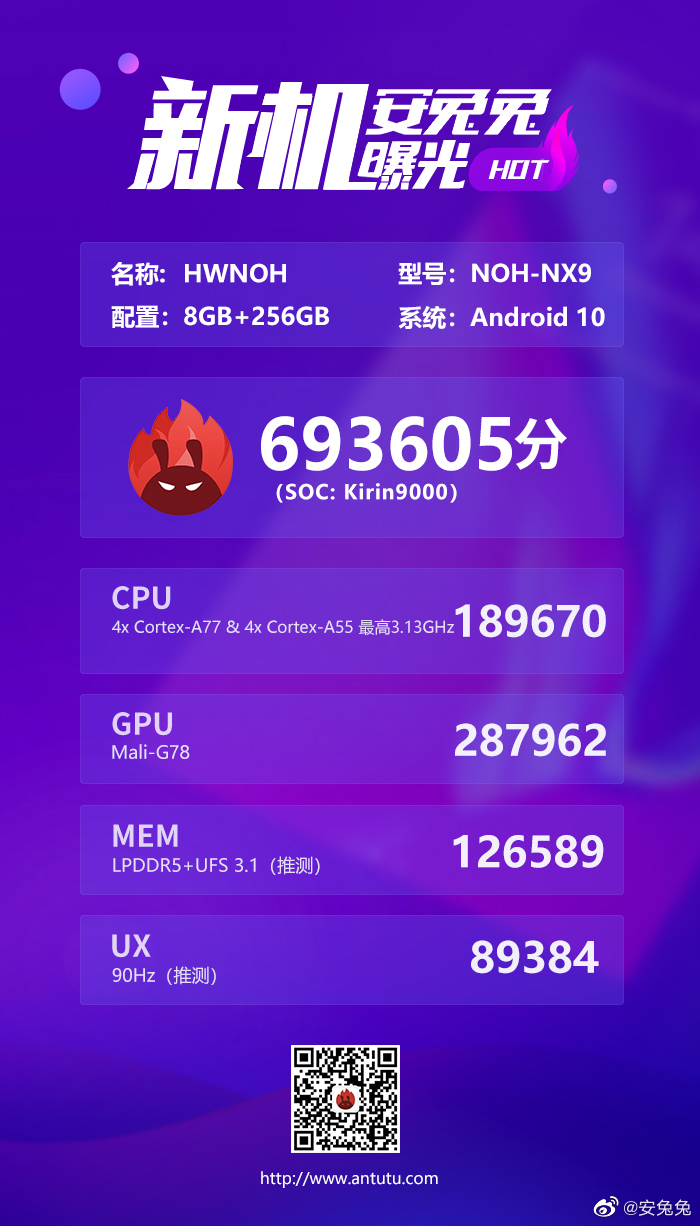 The NOH-NX9 uses a 2772×1344 resolution display and equipped with a Kirin 9000 processor, built-in 8GB of memory, and 256GB of storage, and the main camera is 50 million pixels.
The Kirin 9000 processor uses a quad-core Cortex-A77 with a quad-core Cortex-A55 design, and the highest frequency reaches 3.13GHz. The GPU is Mali-G78, and the number of cores and frequency are still unclear.
The highest score currently counted by AnTuTu is 693605, of which CPU score is 189670, GPU score is 287962, MEM score is 126589, and UX score is 89384.

In terms of performance, Kirin 9000 is 39% higher than Kirin 990 5G, and 13.7% higher than Snapdragon 865.
According to the results, mate 40 series should be equipped with lpddr5 memory and UFS 3.1 flash memory, which has an excellent performance in storage, and the screen refresh rate may be 90hz, but it does not rule out the possibility that it has a higher refresh rate.
Kirin 9000 has a very large improvement compared to Kirin 990 5G, and it also has obvious advantages compared to Snapdragon 865. Especially the GPU performance is very eye-catching, and it also has obvious advantages over the overclocked Snapdragon 865.