A few months ago, it was reported that LG has filed for some new trademarks, which includes LG Q92 and Q62 also. Moreover, LG's Q92 was also spotted on Google Play Console yesterday. Some recent reports also claimed that both the phones are in the testing phase.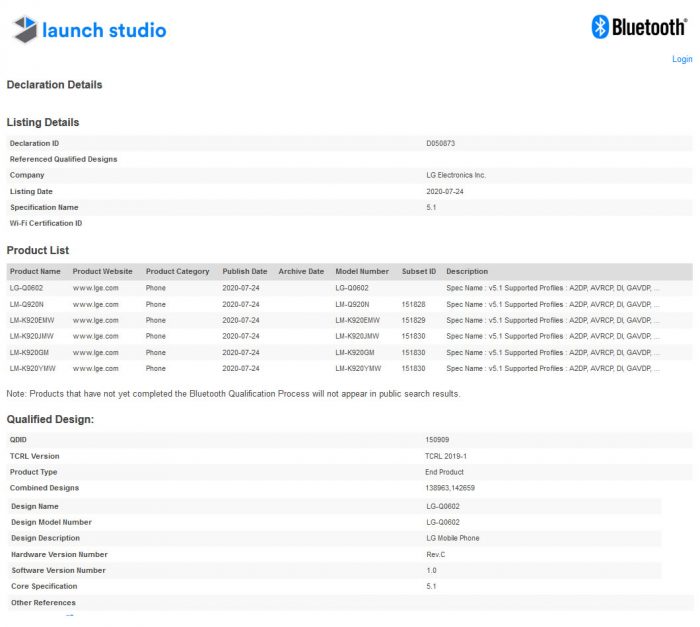 Today (on 24th July), both LG's smartphone LG Q62 and LG Q92 has been spotted on Bluetooth SIG site. The certification includes three different model numbers: LG-Q0602, LM-Q920, and LM-K920. Looking at the model number, the last two seem to be the model number of the same device. All the models support Bluetooth 5.1 connectivity.
The Bluetooth certification revealed nothing except a few details. According to previous reports, the upcoming LG Q92 will be equipped with a center punch-hole display with a resolution of 2400x1080p (Full-HD+) and 420 DPI. The display technology is still unknown. The phone will be powered by Qualcomm's latest mid-range chipset "Snapdragon 765," which also got "Adreno 625" GPU. The phone is expected to launch with 64/128 Gigs of storage and 6GB RAM.
Talk about the LG Q62. Its predecessor, "LG Q61," was a low-to-mid-range phone. That's why the phone would be powered by a mid-range chipset (like Helio G80), a little storage, and a low-quality display.
Currently, both phones are announced by the company. But these certifications point out that the phones may be launched soon.