It is known that Huawei is all set to launch its new foldable flagship phone, the Mate X2. Even the officials has also confirmed the chipset (Kirin 9000) of the foldable phone. Recently, some more leaks have been revealed.
This evening, the famous Chinese Leakster @DigitalChatStation has revealed the high-quality renders of the upcoming Mate X2, which are following: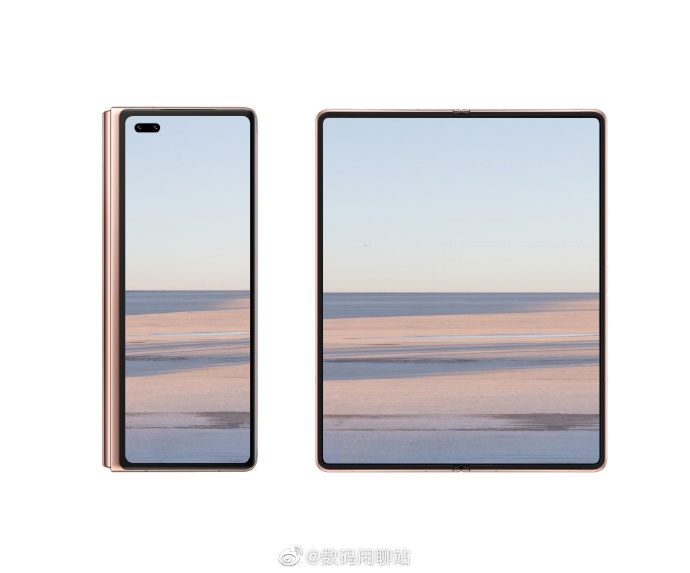 As per the blogger, the Mate X2 got no punch-hole (in-display camera) on the main screen. The user would not be able to click the front side images while using the main display. While on the secondary screen, there is a dual punch-hole camera. The primary sensor in the front camera setup consists 16MP lens.
The blogger further mentioned that the whole body of this foldable device is very thin, as well as very light weight. With all these leaks, it can be concluded that the Mate X2 would be a great competitor to Samsung's Z Fold2.
As we previously reported, the Mate X2 internal folding dual-screen sizes about 8.01-inches with 2K+ (2480×2200p) resolution, while the external screen (secondary screen) sizes around 6.45-inches with (2700×1160p) Full-HD+ resolution.
In terms of hardware, a 4400mAh Battery is also expected to be equipped inside the phone. On the backside, there would be a quad-camera setup (50 million pixels + 16 million pixels + 12 million pixels + 8 million pixels).
The all-new Mate X2 will be launched on 22nd February,