This morning, Huawei has officially confirmed that they will launch the all-new foldable flagship model "Mate X2" on 22nd February. The phone was already in leaks & rumors for a long time, and almost all the specifications are known. Today, the officials have revealed the hardware of the upcoming foldable phone.
As per the information on Huawei Kirin Wechat account, the all-new Huawei Mate X2 will be powered by the latest flagship chipset, "Kirin 9000".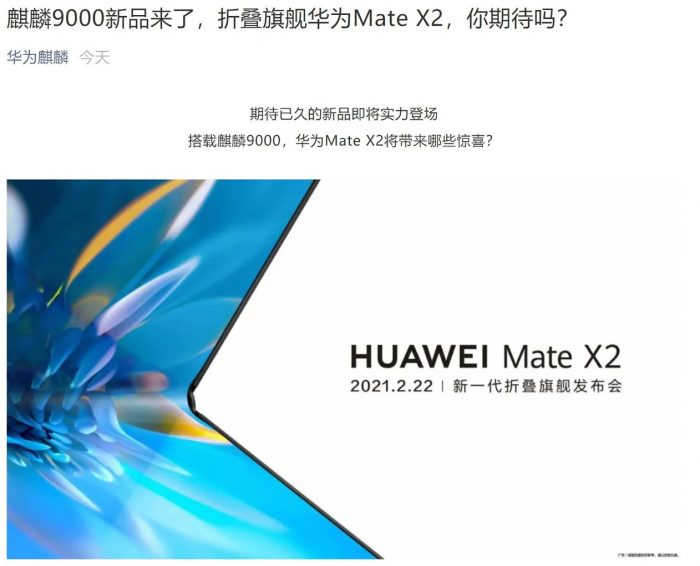 The Kirin 9000 is an octa-core chipset based on a 5nm manufacturing process in terms of specifications. It features: 1x Cortex-A77 core (@3.13 GHz), 3x Cortex-A77 cores (@2.54 GHz), 4x Cortex-A55 cores (@2.05 GHz). It is also equipped with a 24-Core Mali-G78 GPU.
The new foldable flagship Mate X2 may be available in limited quantity as Kirin 9000 chipset production is also low due to some reasons. Last time, the chipset was used in the Mate40 series.
As per previous reports, the Huawei Mate X2 will adopt an internal folding dual-screen design, equipped with 8.01-inches 2K+ (2480×2200p) internal folding main screen, while the external screen (secondary screen) sizes around 6.45-inches with 2700×1160p resolution.
Inside the phone, a 4400mAh Battery is also expected to be equipped. In terms of camera, a Quad-Camera setup (50 million pixels + 16 million pixels + 12 million pixels + 8 million pixels) will also be placed on the backside.
The all-new Huawei Mate X2 will be launched on 22nd February.