Yesterday, the upcoming Meizu 18s series was listed on TENAA Certification, revealing almost every specification of the device except the charging specifications. This morning, the same series has got certified by another famous certification site.
Today, the upcoming Meizu 18s series also got cleared from the 3C Certification site, revealing the charging specifications (of both standard and Pro versions). The certification includes the following model numbers, mentioned below, along with their specifications: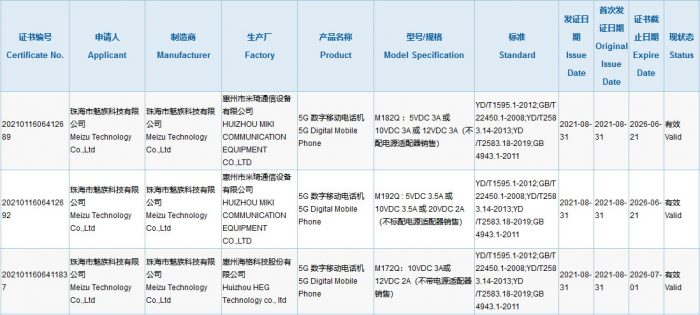 M172Q (Meizu 18x) with maximum 30W (10V/3A) charging, 24W (12V/2A) charging
M182Q (Meizu 18s) with maximum 36W (12V/3A) charging, 30W (10V/3A), and 15W (5V/3A) charging
M192Q (Meizu 18s Pro) with maximum 40W (20V/2A) charging, 35W (10V/3.5A), and 17.5W (5V/3.5A) charging
There is an additional model Meizu 18x, which wasn't revealed on the TENAA Certification. It is worth mentioning that all of these models will lack a phone charger in the retail box. After Xiaomi, another Chinese smartphone manufacturing company will copy the same practice.
As mentioned in the certification, the applicant and manufacturer of these devices are Meizu Technology Company Limited. The complete specifications of the Meizu 18s series are already live on our site, along with the appearance of the devices.
The new Meizu 18s series is expected to be launched very soon.