No doubt, MSI is one of the most well-known brands in computer history, which has different notebook lineups consisting of some premium notebooks and some gaming notebooks. The company also has a lineup named "Stealth GS, " primarily known for its rare characteristic of covering both the gaming and business segment. The advantage of covering both segments is that you can get gaming level specs powered notebook with a slim and lightweight body, whereas in the whole industry, we have seen that many manufacturers compromise the body weight and appearance while designing gaming notebooks
The notebook we will review today is one of them and is named "MSI Stealth GS77," which is the latest addition to the Stealth GS from MSI. The notebook comes with the latest combo of Intel Core i9 12th Gen CPU and RTX 3000 series GPU, which ensures that the notebook can easily handle all the modern era games. In addition to this combo, the notebook also got a higher specifications display and a slim body which is another breakthrough. It is worth mentioning that the notebook is the successor of MSI GS76, so many similarities between both models may be found during the review.
The notebook we got comes with Core i9-12900H CPU and RTX 3080Ti GPU in terms of internals. No doubt, the Core i9-12900H is the highest option you can get in Intel's Mobile CPU series. There are still higher options in GPU like RTX 3090 and 3090Ti, but the notebook features RTX 3080Ti GPU, which is also something that can never be underestimated. The notebook also supports the latest DDR5 Memory and PCIe 4.0 SSD Storage.
Every aspect of MSI Stealth GS77 is mentioned in detail under the specifications table.
MSI Stealth GS77: Specifications
Screen
17.3″ UHD (3840×2160), 120Hz, IPS-Level Display
Processor

12th Gen Intel Core i9-12900H Processor 2.5 GHz (24M Cache, up to 5.0 GHz, 14 cores: 6 P-cores and 8 E-cores)

Wireless Connection

Killer Gb LAN (Up to 2.5G) Intel® Killer™ AX Wi-Fi 6E + Bluetooth 5.2

Graphics card
NVIDIA GeForce RTX 3080Ti Laptop GPU 16GB GDDR6 Up to 1175MHz Boost Clock, 105W Maximum Graphics Power with Dynamic Boost.
Memory
64GB DDR5 Dual Channel Memory (clocked @4800MHz) 2 Slots (Max Support: 64GB)
Storage
2TB PCIe 4.0 SSD, Manufactured By Samsung (Model number: Samsung PM9A1), 2x M.2 SSD slot
Ports
1x Type-C (USB3.2 Gen2 / DP)
1x Type-C (USB / DP / Thunderbolt™ 4) with PD charging
2x Type-A USB3.2 Gen2
1x RJ45 LAN Port
1x SD Express Card Reader
1x (8K@60Hz/4K@120Hz) HDMI
Battery
99.9 Whrs 4-Cells (6150mAh) 15.2V Lithium-ion Battery with 240W AC Adaptor
OS
Windows 11 Home Edition
Weight
2.8 kg (6.17 lbs)
MSI Stealth GS77: Body, Appearance, and Build
As mentioned before, the MSI Stealth GS77 also covers the business segment notebook so having good portability is also important. The dimensions and weight of the notebook are the following: 397.6*283.5*20.8 mm and 2.8kg. Comparing the Stealth GS77 with the old model, it has been observed that the weight is quite increased (2.45kg in Stealth GS76).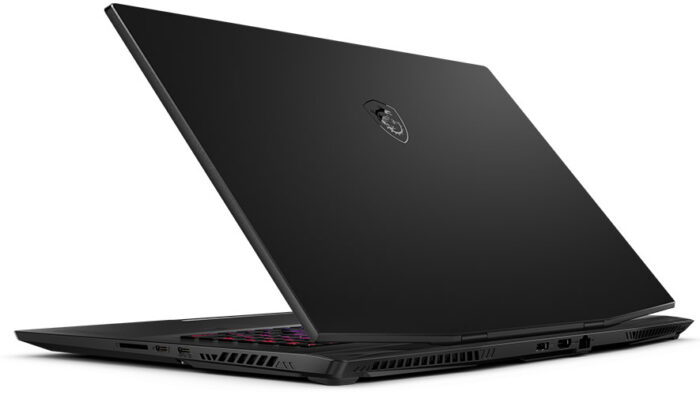 In terms of design, the notebook still maintains the aesthetics of a simple and atmospheric design (from the previous models). However, a significant change in design pattern has been observed. Compared with the previous GS lineup models (having square right-angle sides), this model features a different design in which a specific arc is cut beside the rotating shaft. In addition, the rear outlet is now more efficiently designed for better heat dissipation. Also, the bottom part of the notebook is no longer covering the display shell (having a protruding portion).
In terms of build quality, the MSI Stealth GS77 features a whole metal body with a finely frosted texture on it, feels immensely satisfying and high-end while handling. Compared with other gaming notebooks (currently available on the market), most of them use plastic as the primary material, which doesn't feel premium or flagship-type; that's why we can conclude this notebook can have good positioning in the business segment, also.
We have the same classic dragon shield logo from MSI on the display cover, which is more blackened than the rest of the area. It is worth mentioning that the overall body is painted with matte black color (named "Core Black" by the officials), the only color option available in this model. As this laptop features a 17 inches display, the laptop's body is relatively larger, which is acceptable being a gaming book because gaming on a big display is another demand of gamers, these days.
MSI Stealth GS77: Display and Webcam
Before discussing the display in detail, we would like to mention some basic specs of this screen. The model we are reviewing has a 17.3 inches IPS thin-bezel display with UHD/4K (3840*2160p) resolution, which also supports a 120Hz refresh rate, making it an exemplary screen for gaming. Buyers can also go for a higher refresh rate but lower resolution, depending on their needs.

In terms of display appearance, it can be seen that the bezels are very narrow. Moreover, the screen frame is rough plastic and has undergone thorough matte treatment.
On testing the display capabilities, we found that the display has a 100% sRGB color gamut, 88% Adobe RGB color gamut, and 99% DCI-P3 Color Gamut. In addition, the maximum brightness is 458.6nits. The measured average Delta-E value was 1.42 (2.25 highest and 0.27 lowest).
It is worth mentioning that the company has also provided a pre-installed software named MSI Center, which lets the user switch in a variety of color settings according to different scenarios. At the top bezel, the company has put the webcam, which can also be turned off through an electronic switch (placed on the left side). The webcam also supports 1080p video recording at 30 fps and the infrared function for supporting the face recognition feature.
MSI Stealth GS77: Keyboard and TouchPad
As we mentioned before, the notebook's size is quite large. However, the keyboard's area isn't as big as expected. The new MSI Stealth GS77 features a Per-Key RGB Gaming Keyboard, specially designed by SteelSeries (Per-Key RGB means that the colors can be different on each key as per the user's wish). It is also observed that the area of commonly used keys has increased by 8% (compared with the previous-generation model). The left side Control key is also enlarged, reducing the timing of pressing key combinations (like Ctrl+X, Ctrl+V). Moreover, the key travel is now reduced to 1.7mm (1.99mm in MSI Stealth GS76).

Under the keyboard, we have a touchpad with a large area (the clickable area is also significant), providing a smooth experience simultaneously. Compared with the predecessor's touchpad, its size has increased by 50%. In addition, the company has also put a fingerprint scanner on the right side of the touchpad for a more secure and fast login.
MSI Stealth GS77: Ports and Speaker
In an all-rounder notebook like MSI Stealth GS77, there should be plenty of ports for covering the connection with almost every I/O device. In MSI Stealth GS77, the company has given nearly every port as per the requirement of targeted users. Following are the ports placed on the left side: 2x USB 3.2 Gen 2 Type-A, a 3.5mm headphone/microphone combo jack, and the webcam switch. On the right side, we have 2x USB Type-C ports (one is Thunderbolt 4 port that supports PD Charging, and the second is a standard USB Type-C 3.2 Gen 2 port) and an SD Card Reader slot. The manufacturers have also put some ports on the rear side, including 1x RJ45 LAN Port, 1x HDMI Port (supports 8K@60Hz and 4K@120Hz), and the charging port.
There were also ports at the backside in the previous notebook we reviewed. It seems that the industry is adopting this trend, and it would also be comfortable for users at the same time as connecting these wires to the right or left side of the notebook seems messy.
The laptop features six speakers surround sound system on the keyboard surface, including a set of woofers and a tweeter set to ensure a great audio experience while gaming or doing office work.
MSI Stealth GS77: RAM and SSD
The model we received comes with a Whopping 64GB RAM (64GB max supported) and a 2TB PCIe 4.0 SSD. Starting from the RAM's introduction, the notebook is equipped with 2x 32GB DDR5 memory sticks for making a Dual-Channel connection for faster performance. It is worth mentioning that the RAM is clocked @4800MHz. With the all-new Core i9-12900H CPU and DDR5 RAM, there is no doubt that the laptop will have lag issues during high-end gaming.
For testing the RAM's capabilities, we used the Cache & Memory Benchmark Test from AIDA64. Following are the results: 68,652MB/s Reading Speed, 67,343MB/s Writing Speed, and 68,692MB/s Copying Speed. It can be seen that the latency/delay is a bit higher than the DDR4 RAM, but at the same time, the reading, writing, and copying speed has doubled.
Next, we have the 2TB SSD, Samsung's 980 Pro SSD's OEM version (aka Samsung PM9A1 SSD). In detailed info, the SSD is a 2TB M2 PCIe 4.0 SSD with NVMe Protocols and carries model number: MZVL22T0HBLB. The laptop consists of 2x M2 SSD slots; users can also upgrade the storage.
For testing SSD's capabilities, we used the CrystalDiskInfo SSD Test, on which we got the following results: 6599.52MB/s Sequential Read Speed, 4998.12MB/s Sequential Write Speed, 928.42MB/s 4K Random Read Speed, and 665.24MB/s 4K Random Write Speed. Judging from the results, the SSD performance on MSI Stealth GS77 is quite balanced and satisfactory.
MSI Stealth GS77: Battery and Wi-Fi
In terms of battery configuration, the MSI Stealth GS77 features a larger (15.2V) 99Whr 4-Cell Lithium-ion Battery carrying a capacity of 6250mAh. In addition to a larger battery, the company has also provided a 240W AC Adaptor for fast charging. It is worth mentioning that this battery has a maximum capacity that meets the boarding standard. However, users can get a more extended battery backup and quick charging support with this large battery and adaptor.
In terms of connectivity, the laptop is equipped with Killer Network Card, which supports Killer Gb LAN connection (up to 2.5Gbps), Wi-Fi 6E Protocols, and Bluetooth 5.2 connection as well. We can say that the new MSI Stealth GS77 is equipped with all-new networking equipment.
MSI Stealth GS77: CPU and its Benchmark
We have already mentioned multiple times that the all-new MSI Stealth GS77 is powered by the 12th Gen Intel Core i9-12900H CPU, the best deal you can get from Intel in the notebook segment. In terms of specifications, the chipset features 14 cores (including six performance cores and eight energy-efficient cores), 20 threads, and a 24MB L3 cache. The Performance cores have a maximum 5.0GHz turbo frequency, while the Energy-Efficient cores have a 3.8GHz frequency (2.5GHz base frequency in all cores). It is worth mentioning that the CPU is based on Intel 7 (7nm) EUV Lithography Process and got the all-new Alder Lake Hybrid Performance Architecture design (for a delicate balance of performance and power consumption). The CPU also has 45W TDP. Following are the benchmark results of some favorite apps:
Cinebench: In Cinebench benchmark testing, we have three different test results, which are mentioned below:
Cinebench R15: 262cb on Single-Core Performance, 2689cb on Multi-Core Performance
Cinebench R20: 731cb on Single-Core Performance, 6956cb on Multi-Core Performance
Cinebench R23: 1855 points on Single-Core Performance, 16107 points on Multi-Core Performance
Thanks to the powerful P-Cores, it can be seen that performance is superb whether it is a single-core test or multi-core test.
3DMark CPU: Next, we have the 3D CPU Profile test in which the notebook has scored 1,042 points on Single-Core and 8,121 points on Multi-Core. The overall performance results are relatively good and almost similar to other notebooks powered by the same CPU.
V-Ray: This test is commonly used to test the CPU's rendering capabilities. In this test, the MSI Stealth GS77 scored 11,763 Vsamples, which is more than enough.
In the strong performance of Core i9-12900H, the 64GB Dual-Channel DDR5 Memory also plays an important role and taking the performance level to the level of a high-end notebook.
MSI Stealth GS77: GPU and its Benchmark
The model we are reviewing is powered by the RTX 3080Ti GPU, one of the best and latest GPUs from Nvidia. Higher options like RTX 3090 and 3090Ti are also available in the market; however, the manufacturer is stuck with this GPU. In terms of specifications, the RTX 3080Ti features a 16GB GDDR6 video memory, 256bit bus width, and 7424 stream processors. Compared with the standard RTX 3080, the stream processor has been increased by a difference of 1280, definitely a huge increase. If we look at the GPU's power consumption and frequency, the power consumption is set at 105W (80W+25W Dynamic Boost) while the base frequency is 585MHz and the Boost frequency is 1125MHz. Following are some benchmark tests of the GPU:
3DMark Fire Strike: 27,008 Points
3DMark Fire Strike Extreme: 13,261 Points
3DMark Fire Strike Ultra: 6,796 Points
3DMark Time Spy: 10,622 Points
3DMark Time Spy Extreme: 5,211 Points
V-Ray GPU Test: 1,292 vpaths.
In the GPU test, we would like to mention that all the Fire Strike tests were done with DirectX 11 while the Time Spy with DirectX 12. Moreover, the last test (V-Ray GPU) denotes the rendering capabilities of GPU.
MSI Stealth GS77: Gaming Test
In the testing session, it's time for the gaming test, which is the most wanted thing for gamers in a gaming notebook review. Following are some top-class games that are discussed with their performance results:
DOTA 2: The first test was done on DOTA 2, the picture quality was set to the highest, and the resolution was set to 4K (2160p). During the gameplay, the FPS was around 110-118fps. And during more extended gameplay, we found no lag or drop in FPS.
FIFA 22: FIFA 22 is one of the most famous games. Even if you are not a true gamer, you will like to play the game if you are a football fan. During the testing, the resolution was set to 4K (highest resolution), MSAA was set to 4x, and fps was locked at 60. During the gameplay of 30 minutes, we found no fluctuation at all.
These gaming results show that MSI Stealth GS77 can easily handle all the latest and high-end games (which requires strong specs) of the current era.
MSI Stealth GS77: Heat Dissipation and Stress Test
Heat Dissipation is one of the main things that should never be compromised, especially in gaming notebooks. Otherwise, your gaming experience will be terrible. However, in the case of this notebook, the buyers don't need to worry about this thing as well. The Stealth GS77 is equipped with the all-new Cooler Boost 5 (named by the officials) design consisting of dual fans and six copper pipes. Further, the notebook also got an air outlet on the different sides of the notebook to maintain a good heat dissipation system. To test how better this heat dissipation system can work, we did a stress test as well, which is discussed below:
CPU Stress Test: We used the AIDA64 Stress FPU for this test. And after almost 30 minutes of testing, the CPU temperature rose to 94°C while the power consumption was at 75W (68W of IA Cores).
GPU Stress Test: For this test, we used the FurMark Benchmark application in which the resolution was set at 1080p (Full-HD) and MSAA at 8x. After 30 minutes of testing, the GPU temperature was at 84°C. The power consumption was between 94W and 100W, and the frequency was stabled at 1350MHz.
It has been observed that the performance release was not as good as in other gaming notebooks but being an all-rounder notebook, this thing can be ignored. Moreover, the Dual Stress test results were quite conservative compared to the separate stress test of both CPU and GPU.
Summary
At the end of the review, we got some main highlights of the notebook, and based on them; we are writing this summary. In terms of appearance, the MSI GS77 has maintained all the aesthetics of the MSI Stealth GS lineup. Its robust texture design allows it to be easily used in various scenarios. Moreover,  the performance of this notebook also matches the level of a high-end laptop. It can easily handle all the high workload during office usage and high-end gaming during gaming time. Special thanks to DDR5 Memory with high bandwidth taking the Core i9-12900H CPU's capabilities to another level.
It is worth mentioning that the model we reviewed is currently available for sale with a price tag of $4,800. However, if you are low on budget, you can go for a lower specs model with the same appearance but lower performance.