HP laptops are well-known for their reliability and extensive variety. They have a notebook to offer for everyone, whether you're looking for a slim and sleek laptop or a robust gaming notebook. HP has always come out with its creative features and attractive designs. Their dedication to performance and customer support has earned them a strong following among users. Whether you need a laptop for work or other purposes, HP is a trusted and popular choice in the realm of every kind of computing. That's why we have to bring a review of a new notebook that belongs to HP.
The notebook we are going to review today belongs to HP's esteemed EliteBook segment. Known for its reputation of delivering top-tier quality and performance in the Business Segment, EliteBook laptops are a staple choice for professionals and business users seeking excellence in their computing devices. In this review, we will closely examine the features, performance, and innovations that make this EliteBook model a standout in its class, shedding light on how it caters to the demanding needs of modern-day professionals.
In this article, we will review the all-new HP EliteBook 845 G10 notebook, the latest addition to this lineup and the successor model of EliteBook 845 G9. The notebook is now powered by the latest Ryzen 9 7940HS CPU that comes with the integrated 780M GPU. The CPU is the newest addition to the Ryzen 9 and is based on the latest Zen4 architecture. In addition, it comes with all the flagship-level specs, including DDR5 memory, PCIe Gen4 SSD, and a 2.5K display. All the aspects of the notebook are discussed below.
Specifications
Screen
14″ diagonal, 2,5K (2560 x 1600), OLED, anti-glare, 500 nits, 100% sRGB
Processor
AMD Ryzen 9 7940HS (up to 5.2 GHz max boost clock, 16 MB L3 cache, 8 cores, 16 threads)
Wireless Connection
Realtek Wi-Fi 6E RTL8852CE (2×2) and Bluetooth 5.3 wireless card, Fibocom's FM350-GL 5G network card
Graphics card
Integrated AMD Radeon 780M
Memory
32 GB DDR5-5600 MHz RAM (2 x 16GB modules manufactured by SK Hynix), max 64GB support
Storage
1TB NVMe PCIe Gen4 SSD
Camera
IR camera
Ports
2x Thunderbolt 4 with USB Type-C 40Gbps signaling rate (USB Power Delivery, DisplayPort 1.4)
2x USB Type-A 5Gbps signaling rate (1 charging)
1 HDMI 2.0
1 stereo headphone/microphone combo jack
Battery
HP Long Life 3-cell, 51WHr Li-ion Battery with 65W AC adapter
OS
Windows 11 Pro
Weight
1.38 kg (3.04lbs)
HP EliteBook 845 G10 Review: Design and Appearance
The HP EliteBook 845 G10 features a rounded body design with an inward-tapering arc frame, providing a comfortable hold. With a 14-inch display, it strikes a balance between portability and usability at 1.46kg weight and a measurement of 315.6x224x19.2mm. Its seamless bottom surface and rounded edges lend a polished appearance, accentuated by a row of large heat-dissipation grilles for cooling efficiency.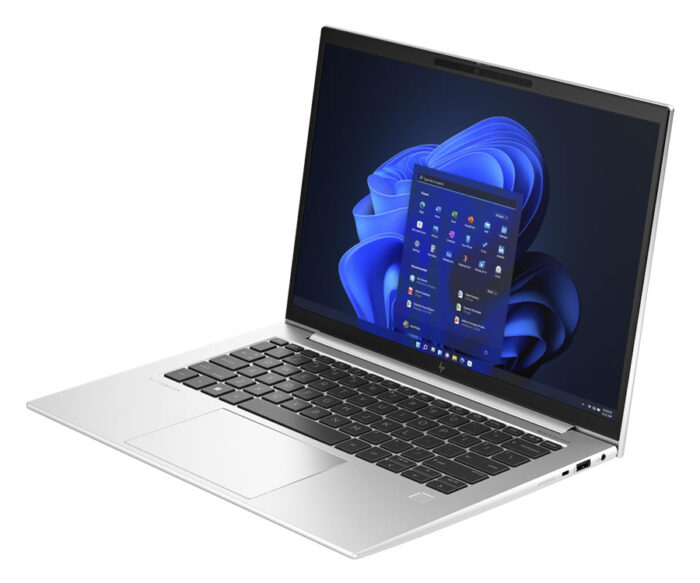 The laptop's design blends form and function seamlessly, offering both comfort and aesthetics. Its compact size and lightweight build enhance portability, catering to professionals on the go. The one-piece bottom surface and rounded edges contribute to a polished look, and the ample heat dissipation grilles underline HP's commitment to top-notch performance and style. However, the logo design is still the same as in the last model.
In terms of durability, the notebook has undergone a series of demanding tests to prove its durability. These include drop tests, shock tests, vibration tests, extreme temperature tests, humidity tests, height tests, and more, all based on the strict MIL-STD-810H military standards. All of them ensure that the laptop can bear all the challenging conditions and harsh environments.
HP EliteBook 845 G10 Review: Display
When we talk about the screen on the HP EliteBook 845 G10, it's pretty impressive. It's a 14-inch OLED Anti-Glare Display. This screen supports a resolution of 2.5K, which makes everything look super sharp and clear (2560x1600p). Plus, it supports a 120Hz refresh rate, making everything look smooth and fluid.
Moreover, this screen can get really bright, up to 500 nits, which is excellent for use in outdoor conditions. In terms of colours, it has a 100% sRGB colour gamut, which means you're going to see really vibrant and accurate colours. It's worth noting that in some places, HP sold this same laptop with a different kind of screen called IPS LCD, but the one we're reviewing has an OLED display.

For testing the actual colour gamut of the display, we used the Spyder X software, through which we found that this display has 100% sRGB colour gamut, 86% Adobe RGB colour gamut, 98% DCI-P3 colour gamut and 85% NTSC colour gamut. The peak supported brightness of this screen is 500nit, and the contrast ratio is about 1000:1. In terms of colour accuracy, the average Delta-E value is only 0.88 (highest 2.85 and lowest 0.38).
Based on these results, we can say that using the screen on the HP EliteBook 845 G10 for daily office tasks would be a great experience.
 HP EliteBook 845 G10 Screen Test Results

sRGB
100%
Adobe RGB
86%
DCI-P3
98%
NTSC
85%
Maximum Brightness
500nits
Contrast Ratio
1000:1
Average Delta E
0.87
Minimum Delta E
0.37
Maximum Delta E
2.84
HP EliteBook 845 G10 Review: Keyboard, TouchPad, and Ports
The HP EliteBook 845 G10 comes with the HP Premium keyboard, which not only supports backlighting but is also spill-resistant. The Backlite adds a stylish touch to this business notebook. When it comes to being spill-resistant, it's worth noting that the company has applied a special coating to ensure this feature's effectiveness.
This keyboard is full-sized but doesn't include a numeric pad. It's designed with a humanized layout and comfortable 19.5mm key spacing, providing a satisfying 1.5mm key rebound and substantial key travel. On the right side of the keyboard, you'll find a fingerprint scanner, which lets you log in to Windows OS with a single touch.
The touchpad on the HP EliteBook 845 G10 is generously sized and comes with multi-touch gesture support. The large size makes the navigation and interaction with the laptop's interface intuitive and user-friendly.

When it comes to Port, the HP EliteBook 845 G10, being a slim and lightweight notebook, offers a somewhat limited selection of ports, which is a trade-off for its sleek design. Nevertheless, it manages to cover the essentials. On the left side, you'll find two USB 4.0 Type-C ports with Thunderbolt 4 support, an HDMI 2.0 port, and a USB 3.2 Gen1 Type-A port that also supports charging even when the laptop is turned off.
On the right side, there's a SIM card slot (which we'll discuss further in the next section), a security lock hole, another USB 3.2 Gen1 Type-A port, and a 3.5mm headphone jack. While these ports should suffice for most regular office tasks, some users might still find the need for an external dock in certain situations.
HP EliteBook 845 G10 Review: Battery and Charging
When it comes to the battery, the HP EliteBook 845 G10 is equipped with a 51WHr battery, which is pretty standard for a 14-inch notebook. You can see the battery with the model number "WP03XL" when you disassemble the laptop. HP has used this same battery model in many of its EliteBook lineup notebooks. It's a 3-cell 51 WHr Li-Polymer Battery with a capacity of 4249mAh.
According to HP's official claims, the laptop can provide up to 10 hours of battery life when playing a regular 1080p video. In our testing, using PCMark 10 software, we turned on power-saving mode, closed all applications, turned off Wi-Fi, and set the display brightness to 50%. Under these conditions, we achieved a battery backup of 10 hours and 06 minutes. This should be more than enough to support your office needs for 1 to 2 days on a single charge.
In addition to 51WHr, the EliteBook 845 G10 also comes with a 65W USB Type-C PD Power Adapter, which supports charging at the following modes: 15W (5V/3A), 27W (9V/3A), 60W (12V/5A), 65W (15V/4.33A and 20V/3.25A). It is worth mentioning that this charger can also be used for charging your mobile.
HP EliteBook 845 G10 Review: RAM, SSD and Network
Let's start with the RAM. The HP EliteBook 845 G10 comes with 32GB of DDR5 RAM. When we opened up the laptop, we found that it uses a dual-channel RAM setup, which means it has two 16GB DDR5 memory sticks from SK Hynix (frequency is 5600MHz). It's worth noting that this laptop has two DDR5 SO-DIMM slots, and you can upgrade the memory all the way up to a maximum of 64GB.
We also did the RAM benchmark testing using the AIDA64 memory test, and here are the results: 61,599 MB/s Read Speed, 86,371 MB/s Write Speed, 68,140 MB/s Copy Speed, with a delay of 102.2ns. The write speed is impressive, while the read and copy speeds are also entirely satisfactory.
Now, moving on to storage. This notebook comes with a 1TB PCIe 4.0 SSD manufactured by KIOXIA, belongs to their XG8 lineup, and carries the following model number: KXG80ZNV1T02. It's important to note that this laptop has only one SSD slot, so if you want to upgrade the storage, you'll need to replace the existing SSD.
To evaluate the SSD's performance, we conducted the first test using the AS SSD benchmark, getting the following results: 5598 total Score, 4833.98 MB/s Sequential Read Speed, 3,334.99 MB/s Sequential Write Speed, 50.69 MB/s 4K Random Read Speed and 143.01 MB/s 4K Random Write Speed. In the second test, we used the CrystalDiskMark benchmark application on which we got the following results: 7,077.09 MB/s Sequential Read Speed, 5,612.43 MB/s Sequential Write Speed, 53.47 MB/s 4K Random Read Speed and 127.89 MB/s 4K Random Write Speed.
If compared with our previously reviewed notebook (Lenovo YOGA Slim 7 Gen 8, which lies in the same segment), the RAM benchmark results are pretty similar, while in the case of SSD, the HP EliteBook 845 G10 has a far better score.
This notebook comes with a SIM slot, which eliminates the process of connecting to the internet through mobile phone hotspots. Once you have inserted a SIM card, you can enjoy faster network speeds compared to traditional mobile phone hotspots. The laptop features Fibocom's FM350-GL 5G network card that supports the 5G Sub-6 frequency band, 4G LTE CAT16 specifications, and also has a MIMO 4×4 antenna.
HP EliteBook 845 G10 Review: CPU and its Benchmark
The HP EliteBook 845 G10 is powered by the Ryzen 9 Pro 7940HS CPU, built on the advanced TSMC 4nm manufacturing process. This chip features the new Zen4 CPU architecture, packing 8 cores and 16 threads, with a base clock speed of 4.0GHz and a turbo boost that can go up to 5.2GHz. It also boasts an 8MB L2 cache and a 16MB L3 cache.
Additionally, it's equipped with an integrated GPU, Radeon 780M, sporting the RDNA 3 architecture. This GPU rocks 12 CU units and 768 stream processors, running at an impressive core frequency of 2700MHz. Its graphics performance surpasses that of its competitors by more than double, making it a powerhouse for visual tasks. Following are some benchmark results of this CPU:
CineBench R15: 245cb on Single-Core and 2,347cb on Multi-Core
Cinebench R20: 618cb on Single-Core and 5,965cb on Multi-Core
Cinebench R23: 1,583pts on Single-Core and 15,122pts on Multi-Core
When compared with the Ryzen 7 7840S competitor CPU (which was used in Lenovo YOGA 7 Gen 8), the CPU has scored a bit lower.
HP EliteBook 845 G10 CPU Benchmark

Single-Core
Multi-Core
CineBench R15
245cb
2347cb
CineBench R20
618cb
5965cb
CineBench R23
1583pts
15122pts
HP EliteBook 845 G10 Review: Cooling System and Stress Testing
This 14-inch notebook from HP features a small heat dissipation system, which includes a single fan and dual 8mm heat pipes, with a heat dissipation efficiency of 40W.
For stress testing the CPU, we used the AIDA64 FPU application. In the room where this test was carried out, the temperature was 29°C. After running the benchmark testing for half an hour, the power consumption of the CPU was stable at 35W; its temperature rose to 87°C while the full core frequency was 3.35GHz.
Summary:
The HP EliteBook 845 G10 is a standout laptop designed for business professionals seeking top-tier performance and reliability. Its sleek and durable design has passed stringent military-standard tests, ensuring it can withstand harsh conditions. The laptop features a gorgeous 14-inch OLED display with a 2.5K resolution and a swift 120Hz refresh rate, providing a visually immersive experience. With the Ryzen 9 Pro 7940HS CPU, 32GB of DDR5 RAM, and a 1TB PCIe 4.0 SSD, it delivers exceptional speed and multitasking capabilities, catering to even the most demanding tasks.
Connectivity is well-covered with Thunderbolt 4 support and a SIM card slot for high-speed internet access. The spill-resistant keyboard, fingerprint scanner for quick Windows OS login, and impressive battery life of over 10 hours make it an excellent choice for professionals on the move. Priced at $2,350, the HP EliteBook 845 G10 offers a compelling blend of style, performance, and durability, making it a solid investment for business users seeking a reliable and powerful laptop.