It was reported that the global launch of the OnePlus 11 series would take place on February 7. Further, we can expect that the China launch might happen earlier. However, as the launch time is near, more information regarding the OnePlus 11 series is getting revealed.
This morning, the standard OnePlus 11 (carrying model number: PHB110) got listed on the AnTuTu benchmark, revealing the performance benchmark and some basic specifications of the device.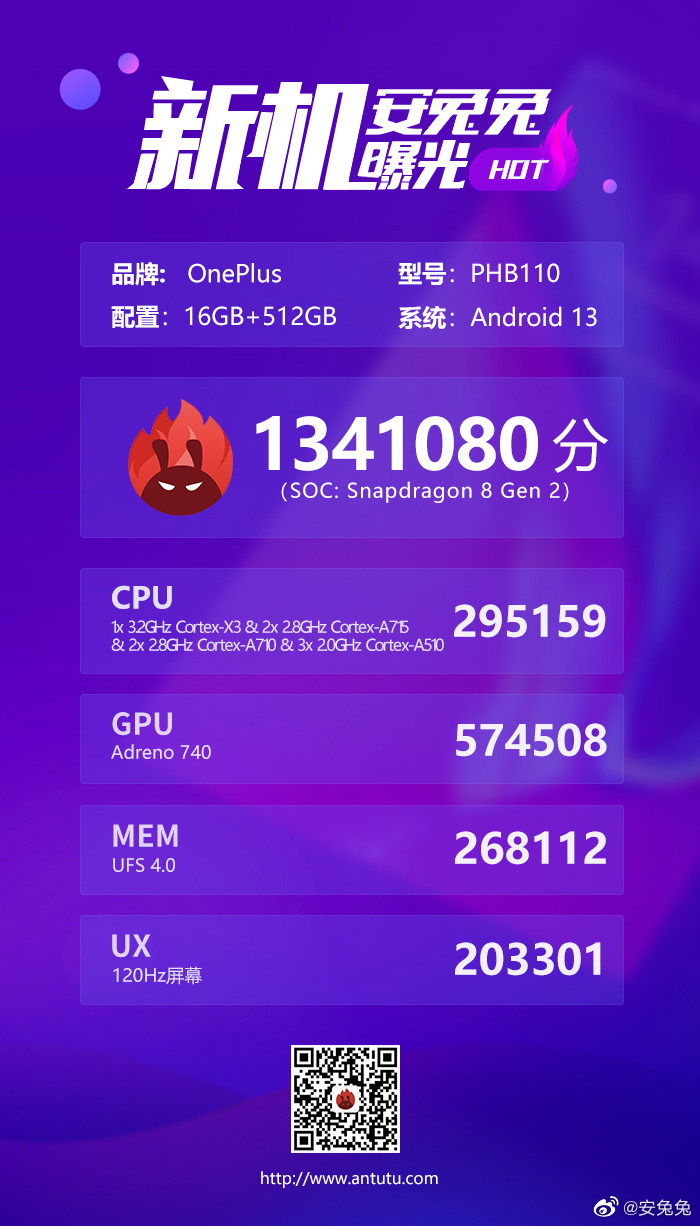 As can be seen, the OnePlus 11 (PHB110) has scored more than 1.3 million points (1,341,080 points) in which the CPU (Snapdragon 8 Gen2) score is 295,159, the GPU (Adreno 740) score is 574,508, the MEM (UFS 4.0 storage) score is 268,112, and the UX (120Hz refresh rate) score is 203,301.
It is worth mentioning that the current AnTuTu benchmark highest score on an Android device is 1.11 million points (i.e. ROG Phone 6's score).
The device features 16 Gigs of LPDDR5X memory and 512GB of UFS 4.0 storage. The screen refresh rate of the OnePlus 11 (PHB110) is 120Hz, and the chipset is Snapdragon 8 Gen2 which features the Adreno 740 GPU. The Snapdragon 8 Gen2 is based on a 4nm TSMC manufacturing process and has a new 1+2+2+3 architecture. It includes the following cores: 1x Cortex-X3 Super Core (@3.2GHz), 2x Cortex-A715 and 2x Cortex-A710 Performance cores (@2.8GHz) and 3x Cortex-A510 Energy-efficient cores (2.0GHz).
Previously, the standard OnePlus 11 was also listed on 3C Certification. For complete specifications info regarding the OnePlus 11, check out the following article.