OnePlus 8T launch event will be held on October 14th. This morning, OnePlus officially announced the screen specifications of the new OnePlus 8T.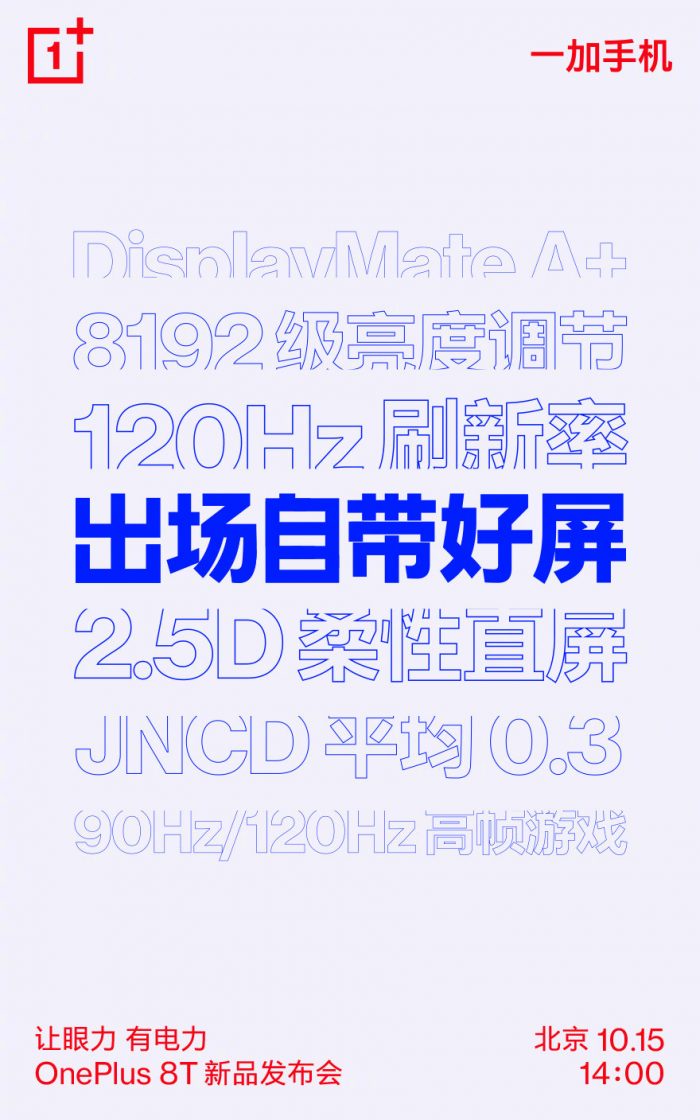 OnePlus 8T will use a 2.5D screen, support 120Hz refresh rate and 8192 level brightness adjustment, pass DisplayMate A+ certification, JNCD average 0.3, and also support 90Hz/120Hz high frame games. With the high refresh rate, coupled with the powerful Snapdragon 865 processor and other flagship performance, the official said OnePlus 8T has remained smooth for at least 3 years.
OnePlus founder and CEO Pete Lau said that OnePlus 8T undoubtedly has an excellent screen, which you can understand as the FHD version of the OnePlus 8 Pro screen. It has obtained Displaymate A+ certification, the automatic brightness adjustment has also risen to 8192 levels, and the screen will be more comfortable and delicate.
Pete Lau emphasized that if I were to give a new definition to the flagship now, then I think it can be smooth for at least three years.
It is worth noting that OnePlus 8T has also greatly upgraded the fast charge, it supporting 65W ultra-fast flash charge. This is OnePlus's fastest charging mobile phone so far, and it is expected to charge to 100% in less than 40 minutes.
According to previous news, OnePlus 8T will be equipped with Snapdragon 865 Plus chip, support 65W fast charge, adopt 48 million pixels + 16 million pixels + 5 million pixels + 2 million pixels rear camera module, and with a built-in 4500 mAh battery.