Yesterday, the VP of Realme China (Xu Qi Chase) introduced the upcoming flagship Realme GT's first color scheme. He also said that he would announce another color scheme tomorrow. Recently, the VP has introduced another edition.
Today, the VP has revealed the God of War Special Edition of all-new Realme GT – Dawn. This color scheme is a new work of Realme's trendy design. It is reported that the design is inspired by classic GT models. This color scheme also uses a very personalized black and yellow contrast color.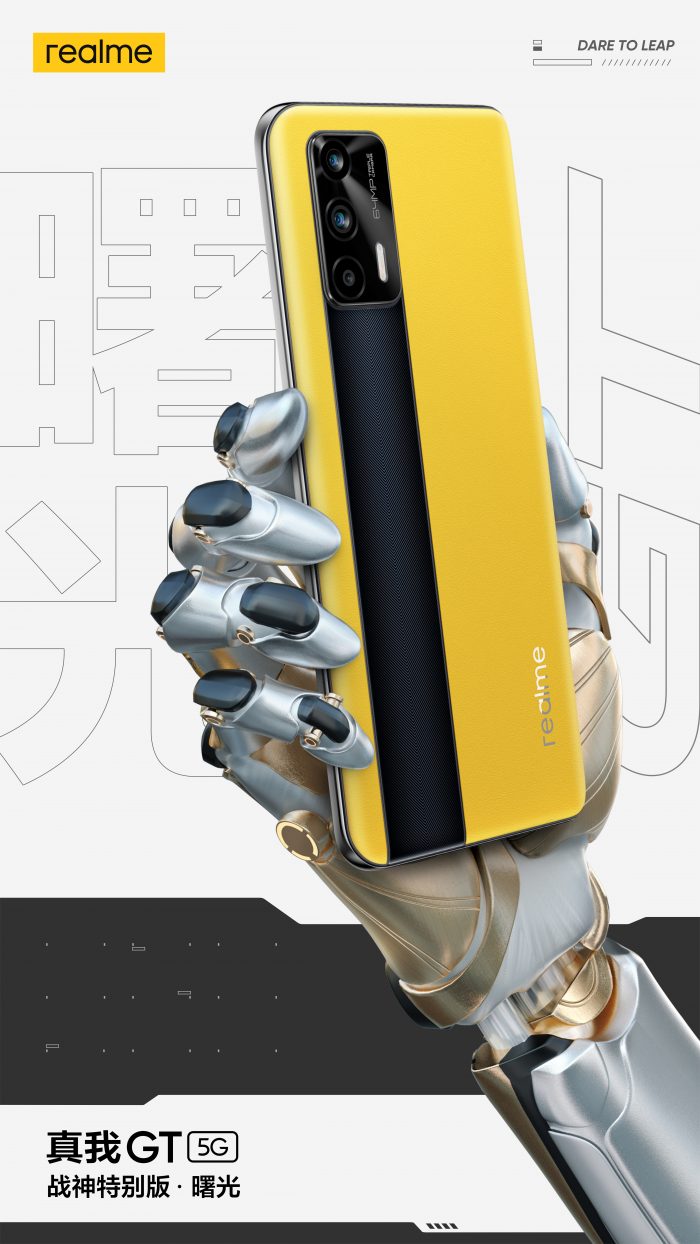 The VP has mentioned that "the camera matrix is extended downwards infinitely. It pays tribute to the classic bionic design of tear-stained headlights. Every detail is meticulously designed: drawing on the aerodynamic racing waistline frame enhances the visual thinning and gripping experience; the black tear marks reflect the light and shadow of the track texture to create high-quality racing details."
The all-new Realme GT also comes with the new generation of the 3D tempered liquid cooling system. The new generation of VC Cooling is much improved in terms of material and structure optimization.
It is also reported that the intensity of the new generation of VC cooling has been increased by 42%. Now the stainless steel has more high strength and low thermal resistance if compared with the previous generation.

The capillary heat dissipation system is also optimized, and the speed of internal water vapor circulation is also faster. The officials also mentioned that the core of the heat source is now 100% covered, and the CPU core's temperature would be only 15°C.
We already reported that this new Realme GT would be the first flagship from Realme to feature Snapdragon 888 chipset. The Snapdragon 888 chipset is an octa-core chipset based on a 5nm manufacturing process. The chipset also comes with a Cortex-X1 core which takes the performance to another level.
The all-new Realme GT will be launched on 4th March.