After the launch of the Mi 11 series, it was expected that it's time for Redmi to bring its flagship (from its K series). Even many leaks regarding the successor of the Redmi K series were circulating on the internet. But today, the phone has been confirmed by the officials.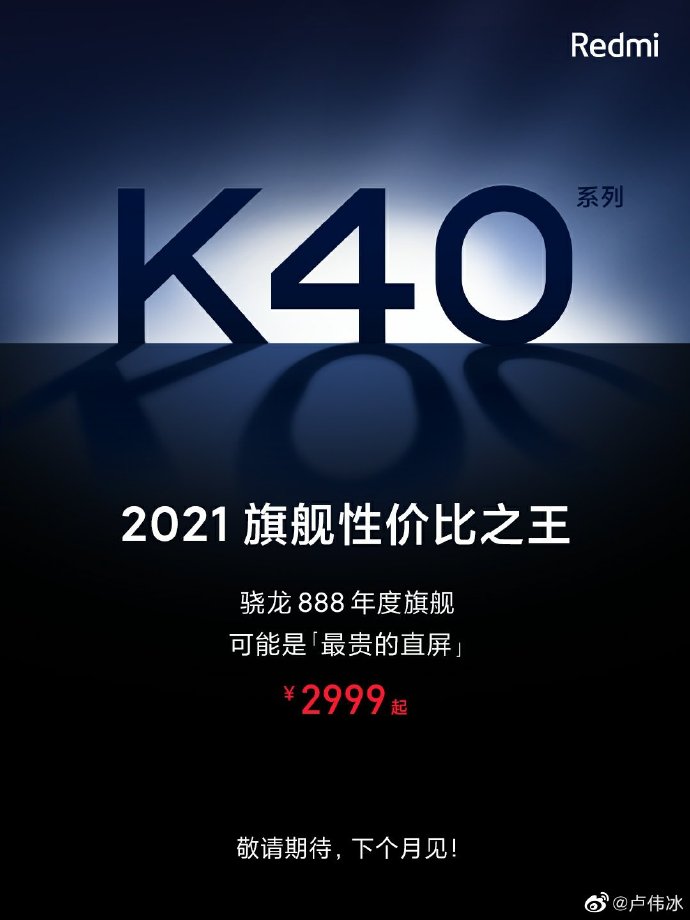 Today, Redmi has officially confirmed that the all-new Redmi K40 series is coming next month. The company has announced the existence of the new Redmi K40 series on their official Weibo account. The General Manager has also revealed a few highlights of the phone as well.
The all-new Redmi K40 series would be powered by Qualcomm's latest flagship chipset, "Snapdragon 888 5G", the 5nm octa-core chipset with Cortex-X1 Super Core.
The Redmi K40 would be equipped with the most expensive flat-screen ever. The same thing company stated before the launch of the Mi 11 series.
It would be packed with a battery having a capacity of more than 4000mAh. Maybe around 4.3k to 4.5k mAh.
The starting price of the phone is 2999 Yuans (Equivalent to 462 $). Maybe like its predecessor, it would be the cheapest Snapdragon 888 powered smartphone.
Redmi company's smartphones have always targeted the Youth, as they are affordable and come with strong configuration. That's why the all-new Redmi K40 may achieve another milestone (in terms of price).
As mentioned in the official post, the all-new Redmi K40 series will be launched next month. We have to wait a bit more for full configurations as officials would reveal some other configuration information soon.