This morning, Vivo has officially confirmed that the Origin OS is coming soon. The company has used its official Weibo account for the announcement. The post (on Weibo) mentioned that this is the first work from Origin Studio and the new Origin OS is about to debut.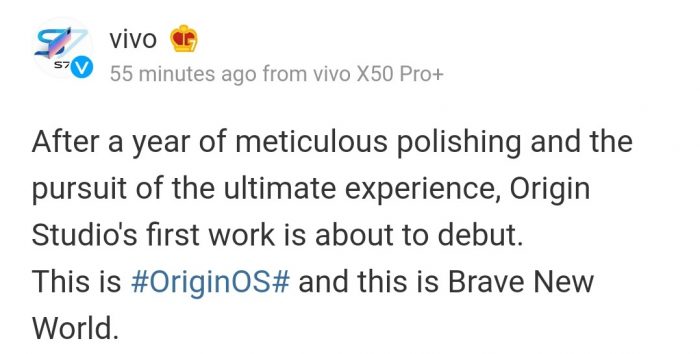 They also mentioned that this new Origin OS is "the pursuit of the ultimate experience after a year of meticulous polishing." Vivo also released some pictures, which shows us the element of Origin OS.
Previously, the famous Chinese blogger @Digital Chat Station has also revealed the original desktop map of Origin OS. The style of Origin OS UI has undergone significant change, and it is more mimicking than Funtouch OS.
The design effect is similar to a relief, which is between flat and projection. The new system also provides Android & Origin desktops with two different styles, and users can switch between more freely.
Previously, @Galant V (the product manager of Vivo) on Weibo has also revealed that this time the new Vivo system is led by a former Apple company's designer, which has changed many things.
Vivo has already announced that the VDC 2020 (Vivo Developer Conference) will be held in Shenzhen on November 19. This Conference's theme is "Original Everything." At the Conference, we will explore new OS, applications, games, business cooperation, technology, loT, and other aspects.

It is expected that Vivo's new Origin OS will also be announced in the VDC 2020.