Today, Xiaomi officially announced the world's first four-sided curved waterfall screen concept phone. With a four-sided 88° hyper-curved design, almost all the frames are replaced by the screen, and the appearance is very stunning.
Xiaomi's CEO (Lei Jun) also introduced this concept phone in a WeChat public account and mentioned that the whole phone's integrated non-porous design is a new direction for future mobile phones.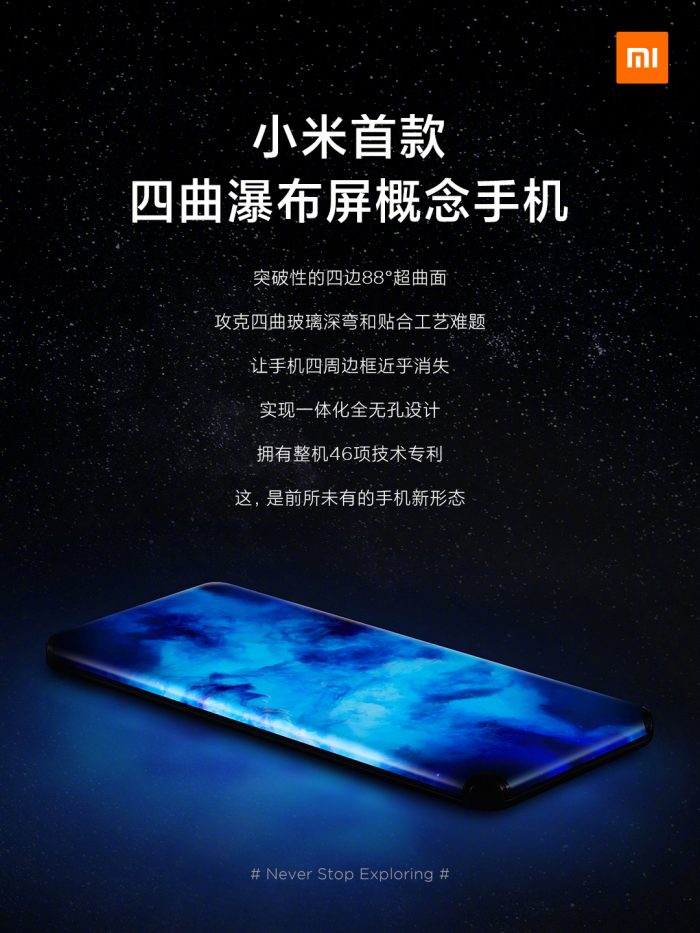 Lei Jun said that the screen display is one of Xiaomi's mobile phones' core strategies, and Xiaomi has officially released the four-curved waterfall screen concept phone. The 88° super-curved screen design on all sides allows the picture to flow around like water, like a crystal drop on the table.
Screens replace almost all the surrounding frames, and the fuselage has no openings or buttons, which genuinely realizes a one-piece, non-porous future design.
Lei Jun said that the shape of a future smartphone depends on the shape of the screen. The integrated non-porous design of future mobile phones has a new direction because of the breakthrough four-curved waterfall screen.
For the industry's first four-curved waterfall screen, a bendable, flexible screen is indispensable, but the real difficulty is manufacturing 88° four-curved glass and the 3D bonding process. The 88° deep-curved four-curved glass breaks the technological limit of glass production.
In terms of display, Xiaomi's smartphones like Xiaomi Mi MIX and Mi MIX Alpha are the great revolutions we have seen in the past.
In December 2020, Xiaomi launched its current top mobile phone (Mi 11) screen. It has a 2K + ultra-high resolution display and a 120Hz ultra-high refresh rate and got an accurate color reproduction comparable to professional displays. It also got an A+ rating and won 13 best display records from DisplayMate, the world's top screen evaluation agency.