Remove all the screws that fix the back cover, the back cover of Asus ROG GX550LXS can be easily removed. The most conspicuous thing inside the fuselage is the cooling system with dual fans and five copper tubes.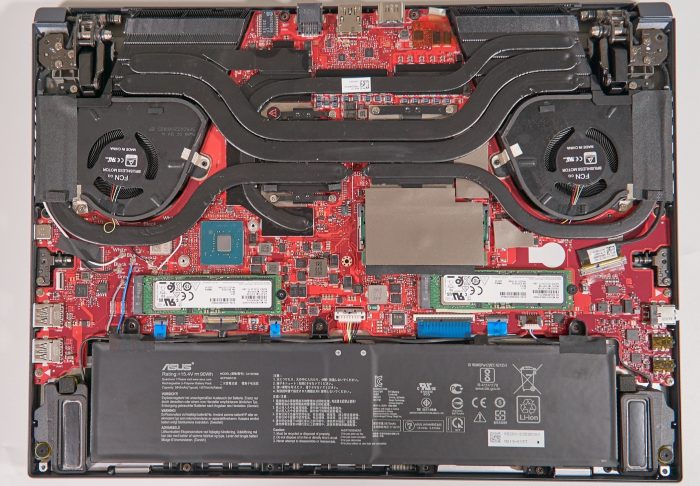 This heat dissipation system is called Glacier Heat Dissipation Architecture 2.0 Pro. In order to speed up the heat transfer efficiency, ROG ice blade dual screens use a large amount of Violent Bear liquid metal silicone grease, and a special internal baffle is designed to effectively prevent liquid metal leakage. The retail price of Violent Bear Liquid Metal Silicone Grease is close to 200 yuan/g, and RG does not hesitate to pay for the cooling of notebooks.
Two M.2 2280 ports are provided on the motherboard, and a Samsung PM981a 1TB SSD is plugged into each of them to form Raid 0 mode, which means that what you see in the system is a hard drive with a capacity of 2TB.
The ROG GX550LXS motherboard is welded with 16GB DDR4 3200MHz memory, and there is also a SO-DIMM slot with a 16GB DDR4 3200MHz memory inserted on it, so the total memory capacity of this notebook is 32GB.


Close-up of the heat sink, with a wind cavity inside, and the hot air can be blown out by the fan more quickly.