In order to upgrade the memory and SSD for Asus TUF Gaming A15 FA506QR, we need to remove the bottom cover first. Remove the 10 screws that fix the bottom cover. It is worth noting that these 10 screws have 3 different specifications. You'd better store the screws according to the layout of the screws to avoid confusing the screw specifications and causing unnecessary mistakes.
There are many small buckles on the edge of the bottom cover. You need to insert a plastic sheet or an old credit card between the bottom cover and the body, and then move the plastic sheet to release all the buckles from the body. Then you can remove the bottom cover smoothly.
After removing the bottom cover, we can see that the heat dissipation system of ASUS TUF Gaming A15 FA506QR is significantly upgraded compared to the previous generation. It uses dual fans and four heat pipes, one heat pipe covers the video memory, CPU power supply, and graphics card power supply. The fan is upgraded to 83 blades, which is the same as some models of the previous ROG gaming laptop.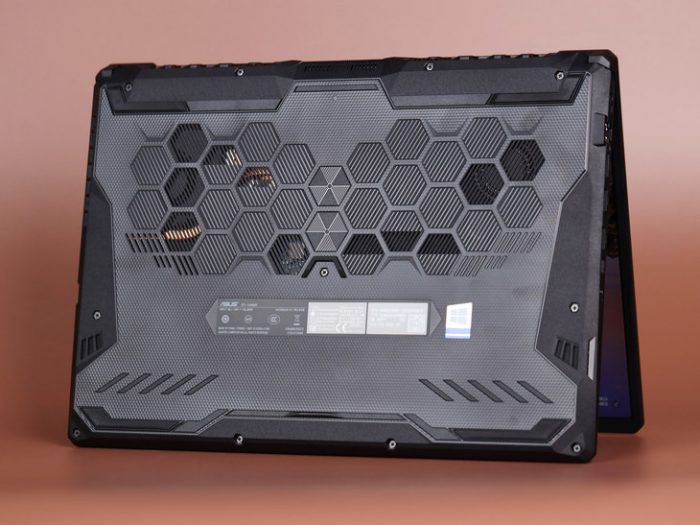 At the bottom of the left fan is an M.2 slot, equipped with a BC711 512GB M.2 SSD, which is covered with a cooling pad. ASUS FA506QR cancelled the 2.5-inch hard drive bay and replaced it with a large 90Wh battery. However, the space occupied by the battery makes the second M.2 slot unable to be placed normally and can only be tilted. The test shows that the second M.2 slot supports PCIe 3.0×4.



This notebook has two memory slots and comes with two 8GB 3200MHz memory. It supports up to 64GB memory, which means you can install two 32GB memory.


At the bottom is a 90Wh battery, and there are two speaker modules on the left and right sides. We use PCMark 10 to test the office battery life. During the test, select the energy-saving mode, turn off all other processes, and adjust the screen brightness to 50%. Its battery life reached 12 hours.